King George School
Sutton, VT
Contact: Jay Ramsey
Director of Communications and Outreach
King George School
802-467-1200 x 111
802-467-1041
jramsey.kgs@gmail.com
www.kinggeorgeschool.com
May 2, 2005
Vermont Governor Offers Support to King George School
Sutton, VT, - Dr. Karen Fitzhugh, Head of the King George School, is committed to the continued operation of the school and is seeking the support of local and state officials.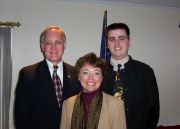 On Monday morning, April 25, a little more than a month to the day of the Brown Schools announcement of bankruptcy, Dr. Fitzhugh and Jay Ramsey, Director of Communications at the school, met with the governor of Vermont, Jim Douglas. The purpose of the meeting was to secure his support, and the backing of his administration. The Governor met privately with Dr. Fitzhugh and Mr. Ramsey for approximately twenty minutes to discuss the status of the school in the bankruptcy and the impact the closing of the school would have on the local economy.
Governor Douglas assured Dr. Fitzhugh and Mr. Ramsey that he would do all he could to secure the continued existence of the King George School in its current location, and with its current mission.
After meeting with the Governor, Dr. Fitzhugh and Mr. Ramsey met with local officials and the Director of the Northeast Kingdom Chamber of Commerce to garner local support for the school, and to point out the benefits the school has on the local rural economy.
The King George School is a private co-educational emotional growth boarding school in northeast Vermont. The school works with students who have a demonstrated interest in the visual, performing, and creative arts, and who have identified needs for emotional growth. Students that are accepted at the King George School are bright, capable learners with a high interest in proceeding on to college after receiving their high school diploma. For more information, call Mary Reinhardt, Director of Admissions at (800) 218-5122 or (802) 467-1200 x 106, or e-mail her at mreinhardt.kgs@gmail.com

Copyright © 2004, Woodbury Reports, Inc. All Rights Reserved.
(This article may not be reproduced without written approval of the publisher.)
---