From Strugglingteens.com


Seen N' Heard
SEEN N' HEARD DECEMBER 2004
Dec 6, 2004, 15:44



CEDU OFFERS CI PROGRAM TO OTHER SCHOOLS AND PROGRAMS
(September 20, 2004) Denise Forbregd, Camp Supervisor, Ascent Wilderness Program, Naples, ID, 208-267-3626, www.cedu-ascent.com, announced they are expanding the three to 21 day CEDU Intervention Program to other schools and programs outside of the CEDU Family of Schools. The CI program was developed and established by CEDU in April 2004 to provides a short-term intervention to help students re-focus themselves and return to the schools.

ISLAND VIEW OUTCOME STUDY
(October 19, 2004) Jared Balmer, Executive Director of Island View, Syracuse, UT, 801-773-0200, www.islandview-rtc.com, announced the results of their outcome study covering graduates over the last three years is now published. With 411 discharges during this time period, they were able to get responses from about 30 percent of the parents. A strong majority reported positive changes in their child, indicating most of the children were able to internalize their experience at Island View, and the percentages were quite similar between those who had completed less than a year before reporting, those who had graduated between one and two years, and those who had graduated between two and three years ago.

ECKERD NEW ENROLLMENT POLICY
(October 22, 2004) Tuyet Case, Community Admissions Representative, Eckerd Youth Alternatives, Inc., Clearwater, FL, 727-461-2990, www.eckerd.org, announced that their flagship program in Brooksville (40 miles north of Tampa), E-How-Kee, is now serving privately referred special needs youth.

RIDGE CREEK IMPLEMENTS ACADEMIC TUTORIAL COMPONENT
(October 26, 2004) Nicole Fuglsang, NCC, LPC, Director of Admissions, Ridge Creek Wilderness Program, Dahlonega, GA, 706-867-1720, information@ridgecreek.org, www.ridgecreek.org, announced they recently added an academic tutorial component to make it easier for students to attend the program during a normal school year. Ridge Creek has three certified teachers, and students can now bring assignments and books from their home school and stay caught up while in the program.

LAWSUIT FILED AGAINST DESISTO
(October 28, 2004) The Berkshire Eagle, Pittsfield, MA, reported that a lawsuit filed by the mother of a former student may hamper the sale of the former DeSisto School's property in Stockbridge, MA. A hearing was set for November 17 in Bridgeport, CN. The DeSisto School closed its longtime residential program for troubled teens last June. www.strugglingteens.com

CEDU DENIES ALLEGATIONS OF ABUSE AND NEGLECT
(October 29, 2004) The Idaho Spokesman Review, Spokane, WA, reported on four lawsuits filed in Sandpoint, ID, that alleges over two dozen parents and former students are claiming neglect and abuse at two of the North Idaho CEDU programs. Julia Andrick, marketing and communications director for CEDU Family of Services Inc., Sandpoint, ID, 208-265-0607, jandrick@cedu.com, said the charges against Rocky Mountain Academy, Naples, ID, www.rockymtnacademy.com, and Boulder Creek Academy, Bonners Ferry, ID, www.bouldercreekacademy.com are groundless. "We are going to go ahead and litigate as appropriate."

BACHMAN ACADEMY ANNOUNCES NEW PROGRAM
(November 2004) Bachman Academy, McDonald, TN, 423-479-4523, admissions@bachmanacademy.org, www.bachmanacademy.org, announced it has opened a new post-secondary program for graduates of Bachman and similar schools. This new transition program is designed to aid graduates with ADHD and other learning disabilities in learning life skills, move onto college and employment. Bachman Academy is also accepting applications for international students, boys and girls ages 11-17.

BRIDGES ACADEMY CELEBRATES SEVEN YEARS
(November 2004) In their November newsletter, Bridges Academy, Bend, OR, 888-283-7362, info@bridgesboysacademy.com, www.bridgesboysacademy.com, announced they are celebrating seven years of helping struggling teens from over 200 families overcome their emotional issues.

LAMONT REPLACES FELL AT ROCKLYN ACADEMY
(November 2004) Rocklyn Academy, Meaford, ON, Canada, 519-538-2992, rocklynacademy@bmts.com, www.rocklynacademy.com, announced that Gwen Lamont, MSW, is their newest therapist. Lamont replaces Annabelle Fell who retired for personal reasons. Also during November, Rocklyn Academy participated as an exhibitor in the "Our Kids School Fair" at the Harbour Castle in Toronto, Canada.

SUMMIT CAMP OPENS ENROLLMENT
(November 2004) The Summit Camp Inc., with main offices in New York City, 212-689-3880, and summer address in Honesdale, PA, 570-253-4381, summitcamp@aol.com, www.summitcamp.com, announced they are beginning their 37th season with open enrollment to new campers. The full season is from June 30 to August 21. The co-ed summer recreational program is for children and teens, ages 8 to 17, and classified as having AD/HD, Non Verbal LD, Aspergers, Tourettes, Bi-Polar Disorder and related social/emotional difficulties. Their Travel Program for older teens ages 15-19 with similar diagnoses features a 23-day trip to California and Hawaii.

EYA OPENS NEW PROGRAM IN OHIO
(November 2004) In its annual report, Eckerd Youth Alternatives, Clearwater, FL, 727-461-2990, admissions@eckerd.org, www.eckerd.org, announced the upcoming opening of a new program in McArthur, OH, called the Eckerd Girls Challenge Program. The Challenge Program is a campus-style facility that will provide education and treatment for up to 52 dependent or delinquent girls. Eckerd now offers programs in eight states.

ANASAZI IMPROVES QUALITY OF CARE
(November 3, 2004) Kimberly Nuzman, Vice-President Marketing and Community Relations, Anasazi Foundation, Mesa, AZ, 480-892-7403, www.anasazi.org, announced that after conducting an independent market study to better meet the needs of parents and professionals, the program recently made some changes. Kimberly said these changes include an improvement in the clinical competencies of staff, the aftercare component now offers online and live support groups for parents, an academic partnership with Phoenix Special Programs and Academies and a newly implemented restricted medication policy.

SECOND LARGEST GRADUATION IN PENINSULA VILLAGE HISTORY
(November 4, 2004) In their fall newsletter, Peninsula Village, Louisville, TN, 800-255-8336, www.peninsulavillage.org, announced that its May 2004 graduation was the second largest in the school's history with 30 students meeting the graduation requirements and 23 attending the commencement exercises.

KIATOU OFFERS PSYCHOEDUCATIONAL ASSESSMENTS
(November 4, 2004) Gilles Latremouille, Head of Kiatou Wilderness Program, Blue Sea, Quebec, Canada, 819-463-0152, info@kiatou.ca, www.kiatou.ca, announced that they now offer psycho-educational assessments as an option for their students who need it.

APPIAN EDUCATION EXPANDING
(November 11, 2004) Paul Auchterlonie, Managing Director of Appian Education, LLC, Seattle, WA, 800-261-8643, pwa@appianeducation.com, www.appianeducation.com, announced that he and Yvonne Jones have divided their firm into three distinct groups consisting of College/Grad Schools, Boarding Schools, and Specialized Schools and Programs (Therapeutic, LD, etc). They hired new staff to develop each of the three groups, and opened a third office in Portland, OR. They also have offices in Seattle and Bellevue, WA.

INTERMOUNTAIN NEUROPSYCHIATRIC CENTER
(November 11, 2004) Michael R. Forgy, MA, Boise, ID, 208-376-2518, announced that the Behavioral Management Center has changed its name to Intermountain Neuropsychiatric Center with a new 7,500 square foot facility. Under the direction of F. Lamarr Heyrend, MD, they added a new team of professionals and "purchased the most sophisticated Computerized EEG equipment available within the United States." They also "developed an intensive three day family workshop to enhance family emotional growth and development."

COOLEY RECEIVES NATSAP AWARD
(November 12, 2004) A story on the Albany Democrat Herald website, Albany, OR, reported that Rob Cooley, founder and director of the Catherine Freer Wilderness Program, Albany, OR, 800-390-3983, info@cfreer.com, www.cfreer.com, received the Industry Leadership Award from the National Association of Therapeutic Schools and Programs (NATSAP) in recognition of his efforts in outcome research. Cooley is a keynote speaker at the NATSAP conference in January. www.dhonline.com

SIMPSONS WRITE FROM ARGENTINA
(November 13, 2004) Last summer after all their students graduated from Pathways in Bonners Ferry, ID, Rich and Wendy Simpson took their two sons, Andy and Matt, and started traveling. They spent time first in New England, then visited parents in Michigan and Ohio, and traveled to the Southeast touring Virginia, South Carolina, Georgia and Florida. From Miami, they flew to Buenos Aires, Argentina, staying primarily in Mendoza. They would love to hear from their friends, who can reach them by email at favoriteplanet@yahoo.com.

SHAMROCK CHALLENGE
(November 15, 2004) Tom Carter, PhD, Owner and Director of Shamrock Educational Alternatives, Newman Lake WA, 509-226-3662, www.shamrockacres.com, in his November newsletter issued a cute challenge to parents: "We will believe half of what they say about you as parents and guardians, if you believe half of what you hear about us."

BOOK ON PRESSLEY RIDGE WILDERNESS AVAILABLE
(November 16, 2004) A story on Pittsburghlive.com, announced that on November 16, the photographic work of Shannon Szwarc, 30, is on display at the Conney M. Kimbo Gallery at the University of Pittsburgh for almost three weeks. The exhibition coincides with the November release of Szwarc's pictorial book, "Wilderness Within, Wilderness Without," which chronicles life at the Pressley Ridge Therapeutic Wilderness Camp in Ohiopyle, PA. www.pittsburghlive.com

RUDOLPH JOINS PROVO CANYON TEAM
(November 17, 2004) Ken Huey, Director of Business Development, Provo Canyon School, Provo, UT, 801-227-2000, ken.huey@uhsinc.com, www.provocanyon.com, announced Jude Rudolph, MA, accepted the position of Regional Director of Business Development in the southeast region. Prior to joining Provo Canyon, Jude worked in the marketing department at Three Springs, and seven years in admissions and marketing for Ascent and CEDU respectively.

NEW ACADEMIC DEAN AT NORTHWEST ACADEMY
(November 17, 2004) Julia Andrick, spokesperson for CEDU Education, Sandpoint, ID, 208-265-0607, jandrick@cedu.com, announced Dr. Royce Zant is the new Academic Dean and Coordinator of Special Education Services at Northwest Academy, Bonners Ferry, ID, effective December 1, 2004. Prior to joining CEDU, Dr. Zant was an Adjunct Professor at the New Mexico State University.

GOLDBERG'S WELCOME FIRST GRANDCHILD
(November 18, 2004) IECA member Renee Goldberg, and her husband Marvin, Cambridge, MA, 617-864-8864, info@optionsined.com, www.optionsined.com, announced the birth of their first grandchild Samuel Hayden MacGilpin. Samuel was born Tuesday, November 16, at Hartford Hospital. Mother and son are doing well, and Sam went home Thursday, November 18. Woodbury Reports congratulates Renee and Marvin; there is nothing as special as the birth of a grandchild.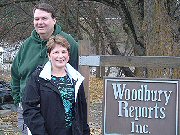 NORTHWEST PASSAGES VISITS WOODBURY REPORTS
(November 19, 2004) Alan and Kandy Satterlee, Owners of Northwest Passages, LLC, Kalispell, MT, 406-756-5444, Northwest-passages@centurytel.net, www.northwest-passages.com, stopped by Woodbury Reports on a mini-vacation around north Idaho. Northwest Passages, LLC is a 24-month 'step-down' program for girls ages 16-22.


DORNY RESIGNS FROM ACADEMY AT CEDAR MOUNTAIN
(November 19, 2004) Clinton Dorny, cdorny1@yahoo.com, 435-691-0588, announced that he has resigned as Admissions Director for the Academy at Cedar Mountain, Cedar City, UT, 435-867-5555, info2@cedar-mountain.com. No further details were provided.

ACADEMY AT CEDAR MOUNTAIN RECEIVES FINANCING
(November 20, 2004) Charli Smith, Admissions for the Academy at Cedar Mountain, Cedar City, UT, charli@cedar-mountain.com, www.cedar-mountain.com, 435-867-5555, announced that as the school celebrated their fifth anniversary, they received nearly $1 million in contributions, with another contribution of nearly $300,000 expected during the month of December. "The funds are being used to stabilize and restructure long-term debt, while at the same time reducing program operating costs and enhancing the Academy's opportunities for continued program development."

HAMPSHIRE COUNTRY SCHOOL HAS NEW WEBSITE
(November 21, 2004) A group of parents with students at Hampshire Country School, Rindge, NH, 603-899-3325, announced the completion of a comprehensive new website for the school with more complete information than previously available. The new website is www.hampshirecountryschool.org. The old website www.hampshirecountryschool.com is still available and will forward to the new site shortly.

CORONADO ACADEMY CLOSES
(November 21, 2004) In a letter to parents, Saul Rudman, President and CEO, Coronado Academy, Costa Rica, 866- 372-4789, announced that the school closed its doors on November 28. Rudman said the closure is due to extreme financial difficulties brought on by low enrollment and huge operating costs. www.strugglingteens.com

VANGUARD SCHOOL SURVIVES HURRICANES
(November 22, 2004) Woodbury Reports recently received information that Vanguard School, Lake Wales, FL, 863-676-6091, vanadmin@vanguardschool.org, www.vanguardschool.org, a school for students with learning differences, survived the extensive damage of the Florida Hurricanes. The school lost some trees, experienced a lot of water damage, the gym is under repair, but they plan to move full speed ahead with their academic and extracurricular programs.

JACK CULOTTA JOINS CONFIDENT LIVING, INC.
(November 22, 2004) David Herz, Executive Director, Confident Living, Inc., Boulder, CO, 303-449-2516, info@confidentlivinginc.com, www.confidentlivinginc.com, announced that Jack Culotta joined the team in November 2004 as Director of Business Development. Jack brings 14 years of experience in therapeutic boarding schools and working with families.

SPRING CREEK LODGE ACADEMY FEATURED IN TIME MAGAZINE
(November 22, 2004) Cameron Pullan, Director of Spring Creek Lodge, a behavior modification school in Thompson Falls, MT, 506-827-4344, allowed a TIME journalist to attend the parents' weekend and tour the campus, providing a rare glimpse into the daily regimens and conditions at one of these tough-love schools and an intimate look at the difficult choices facing parents who send their children to them. Many critics have voiced that tough-love programs do not work, but the owners of such places disagree. "We help build confidence, through character building," said Chaffin. www.time.com

DYNAMY APPOINTS NEW DEAN OF ADMISSION
(November 22, 2004) Jim Zuberbuhler, Executive Director of Dynamy, Worcester, MA, 508-755-2571, www.dynamy.org, announced Brian R. Hopewell was appointed their Dean of Admission and Marketing. Hopewell most recently was Dean of Enrollment for the Sea Education Association in Woods Hole, MA, and before that he was Director of Admissions at Simon's Rock College. Dynamy's Internship Year program in Santa Rosa, CA will start January 10, 2005.

MONARCH SCHOOL TO HAVE 17 OPENINGS
(November, 22, 2004) Ranel Hanson, Director of Admissions, Monarch School, 406-847-5095, Heron, MT, ranelh@monarchschool.com, www.monarchschool.com, announced that on January 3, 2005, the school will have 17 openings for new students. Ranel said that although Monarch is normally full, the December 11, 2004, graduation of several students will open spots for both boys and girls.

MT BACHELOR ACADEMY GRADUATION
(November 29, 2004) Mt. Bachelor Academy, Prineville, OR, 800-462-3404, www.mtba.com, announced 16 students will graduate at 10:00 a.m., on December 18, 2004, at Crook County High School Auditorium in Prineville. A reception will follow at Mount Bachelor Academy.

HINKSON JOINS KIATOU WILDERNESS
(November 29, 2004) Gilles Latremouille, head of the Kiatou Wilderness program, Blue Sea, Quebec, Canada, 819-463-0152, info@kiatou.ca, www.kiatou.ca, announced Fay Hinkson, a psychology graduate, is a member of their staff. Her strengths are group facilitation and in-depth interviewing techniques. Hinkson grew up in England and Barbados; she lived for many years in France, and speaks English, French and Spanish.

SPRING LAKE RANCH COMPLETES FACILITY UPGRADES
(November, 29 2004) Spring Lake Ranch, Cuttingsville, VT, 802-492-3322, springlakeranch@springlakeranch.org, www.springlakeranch.org, will soon complete the final project in a five year construction effort to improve their facility. This last residence, the New Noyes House, will house 12 students and three staff members.

BENCHMARK CELEBRATES ELEVEN YEARS
(November 30, 2004) Shelley Skaggs, Marketing and Public Relations, Benchmark Young Adult School, Redlands, CA, 714-963-4148, tskaggs@socal.rr.com, www.benchmarkeducation.net, announced the school is now in its eleventh year and the new campus building will be ready to move into in early 2005.

ADDISON RESIGNS AS DIRECTOR OF ROCKY MOUNTAIN ACADEMY
(November 30, 2004) Julia Andrick, Marketing and Communications Director, CEDU Family of Schools, Sandpoint, ID, 208-265-0607, jandrick@cedu.com, www.cedu.com, announced that Scott Addison, Director of Rocky Mountain Academy, Naples, ID, www.rockymtnacademy.com, and CEDU Vice President of Operations, George Condas, mutually agreed to Addison's separation from CEDU. Condas said he will assume direct responsibility for RMA until a new director is hired.




© Copyright 2012 by Woodbury Reports, Inc.