May SEEN Ní HEARD
[Items of interest from around the Emotional Growth/
Therapeutic Boarding schools and programs network.]
HIDDEN LAKE CONTRACTS WITH PSYCHIATRIST
(March 2005) Hidden Lake Academy, Dahlonega, GA, 800-394-0640, hiddenlakeacademy@alltel.net, www.hiddenlakeacademy.com, announced that because of a growth in the number of students and their psychiatric needs, the program has expanded its psychiatric services by contracting with an additional psychiatrist, Consuelo M. Reddick, MD. She is on campus weekly to assist students with medication reviews, medical support and emergency on-call situations.

FULLPOTENTIAL SUCCESS UPDATES INFO
(March 17, 2005) James Stallcup, FullPotential Success Coaching, Denver, CO,
303-321-0343, james@fullpotentialsuccess.com, alijames1@earthlink.net, www.fullpotentialsuccess.com, shared their updated contact information with Woodbury Reports, Inc.
THREE SPRINGS PAINT ROCK VALLEY OFFERS NEW PROGRAM
(March 28, 2005) Tere Snodgrass, Referral Relations Coordinator, Three Springs, Inc., Trenton, AL, 888-758-4356, tsnodgrass@threesprings.com, www.threesprings.com, announced the Paint Rock Valley campus now offers an Extended Jurisdiction program to families with children 17 or older who require residential treatment.
ANASAZI RECEIVES JCAHO ACCREDITATION
(March 29, 2005) Kimberly Nuzman, VP Marketing of Anasazi Foundation, Mesa, AZ, 480-892-7403, www.anasazi.org, announced the program received JCAHO accreditation in March.
SALE OF DESISTO HITS SNAG
(March 31, 2005) A story in the Berkshire Eagle, Stockbridge, CT, reported a federal judge attached a $500,000 lien on the DeSisto property in March 2005 that halted the sale. A story by the same publication on April 22, 2005 said the property is back on the market with a higher asking price of $5.6 million. www.berkshireeagle.com/Stories/0,1413,101%7E7514%7E2830186,00.html
VILLA SANTA MARIA STARTS NEW FACILITY
(March 31, 2005) Joseph McGuill, CEO of Villa Santa Maria, Cedar Crest, NM, 505-281-3609, www.villasantamaria.org, announced the groundbreaking for the long anticipated three million dollar facility which will double their capacity to 32 students by October 31, 2005. The completion of the building will coincide with Villa Santa Maria's 50th anniversary.

FAMILY FOUNDATION EXPANDS MIDDLE SCHOOL PROGRAM
(April 1, 2005) Sid Parham, Vice President of Academic Affairs at Family Foundation School, Hancock, NY, 845-887-5213, www.thefamilyschool.com, recently announced that Jan Cherpiko will oversee the newly restructured junior high program that will allow 7th and 8th grade students to attend class and work in their own lab in a separate building.
TIAA GRANTS CEDU CLOSING FUNDS
(April 2, 2005) The Spokesman Review, reported that the March 30, order for temporary financing was too late to keep CEDU students on campus because Brown Schools, Inc. had filed for Chapter 7 Bankruptcy and liquidation proceedings were already underway. The financing was a $1.5 million loan from the company's primary lender, Teachers Insurance and Annuity Association of America (TIAA).
www.spokesmanreview.com/idaho/story.asp?ID=62364
CHEROKEE CREEK CELEBRATES SECOND BIRTHDAY
(April 5, 2005) Admissions Coordinator Betsy Deane, Cherokee Creek Boys School, Westminster SC, 864-647-1885, bdeane@cherokeecreek.net, www.cherokeecreek.net, announced the school is celebrating its second birthday! Cherokee Creek is a middle school serving boys, age 11-15 years old, who struggle with emotional, academic, personal and/or social issues.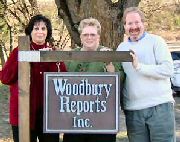 ASPEN JOB FAIR STAFF VISIT WOODBURY REPORTS
(April 5, 2005) Following the precipitous closing of the CEDU Schools by financial managers, Aspen Education Group, Cerritos, CA, www.aspeneducation.com, sent three key staff members to Bonners Ferry, ID to conduct a Job Fair. The goal was to explain various job openings in several Aspen schools that ex-CEDU staff might be qualified for. In between sessions of the two-day job fair, Norma A. Stein, Julia Felde and Randy Christopher stopped by the Woodbury Reports offices to have their pictures taken by our sign.
TOBY MAUTZ JOINS HELENE REYNOLDS & ASSOCIATES, LLC
(April 8, 2005) Helene Reynolds and Associates, LLC, Princeton, NJ, 609-921-1326, www.helenereynolds.com, announced that Toby Mautz, MSW, LCSW, recently joined their team of educational consultants.
GATEHOUSE OFFERS EXTENDED CAMPUS IN NEW YORK
(April 8, 2005) In their April newsletter, Gatehouse Life, Gatehouse Academy, Wickenburg, AZ, 888-966-4800, www.gatehouseacademy.com, announced the opening of an extended campus, Gatehouse Haven Oaks, in upstate New York with an outpost in Thunder Bay, Ontario. The new campus houses four to eight students for eight weeks. Gatehouse also announced the Peco building is now completed.
LIVING WELL INVITES IECA ATTENDEES
(April 11, 2005) Julie Randall, Director of Operations, Living Well Transitions, LLC, Boulder, CO, 303-245-1020, info@livingwelltransitions.com, www.livingwelltransitions.com, invites IECA Conference attendees to visit their program on Tuesday, May 10, 2005. Transportation from Denver to Boulder and lunch is provided.
RIOT ROCKS EAGLE POINT CHRISTIAN ACADEMY
(April 11, 2005) A story in the Clarion Ledger reported that Eagle Point Christian Academy, owned by John Fountain and formerly known as Bethel Boys Academy, Lucedale, MS, was rocked by a riot that resulted in the arrest of nine boys, injuries to seven and one missing. www.clarionledger.com/apps/pbcs.dll/article?AID=/20050411/NEWS01/504110359/1002
YOUTH CARE EXPANDS
(April 11, 2005) Robin Stephens, Regional Director of Aspen Education Group, 801-942-5354, www.aspeneducation.com, announced that Tamara Noyes was promoted from coordinator to the position of Admissions Director for both Youth Care and Pine Ridge, www.youthcare.com, www.pineridgeacademy.com. Aspen also announced Youth Care recently opened a new home in Draper, UT, 800-786-4924.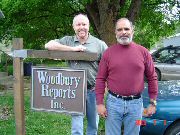 UPDATE ON CHUCK SELENT
(April 12, 2005) Roy Negrete, President of AES-CA Inc., announced that Chuck Selent is joining with him as Vice President/Executive Director of AES Northwest Inc., Bonners Ferry, ID, 208-267-5807, 208-290-2277-cell, 208-267-3945-Fax, crselent@yahoo.com, www.aes-ca.com. Chuck was the Northwest Regional Manager of Special Services for CEDU Family of Services and The Brown Schools. On May 4, Chuck and associate Mike Decker stopped by Woodbury Reports to have their picture taken with the sign.
NEW ADMISSIONS DIRECTOR AT NEW LEAF ACADEMY
(April 12, 2005) Craig A. Christiansen, Director/Founder of New Leaf Academy, Bend, OR, 541-318-1676, newleaf@bendcable.com, www.newleafacademy.com, announced that Amy Tigner is the newly appointed Admissions Director. Amy replaced Erin Campbell who stepped down from her position on April 15, 2005.
NATIONAL RECOGNITION FOR EYA STUDENTS
(April 14, 2005) Rhonda Carpenter, Corporate Communications Specialist for Eckerd Youth Alternatives, Clearwater, FL, 727-461-2990, admissions@eckerd.org, www.eckerdyouthalternatives.org, announced that Camp E-Ten-Etu received national recognition from USA Weekend for its efforts in the "Make A Difference Day 2004" coat drive on April 17, 2005. She also said that seven other Eckerd Youth Alternatives' programs were mentioned on April 17 among 514 Newspaper Winners.
BRAT CAMP 2ND SEASON AT TURN-ABOUT RANCH
(April 14, 2005) The second season of the popular TV series Brat Camp started on April 24, 2005. Last year featured six high-risk British teens, their experiences and growth in the Utah wilderness. This season features seven British teens making poor decisions, who went to Turn-About Ranch, in Utah, for the intervention. Last year's teens reported a lot of people have approached them, and that being on TV helped them to influence some of their friends to reduce their negative behavior. http://tvnz.co.nz/view/tv2_story_skin/468334%3fformat=html
BENCHMARK ACCEPTING NEW STUDENTS
(April 15, 2005) Shelley Skaggs, Marketing & PR for Benchmark Young Adult School, Redlands, CA, 800-474-4848, tskaggs@socal.rr.com, www.benchmarkeducation.net, announced the program is now accepting students at least 17 ½ years of age who may have been displaced by the CEDU closures or who require additional assistance on their path toward adulthood.
DORE FRANCES OFFERS FAMILY COACHING
(April 15, 2005) Dore Frances, Founder/Owner of Horizon Family Solutions, LLC, Coeur d'Alene, ID, 866-833-6911, Dore@DoreFrances.com, www.GuidingTeens.com, announced she is now accepting applications from parents who want to sign-up for her Family Coaching services. She is also changing her business direction away from an IEP Advocate as she moves into other areas.
NEW RTC OPENS IN UTAH
(April 15, 2005) Diana Robbins, LCSW, Executive Director and Lorrie Merriam, Educational Director, announced the opening of a new 16-bed residential treatment center for girls 13-18 years of age. The Achievement Center For Young Women is located in Manti, UT, 435-835-4475, achievementcenter@mail.manti.com, www.utahachievementcenter.com.
IVY RIDGE ACCREDITATION SUSPENDED
(April 16, 2005) Chris Garifo, a Correspondent with the WaterTown Daily Times/ Times Albany in New York, reported that the Academy at Ivy Ridge, a Teen Help program associated with WWASP, had its accreditation suspended in the wake of a state attorney general's office inquiry into the business practices of the institution.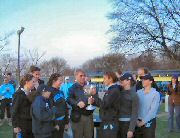 WOODBURY PRESENTS TROPHY FOR "WOODBURY REGATTA"
(April 17, 2005) Lon Woodbury, President/ Founder of Woodbury Reports, Inc., 208-267-5550, lon@woodbury.com, www.woodbury.com, traveled to New York City with his family for a bittersweet presentation of the Woodbury Cup, in memory of his daughter Melanie, co-captain of the team in 1996. Lon presented The Woodbury Cup to the Columbia University women's varsity crew team following their win of the inaugural cup race against rival Northeastern University. This is the first rowing cup inaugurated on behalf of a Columbia women's rowing event and will be awarded annually to the winning team.
BRANDON HALL SUMMER SESSION
(April 18, 2005) Marcia Shearer, Admissions Director at Brandon Hall School, Atlanta, GA, 707-394-8177, admissions@brandonhall.org, www.brandonhall.org, announced that they are now accepting Summer School 2005 applications for students with learning disabilities/ issues, ADD, and the traditional learner from the fourth grade and up who need either a skills review or additional high school credits. Classes begin June 13, 2005.
CITY COUNCIL REJECTS OFFER ON KEMPER
(April 19, 2005) The Missourian in Columbia, MO reported that the Boonville City Council voted 7-0 against Randall and Russell Hinton's proposal to open a military school for male cadets at the former Kemper Military School site. Robert Litchfield, who has ties to the WWASP programs, was the reported financial backer. http://columbiamissourian.com/news/story.php?ID=13389
NEW LIFE CENTER OPENS IN UTAH
(April 19, 2005) Michael Zavacky, Business Development Manager for New Life Centers, Salt Lake City, UT, 888-281-3353, mzavacky@newlifecenters.org, http://newlifecenters.org, announced the New Life Centers eating disorder program is now open to provide intense residential, day and outpatient treatment for girls 13 and older.
WILDERNESS TREATMENT CENTER IS LICENSED
(April 19, 2005) John Brekke, Director of Wilderness Treatment Center, Marion, MT, 406-854-2832, john@wildernesstreatmentcenter.com, www.wildernesstreatmentcenter.com, mentioned that Wilderness Treatment Center (WTC) is licensed by the Montana Department of Health and Human Services with a Certificate of Need (CON) that allows them to treat chemical dependency in a residential setting. WTC was first granted a CON in 1983 and has reapplied twice since that time to increase the number of beds and services.
SUMMERQUEST 2005 AT BACHMAN ACADEMY
(April 20, 2005) Bachman Academy, McDonald, TN, 423-479-4523, admissions@bachmanacademy.org, www.bachmanacademy.org, announced that SummerQuest 2005 is set for June 13 through July 29, 2005, for ADHD, LD and ASD adolescents.

THAMES ACADEMY AT MITCHELL COLLEGE
(April 20, 2005) Mitchell College, New London, CT, 860-701-5000, hodges_k@mitchell.edu, www.mitchell.edu, introduced a new program, Thames Academy at Mitchell College. Thames Academy is a post-graduate or pre-college year transitional experience that helps students prepare for college by offering college level coursework for credit. The Learning Resource Center at Mitchell College is "nationally recognized for helping students with documented learning disabilities and/or AD/HD." www.mitchell.edu/miscpage.asp?mp=457
TRANSITIONS OF GALVESTON ISLAND TO OPEN
(April 20, 2005) Anthony S. Geraci Jr., President and CEO of Transitions of Galveston Island (TGI), 866-918-8383, ageraci@transitionsGI.com, www.transitionsGI.com, announced the program opened on May 1, 2005. TGI provides a 4-6 month program with two Phases and an optional third phase to help young men transition from residential treatment, drug and alcohol rehabilitation, wilderness programs and therapeutic boarding schools.
PARENT SUES MAJESTIC RANCH
(April 22, 2005) The Salt Lake Tribune reported that a California mother is suing Majestic Ranch, near Randolph, UT, a program affiliated with WWASP, of physically and emotionally abusing her son while he attended the program. www.sltrib.com/utah/ci_2679149
LEGISLATION TARGETS WWASP
(April 21, 2005) A story on DeseretNews.com reported that Congressman George Miller (D-CA) is introducing legislation that targets the WWASP programs because of "persistent allegations of child abuse and claims of questionable business practices."
http://deseretnews.com/dn/view/0,1249,600128053,00.html
MISSOURI FINDS FAULT WITH BOOT CAMP
(April 22, 2005) An Associated Press story published in the Mercury News said a report from the State of Missouri is critical of the Missouri boot camp, Thayer Learning Center, owned by John H. and Willa Bundy. The story says the state found fault with access to medical care and said records may have been falsified in the death of a 15-year-old male student. www.strugglingteens.com/news/thayer_learning-index.html
PHOENIX OUTDOORS NOW ACCEPTING STUDENTS
(April 22, 2005) Dan Kemp, Admissions Director of Phoenix Outdoor, LLC, Asheville, NC, 877-305-0904, bahern@phoenixoutdoor.com, www.phoenixoutdoor.com/admissions.htm, announced the program is now open and accepting students. Phoenix Outdoor is a North Carolina licensed wilderness treatment program for teens ages 13-17.
INDEPENDENT SMALL PROGRAMS ALLIANCE FORMED
(April 24, 2005) Andy Anderson, Andy Anderson Consulting, Clearwater, FL, 727-512-9144,
alanderson1537@earthlink.net, announced the formation of the Independent Small Programs Alliance (ISPA) to provide a venue for independent small programs to evaluate and take assertive action on trends, issues, strengths, weaknesses, opportunities and threats impacting provision of service to private pay clients. The ISPA members in partnership with Andy Anderson Consulting include: New Lifestyles, Building Bridges, Oliverian School and FL Chamberlain School.
www.strugglingteens.com/news/press%20releases/ispa-050425.html
MOSS ANNOUNCES MARRIAGE PLANS
(April 25, 2005) Candace Moss, MS, LPC, Consultant Coordinator at Hidden Lake Academy, 800-394-0640, activity@hiddenlakeacademy.com, www.hiddenlakeacademy.com, announced she is getting married and relocating to Charleston, SC. Candace added that she will continue in her role as the Consultant Coordinator for Hidden Lake Academy.
SEASONS ADDS ANIMAL ASSISTED THERAPY
(April 25, 2005) Graham Shannonhouse, Executive Director, SUWS of the Carolinas, Old Fort, NC, 888-828-9770, gshannonhouse@suwscarolinas.com, www.suwscarolinas.com, announced that Seasons, a SUWS of the Carolinas program for youth ages 11-13, has teamed up with Paws With A Purpose, a non-profit organization that works with licensed therapy dogs to provide animal assisted therapy.
SCHOLARSHIP CONTEST AT STORM KING SCHOOL
(April 25, 2005) Caroline Petro, Storm King School, Cornwall-on-Hudson, NY, 845-534-7892 ext. 210, admissions@sks.org, www.sks.org, announced a Scholarship Competition entitled "Mad About The Arts," on May 14, 2005 from 9 a.m. to 12 noon for students in grades 7-12, who are not current students. Petro mentioned Storm King School increased enrollment last year by 30 percent and seeks to add another 10 percent next year.
Copyright © 2005, Woodbury Reports, Inc. All Rights Reserved.
(This article may not be reproduced without written approval of the publisher.)
---
Return to Strugglingteens.com Home