ECHO SPRINGS TRANSITION STUDY CENTER
Bonners Ferry & Coeur d'Alene Idaho
208-267-1111
echo@asisna.com
www.echo-springs.com
Visit By: Lon Woodbury lon@woodbury.com & Kathy Nussberger, kathy@woodbury.com on February 8, 2005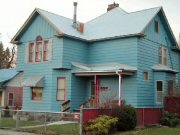 As we joined the Phase II students in the meeting room at their house in Coeur d'Alene, they were discussing the issues of the day which was more typical of a dorm meeting than any kind of psychological group. The students appeared to talk openly and directly about their experiences in the program. Echo Springs does not operate as a therapeutic program.
Much of the discussion revolved around personal schedules and plans, but a few of the students mentioned ongoing issues or problems they were dealing with in their daily lives. The meetings are intended to be low-key because the program is designed to help students improve their decision-making skills. Three of the 12 students in this meeting were visiting from Phrase I in Bonners Ferry to explore the possibility of whether they were ready to move to Coeur d'Alene and take on the expanded privileges and opportunities of Phase II. They were polite, well spoken, and for the most part, honest about their thoughts and feelings. However, after spending the day exploring the Coeur d'Alene environment, one Phase I student was quite vocal about not being ready to handle the increased temptations of living in a college town.
Echo Springs is a small, coed transition program for young adults, ages 18 to 24, who have trouble making a good transition into adult life. Some are graduates of highly structured Emotional Growth/Therapeutic programs, but need more structure than they would get living on their own, and work or attend college. Most, however, failed to make the transition into adult life, often flunking out of college in the first semester because they did not have the discipline to apply themselves to college work.

Co-Owner and program head Doug Kim-Brown, said Echo Springs does not take all applicants that appear to fit at first blush. "We are very specific as to the students that can be helped by the program." The program seriously screens applicants by using a three-day interview process to determine if a student will fit in and can be helped by the program. The group we met for the most part was in recovery from drug and alcohol problems, but Kim-Brown was emphatic that this was not typical. Echo Springs is not a recovery program, but Kim-Brown asserts the program is excellent for post recovery students. The program works with young adults who have a variety of issues that undermine their ability to succeed as an adult. Drug and alcohol problems are just one of the issues some of his students have to learn to deal with. Any student recovering from drugs and/or alcohol is required to have a minimum of 30-days sober before being accepted into the program.

He described the typical student as a master of isolation, unable to develop positive relationships, and/or their lives are out of balance because their world revolves around computers, negative friendships, drugs or the couch potato life style. The common theme being that they isolate themselves from those life activities that are important to their emotional age-appropriate peers.

The typical length of the program is 12-18 months. The first Phase is in a home in Bonners Ferry, where Admissions Director Rhea Verbanic and other staff members closely supervise the students as they identify and work on the issues and obstacles that block their growth into adulthood. In Phase I, the students are required to find some kind of life that is different from what they were living prior to the program. Part of the solution is learning how to develop an active dialogue with the surrounding community. When ready, the students apply for Phase II, which is a less restrictive and structured environment in the college town of Coeur d'Alene. If their application for Phase II is accepted, they move to the Coeur d'Alene program house where they are usually working at a job and attend college.

A major part of the program is for the students to learn how to deal with the community. A great deal of this happens in Phase I, in Bonners Ferry, but this concept continues to be a central part of the program in Coeur d'Alene. As the students begin working and attending college in Coeur d'Alene, they typically face the temptations of all young people, so building a level of trust becomes even more important. Phase II Director Ellie Goltz and the house supervisor oversee the students, no one follows them to classes or work but since the students live in apartments owned and supervised by the program, they are not totally on their own. If they do something they should not be doing, word gets around fast, and the staff and other students help them deal with the consequences and learn from it. As they earn higher levels of trust and can afford it, students at the Coeur d'Alene house are eligible to have their own cars, cell phones, date within reasonable parameters and live their life pretty much the same way any mature and responsible young adult does.

Essentially, within basic principles, as each student develops their own personal structure, the program increases the amount of trust as the students earn it, which evolves into a very high level of trust in Phase II.

All this was reflected in the meeting we attended. Although the staff provided feedback on whether a planned activity was appropriate or if the student should think about it some more, the students were the main participants in the meeting. For example, one student explained his thoughts in a way that was obviously designed to look good, but he was not being honest with himself or the rest of us. The feedback from staff and peers seemed to help him reconsider, without anyone telling him what he had to do.
Echo Springs also offers an elective component called Phase Out, for students who are ready to graduate and live on their own, but feel they still need or want guidance because they are uncomfortable being completely on their own. Kim-Brown said Phase Out does not include any level of discipline or supervision from the Echo Springs staff. He and Ellie act more as mentors to help them complete the final part of transitioning into adulthood.
---
Return to Strugglingteens.com Home
Copyright © 2005, Woodbury Reports, Inc.
(This article may be reproduced without prior approval if the copyright notice
and proper publication and author attribution accompanies the copy.)