Team Avengers" Raises $7,677 for the LiveStrong Lance Armstrong Foundation
Susan Holden Walsh
Holden McClure PR
303-449-2526

PHILADELPHIA, PA AND BOULDER, CO, SEPTEMBER 21, 2006… Teamwork and support was the combination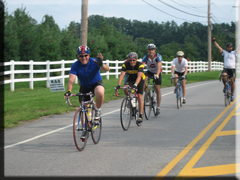 for success as Team Avengers – a team of professionals from across the U.S. - raised $7,677 for the LiveStrong Lance Armstrong Foundation. The team worked together to raise funds and compete in the LiveStrong Challenge race in Philadelphia, September 10, 2006. The event encourages athletes to support each other, raise funds and to "inspire and empower people living with cancer".
Team Avengers was led by Team Captain and Educational Consultant Mike Balotti of Jim Nolan and Associates, who is a cancer survivor. Other 2006 members included Elizabeth McGhee of Rancho Valmora and High Frontier, and Amanda Thomas and Beth Laughlin of Confident Living, Inc., and Jude Rudolph of ASCENT, Boulder Creek Academy and Northwest Academy. Balotti and Rudolph completed the 100 mile bike ride, while McGhee, Thomas and Laughlin all successfully completed the 10K running event.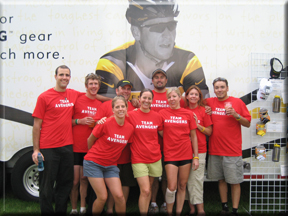 "We had such a great time that we have already started planning for next year's event," shared Balotti. "We'd love to show up with an even bigger and stronger team in 2007. We sincerely thank everyone that supported us this year and encourage them to join us as Team Avengers participants in the future."
Team Avengers has created a website to share photos and thoughts on the 2006 event and to encourage others in the industry to sign up for the 2007 event. (www.teamavengersonline.com). Those who would like to support Team Avengers may do so by emailing or calling Mike Balotti at (610) 527-9242.