Life-Line Treatment Program Breaks Ground
On New Residential Treatment Center
Contact:
Shane R. Petersen, MBA
Director of Administration
801-936-4000
www.lifelineutah.com
June 2, 2005
Ground-breaking ceremony celebrated the community's support and hard work in raising the funds for the construction of this new building.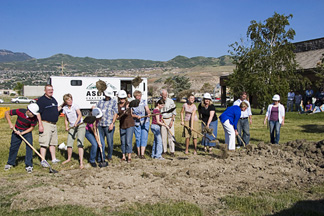 Life-Line, a non-profit family-focused treatment program for troubled teens held the ground-breaking ceremony on the site where construction will begin next week on their residential treatment center.
Life-Line has been a fixture in the community for the past 16 years as they have treated and healed local families. The residential treatment center, to be built by Ascent Construction, gives them the capabilities to assist teens that may not live in the Wasatch Front and need a safe place to stay during their treatment. Life-Line is currently providing their services to over 100 teens and desperately need this to help better meet the needs of their intakes.
"We would like to thank everyone who has worked so hard to make this dream a reality," said Director of Administration, Shane Petersen. "This center will provide the necessary tools to help us continue to grow and give us the opportunity to help more families than ever before."
The mission of Life-Line is to "Rescue, Restore, and Rejoice" as they help children regain a sense of self-worth through freedom from their un-healthy behaviors. Life-Line has provided the necessary intervention and professional family therapy to reunify thousands of families in the community.