From Strugglingteens.com


Visit Reports
ROSECRANCE
Visit Reports
Jun 26, 2007, 08:31



Substance Abuse Treatment Centers
Rockford, Illinois
Kim Lowrie, Marketing
773-895-2996
LowrieK@rosecrance.net
www.rosecrance.net

Visit by Lon Woodbury September 26, 2006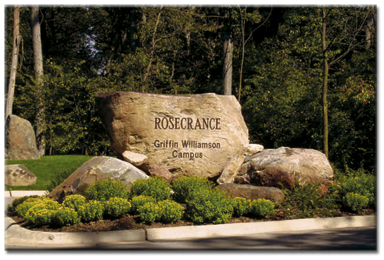 Rosecrance has been around for a long time but only moved into its adolescent primary care center in August 2004. Located on 50 acres, its design was the result of interviews of past students, asking them for ideas of what, in their view, an ideal facility would be like. The result is a high-end 78-bed expansive facility, complete with a gymnasium, classrooms, conference and group rooms, and everything that might be needed to supply adolescent needs, both personal and treatment wise. On the other side from the entrance, in the back, they have landscaped what they call the Serenity Garden. Following walkways over the pond, students can spend time in the Serenity Garden, which consists of wandering paths through landscaped areas and a waterfall and stream running into the pond. The garden includes a lot of little semi-private turnoffs where the students can sit to talk with each other and their therapists while enjoying the natural beauty of the garden. The garden is very peaceful, and is an impressive and unique addition to the facility. It is obvious that no effort or cost was spared to make the facility top quality.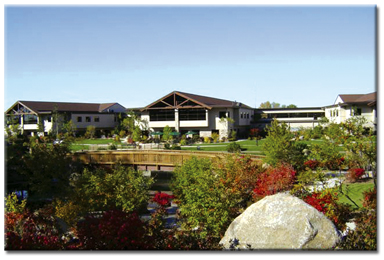 I had the opportunity while there to attend a student assembly in the gymnasium. The occasion was a student talent show for which they had been preparing for some time. It looked like a student gathering you would see almost anywhere with a coed assembly. The excitement was high; they were cheering on and supporting their friends, encouraging those that had trouble overcoming their nervousness and of course enjoying the humor and talent of the performers. The important thing, I think, was that it was a bit of normalcy the program purposely was bringing into their lives in the center. The main difference I could see from a comparable public school gathering of that type was the absence of the usual negativity you might see from a few malcontents, which of course fostered a positive experience for all the students.

Rosecrance is a 30 to 90-day primary care treatment center with the primary diagnosis being chemical dependency, and students come from all over the country. The center also is equipped to work with dual diagnosis students, while remembering that the chemical dependency is primary. For example, when a student has both a chemical dependency and eating disorder diagnosis, they can enroll that student only when the eating disorder is stabilized. If it is stabilized, then they are capable of working with that diagnosis. The program is 12-step based, with a few elements of Positive Peer Culture added and with very gender specific programming for boys and girls. The ages range from a low of 12 years old up to 18 years of age with separate housing for boys and girls, of course. The Center is independent, not affiliated with a hospital, and they tell me they have good success with Insurance companies.

Each student is in academic classes four hours a day with course work being coordinated with their home school. Part of the academic curriculum includes outdoor activities and experiential education.

At about the third week of a student's stay, families are invited for three-day family sessions. This consists of family-only sessions along with sessions with multiple families and is an important part of their goal of re-integrating families.

For those girls who would benefit from a longer stay working on their chemical dependency issues, Rosecrance maintains two Monarch Recovery Homes, the Hillman House and the Sullivan House. Both are marvelous well-kept structures with lots of charm and character. The structure at these houses is not as intense as that of the primary care center so the girls have more freedom. However, the structure is still tighter than most halfway houses or living out on their own. On occasion, when a girl doesn't make it at a Recovery Home, she might transfer back to the Primary Care Center for a refresher experience. A Recovery Home is an option for only some of the girls since each house can take only a maximum of 14 girls for periods ranging from three months to two years. The Recovery Homes will also accept girls who have successfully completed any Primary Care program other than Rosecrance so enrollment is not exclusively from the Rosecrance Primary Care Center. The ages enrolled there range from 15 years old up to 20 years of age.

In the past, about 90 percent of their graduates would return home for local treatment. However, as the staff has become aware of the existence of wilderness therapy programs and therapeutic boarding schools, that percentage has reduced to 60 percent returning home, with most of the rest continuing on to wilderness and/or therapeutic boarding schools.

The program has also been intensifying its efforts to catch the attention of professional Educational Consultants believing the quality of its program is the match of any of the better known Chemical Dependency Centers




© Copyright 2012 by Woodbury Reports, Inc.