From Strugglingteens.com


Seen N' Heard
SEEN N' HEARD MARCH 2004
Feb 23, 2003, 13:54



PENINSULA VILLAGE SYMPOSIUM
(December 4, 2003) Shelby Bowers, Editor of the Peninsula Village newsletter, sbowers3@covhith.com, 800-255-8336, www.peninsulavillage.org, announced the completion of a successful Behavioral Health Symposium held for 35 staff from Peninsula Village in Gatlinburg,Tennessee. Topics included Dialectical Behavior Therapy and Borderline Personality Disorder. The keynote speaker was George Davis, Ph.D. of Yale University, Dr. Peter Isaacs of Queensland University of Technology in Australia and Dr. Marv Weineger of Peninsula Outpatient Center - Sevier County.

SOJOURN INTERNATIONAL CLOSES
(January 12, 2004) Geoff Robbins, the Director of Sojourn International, China, Maine, 800-647-0042, geoff@sojourninternational.com announced that effective January 25, 2004, the program closed. The program had provided short term placements for almost 15 years.

SOAR OFFERS SEVERAL SPECIALTY COURSES
(January 15, 2004) Jonathan Jones, Ex. Dir., and John Willson, Dir. Of LD and AD/HD Services for Success Oriented Achievement Realized (SOAR), Balsam, North Carolina, 828-456-3435, www.soarnc.org, announced this year they will be continuing their programs in North Carolina, Wyoming and Florida, and will be offering specialty courses in Belize, Costa Rica, and Big Sur, California plus one session of the Florida SCUBA Course. SOAR offers adventure programs for preteens, teens and adults with Learning Disabilities (LD) and Attention Deficit/Hyperactive Disorder (AD/HD).

TOP FLIGHT ACADEMY FIRST GRADUATION
(January 17, 2004) Jeffrey Hintze, Executive Director of Top Flight Academy, Mt. Pleasant, Utah, jeff@topflightacademy.com, 435-462-2699, www.topflightacademy.com, announced two young men composed the first graduation from the program. One important part of the program is flight training that leads to passing the FAA Private Pilot Examination. The other important element is built upon Positive Peer Culture (PPC), fusing the two into the four pillars of the Top Flight Academy; Therapy, Community Living, Education and Aviation.

OUTWARD BOUND ASCENT PROGRAM
(January 26, 2004) Tammy Emery, Director of Sales/Admissions for Hurricane Island Outward Bound School, Rockland Maine, 800-341-1744x306, www.hurricaneisland.org, announced they will be running several 24 day Ascent Canoeing Courses in Florida this calendar year. They are for ages 14 to 17, and start Feb. 26, a girls program on April 8, Sept. 2, and Nov. 11.

COLORADO BOYS RANCH JCAHO ACCREDITED
(Jan. 26, 2004) Churck Thompson, president of Colorado Boys Ranch Foundation, Lajunmta, Colorado, cbradmission@ria.net, 800-790-4993, www.coloradoboysranch.org, announced the program passed their 2004 JCAHO Accreditation Review with flying colors.

HOPE RANCH ANNOUNCES CHANGES
(Jan. 27, 2003) Linda Carpenter, the new Executive Director of Hope Ranch, Whitefish, Montana, exec@hoperanchmt.org, 406-862-7871, www.hoperanchmt.org, announced several changes, including a new program focus, parent retreats, professional and credentialed staff, and new facilities. Staff they have recruited include Kelly Sloan, M.Div as Program Director and Pat Mileski, MS, CRADV, LCPC as Senior Counselor. Starting in the summer of 2003, they started expanding their facilities on the same 360 acres of land which will expand their residential capacity from 26 to 100 over the next few years. They inform us they started serving families from all over the US in 1996.

OBHIC WINTER MEETING
(Jan. 28, 2004) The Outdoor Behavioral Healthcare Industry Council (OBHIC), the organization for a number of wilderness programs, chaired by Rob Cooley Founder of Catherine Freer Wilderness Therapy Expeditions, Albany, Oregon, 541-926-7252, had their regular board meeting in Clearwater, Florida. It was announced they now have 16 members, 11 full members and 5 provisional members, with several applications pending. The board voted to hire a part time executive director to help with organization and communications, and also discussed plans to continue and expand the Research Cooperative, coordinated by Keith Russell a professor with the University of New Hampshire.

ISLAND VIEW CELEBRATES TEN YEARS
(February 2004) Jared Balmer, Ph.D., Executive Director of Island View and Oakley School, 801-773-0200, www.islandview-rtc.com, Syracuse, Utah, announced that this winter they are celebrating their tenth anniversary of the founding of Island View. They also announced several staff changes including Kimball DeLaMare will leave his post as clinical director and take over the new position of Director of Public Relations and Referral Development, Gay Jackson will take on the new position of Associate Executive Director of Island View with Janice Pannell becoming Director of Admissions.

HAMPSHIRE COUNTRY SCHOOL AND ASPERGER AND NVLD
(February 3, 2004) William Dickerman, Headmaster of Hampshire Country School, Rindge, New Hampshire, hampsjhirecountry@monad.net, 603-899-3325, www.hampshirecountryschool.com, explained in a letter to consultants that "Hampshire Country School has been educating children with Asperger Syndrome and Nonverbal Learning Disabilities longer than any other program in the world?" He continues that "Hampshire Country School is not just for students with Asperger Syndrome or Nonverbal Learning Disabilities; but the abilities and needs of such children and young adolescents have guided the development of the school for more than half a century." The school was founded in 1948 for children "intellectually gifted but emotionally oversensitive…. Today most of those students would be diagnosed with Asperger Syndrome or Nonverbal Learning Disabilities."

SCHEIDERMAN NOW AT BRIDGES ACADEMY
(February 3, 2004) Bruce Barrett, Executive Director of Bridges Academy, Bend, Oregon, info@bridgesboysacademy.com, 541-318-9345, www.bridgesboysacademy.com, a residential boarding school for boys ages 13 through 17 founded in 1997, announced the appointment of Erick R. Scheiderman as the Schools' Sales and Admissions Counselor. He will be the primary contact in working with prospective students and their families, Educational Consultants and other professionals. Scheiderman sold his Internet consulting company in 2002 and is recognized in the field of distance learning, web-based training and Internet marketing.

ALEXANDER NEW EX. DIR. OF ASPEN RANCH
(Feb. 6, 2004) Jasmine Barajas of Aspen Ranch, Loa, Utah, 877-231-0734, www.aspenranch.com announced Matt Alexander has been appointed Executive Director of Aspen Ranch. Alexander has been with Aspen Ranch for 3½ years serving as English Teacher, Academic Director, and Program Director. He can be contacted at 435-836-1113 or malexander@theaspenranch.com.

SUWS OF THE CAROLINAS CONTINUES TO RAISE THE BAR
(February 9, 2004) SUWS of the Carolinas, Old Fort, North Carolina, 888-828-9770, www.suwscarolinas.com announced they are now able to offer one full core credit towards high school graduation. More information can be obtained by contacting Leah Halverson in admissions. admissions@suwscarolinas.com

ENHANCEMENTS AT COPPER CANYON ACADEMY
(February 9, 2004) Tammy Behrmann, Executive Director of Copper Canyon Academy, Rimrock, Arizona, an all girl program, admissions@coppercanyonacademy.com, www.coppercanyonacademy.com, announced the Lake Montezuma Campus is now limited to students ages 14 to 17 years and 9th to 12th grades, the Camp Verde Campus is now limited to students ages 13 to 15 years and 8th to 10th grades, and has added an Equine Therapy Program, which is especially valuable for students not responding well to traditional "talk therapy" and to students with attachment/bonding issues.

KNOPF TO LEAVE KING GEORGE SCHOOL
(February 11, 2004) Rae Ann Knopf, MSW, Head of School, King George School, Sutton, Vermont, a CEDU School, information@kinggeorgeschool.com, 800-218-5122, www.kinggeorgeschool.com, announced she is resigning from King George School to pursue other interests in working to continue to "help children and families in need." "Dr. Mark Kaufman, Dean of King George School and Dr. George Condas, Executive Director, CEDU California will be assisting in the transition of leadership here at the school."

BOARDING SCHOOL PROPOSAL DRAWS VOCAL OPPOSITION
(Feb. 12, 2004) George Ulrich, a psychiatrist with North Idaho Behavioral Health in Coeur d'Alene, Idaho, proposed a school for students between the ages of 13 and 17 who are struggling to succeed in previous educational settings because of various learning disabilities, drew several local and vocal opponents at a Planning and Zoning hearing Feb. 5 in Kootenai County. Although Ulrich is a consulting psychiatrist for CEDU Schools, CEDU is not involved in this project despite implications of that in an Idaho Statesman story. For the news story, go to www.ruralnorthwest.com.

NAWA SPRING RESCUE TRAINING
(Feb. 13, 2004) NAWA Academy, French Gulch, California, nawa@concentric.net, 800-358-6292, www.nawa-academy.com, announced their 16th Annual Spring Training called NAWA RESCUE, for those who work in an outdoor recreation, or EMS environment. The Course begins Saturday Apr. 3 at 4pm, and ends Thursday Apr. 8 at 5pm.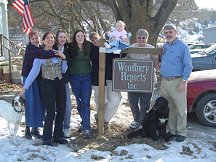 EBERLE OPENS INDEPENDENT PRACTICE
(February 13, 2004) Loi Eberle, MA, IECA, announced she will be starting her independent practice as an educational consultant working with struggling teens on March 1, 2004. She will maintain her ties with Woodbury Reports, Inc. as an Associate, similar to the affiliations of Larry Stednitz and Linda Zimmerman. Loi can still be reached at her same e-mail address loi@woodbury.com, or through our office at 208-267-5550, or directly at 208-699-4937. We wish Loi the best of luck!

STONESOUP SCHOOL RENOVATING
(February 16, 2004) Carrie Straub, MS, Director of Services, Stonesoup School, Crescent City, Florida, info@stonesoupschool.org, 904-206-1391, www.stonesoupschool.org, announced plans to reopen in March or April after extensive renovation of the physical plant, where they principally demolished most of the old cabins and built new structures, and also underwent major staff changes. Frank Beeman, director for many years, has decided to retire and the prior Operations Director Mark Jacob will head the school, and Carrie Straub will continue to direct the educational program as well as coordinate referrals.

LIBERMAN AT VISIONS
(Feb. 16, 2004) John Lieberman is the new Director of Operations for Visions Adolescent Treatment Program, Malibu, California, info@visionsteen.com, 818-889-3665, www.visionsteen.com. Visions is a holistic substance abuse program that is concerned with other behavior-related problems also.

FIRESIDE RANCH CLOSES
(Feb. 17, 2004) Jeremiah D. Archer, of Fireside Ranch Incorporated, Heron Montana, advised Woodbury Reports Inc. that is has closed and all assets have been liquidated.

NEW HAMPTON SCHOOL PLAYMAKERS WORKSHOP
(Feb. 18, 2004) Lori Murphy, New Hampton School, New Hampton New Hampshire, lmurphy@newhampton.org, 603-677-3400, www.newhampton.org, Nationally Recognized for Character Education, announced the 2004 Playmakers Workshop on Feb. 29th at 2pm at the school's McEvoy Theater to plan the year's performances. Interested artist/volunteers at all levels of experience are encouraged to become involved.

ASR CHANGES
(Feb. 19, 2004) Brenda Briggs, bbriggs@swiftriver.com, in the latest edition of ASR News (Academy at Swift River) Cummington, Massachusetts, 800-258-1770, www.swiftriver.com, announced ASR's Executive Director John Powers has been appointed to become Regional Director of Eastern Residential Schools and Programs, which include "The Academy at Swift River, Stone Mountain School, Cedar Ridge Academy, a new girl's school in Manchester, Vermont and a new middle school in North Carolina." Powers will continue as Ex. Dir. of ASR until a search for a replacement has been completed. In the Academic Department, Matt Hart is the Academic Coordinator, Mark Pananos is the Dean of the Academic Faculty, and Aaron Fisher is the Coordinator of Special Learning Programs, which includes working on the Mel Levine initiative.

STAFF TRAINING AT F.L.CHAMBERLAIN SCHOOL
(Feb. 19, 2004) Lawrence Mutty and Yuko Marshall, admissions for F. L. Chamberlain School, Middleboro, Massachusetts, admissions@chamberlainschool.org, 508-947-7825, www.chamberlainschool.org, announced several staff trainings at the school over the past several months, including Dr. John Ratey, neuropsychiatrist and professor at Harvard Medical School; on Nov. 6 Dr. Sam Goldstein, a member of the faculty at the University of Utah and on the staff of the Primary Children's Medical Center and the University Neuropsychiatric Institute case confernced with school staff and presented Create a Successful Adult in Your Adolescent Child for the annual parent workshop; Theresa Bullock, author of Asperger's Sydrome and Adolescents provided a number of staff trainings over a month on executive function and Asperger's Disorder; Wendy Lader, Ph.D. presented interdepartmental training on cutting and the causes of cutting; and Dr. Robert Brooks was back at Chamberlain for a series of training on resiliency that began Jan. 21st.

CHANGES AT PENRITH FARMS
(Feb. 20, 2004) Jim Brewster, co-owner of Penrith Farms, Newport, Washington, penrithfarms@povn.com, 509-447-2291, www.penrithfarms.com, a program for young adults ages 18 to 26 years of age, announced the arrival of clinical director Jessi Eden Brown, M.S. and wilderness coordinator Ray Ford.

CHILD TRAUMA CONFERENCE
(Feb. 20, 2004) Tina Johnson, Dir. of Admissions for Intermountain Children's Home, Helena, Montana, tina@intermountain.org, 800-200-9112, www.intermountain.org, announced the program will be hosting a 2 day conference featuring Bruce D. Perry, M.D., Ph.D., the Senior Fellow of the Child Trauma Academy, on June 18 and 19, 2004 in Helena, Montana. For more information contact Maggie Long, 800-200-9112, maggiel@intermountain.org.

WISDOM RANCH SCHOOL ACCREDITED
(Feb. 20, 2004) John Tucker, Amissions Director for Wisdom Ranch School, outside Arco, Idaho, 208-527-4750, www.wisdomranch.org, announced the school has been accredited by the Northwest Association of Schools and of Colleges and Universities. The school was first accredited by this association in 2002. Accreditation is a certification that the school has met the prescribed quantitative and qualitative standards of the Association, and has undergone a self-study and validation by an outside team of peers.

MCKELVEY JOINS VILLA SANTA MARIA
(Feb. 20, 2004) Joseph McGuill, CEO of Villa Santa Maria, Cedar Crest, New Mexico, Attachkids@aol.com, 505-281-3609, www.villasantamaria.com, announced the addition of Carole McKelvey MA, LPC, NCC, RPT/S to their clinical staff. McKelvey is an "expert on issues of relationship disorders of childhood and parenting the difficult child," and the author of Children of Rage, High Risk: Children Without a Conscience, Adoption Crisis, and The Complete Guide to Foreign Adoptions.

RMA BOMB THREAT HOAX IN OCTOBER
(February 22, 2003) After allegedly confessing to the October 2003 bomb threat at Rocky Mountain Academy, a 19-year-old former student was issued a summons to appear in Boundary County Idaho Municipal Court in mid-February. Nick Emanuel of Alpharetta, Georgia, reportedly confessed to using his father's cell phone on Oct. 8 at 11:45 a.m. to make the bomb threat. He is charged with felony filing a false report of explosives and could serve a maximum of five years in the state penitentiary if convicted.

ST PAUL'S SCHOOL VISIT BY JOHN DEWEY ACADEMY STUDENTS
(Feb. 24, 2004) Tom Bratter, President of the John Dewey Academy, Great Barrington, Massachusetts, 413-528-9800, www.jda.org, announced that three of his students were invited to speak to the student body of St. Paul's School in Concord, New Hampshire. The topic was the honor code as implemented at John Dewey Academy which the students asserted results in "no underground," infrequent cheating, infrequent "incidents of drinking or using drugs," and little sexual acting out, all problems that are all too frequent in other boarding schools. One of the students stated to the St. Paul's student body that "I do not doubt that positive peer pressure eliminates the underground." The students' presentations were well received according to the faculty that traveled with the students, and Bratter said "This explains why a significant number of John Dewey graduates become Resident Assistants at college." "Numerous colleagues came up to me and said it was the best residential life session of the year," said Robert Hill. "The group left our students dazzled by their stories and awed by their collective wisdom."

PROMOTIONS AT CEDU
(Feb. 24, 2004) Robert Naples, CEO of CEDU Education, Sandpoint Idaho, 208-265-0607, www.cedu.com, announced Dr. Roger C. Rinn has been promoted to vice president of Idaho operations, Dr. George Condas to vice president of California and Vermont operations, and Beverly Kee to vice president of business operations and admissions, and Ascent's clinical director Scott Hess LMFT, will assume direction of Ascent. For more information contact Julia Andrick, 208-265-0607, jandrick@cedu.com.






© Copyright 2012 by Woodbury Reports, Inc.