From Strugglingteens.com


Seen N' Heard
SEEN n' HEARD - DECEMBER 2005
Dec 13, 2005, 18:52



GWILLIAM ADDS YOUTH TRANSPORT SERVICE
(August 15, 2005) Ray G. Gwilliam, PhD, Owner/ Agent, Family Coaching & Consulting Services, Orland Park, IL, 708-873-3440, announced that his company has now added a youth transport component to the services offered.

WRC INFO UPDATE
(September 21, 2005) LT Topel, Program Coordinator, Wilderness Recovery Center (WRC), a program of Hillcrest Community Services, Redding, CA, and Jan Carter, Director, 530-337-6724, submitted this update on WRC contact information. WRC is an adolescent residential addiction treatment center that provides substance abuse treatment as well as treatments associated with emotional, behavioral and developmental disorders for boys age 14-18. The boys are part of the juvenile justice system and funded by the county.

NORTHSTAR ACCEPTS NEW STUDENTS
(September 27, 2005) Denise Dryden, BA, Admissions Counselor, NorthStar Center, Bend, OR, 866-313-7580, announced that the "Porty" residence has several young men moving onto Phase II and the program is now accepting new male students ages 17.5-24.

IECA MEMBERS INCREASE FOCUS ON FAMILY & SPECIAL NEEDS
(October 1, 2005) A story in EdWeek.org, reported that Mark Sklarow, Executive Director, Independent Educational Consultants Association (IECA), Fairfax, VA, 703-591-4850, said about 61 percent of IECA professionals counsel children for learning issues, which is one-third more than they did five years ago. He added that emotional and behavioral problems are also on the rise with 38 percent of members working with clients facing those obstacles, up from 25 percent during the same time period.

NEW LODGE TO OPEN ON SCHEDULE
(October 20, 2005) Ranel Hanson and Lori Armbruster, Admissions, Monarch School, Heron, MT, 406-847-5011, announced that construction is "right on schedule" for the new 10,000 square foot lodge to open in January 2006! This spacious building will house a brand new dining hall, state-of-the-art kitchen and a great room for all school performances and graduations.

MONTANA PANEL BEGINS WORK
(October 24, 2005) The Missoulian reported that a newly formed board, the Private Alternative Adolescent Residential or Outdoor Programs, is taking its first steps toward self-regulation of the unregulated "behavioral health-care industry" in Montana. At its first public hearing in Helena, MT, the board discussed the proposed administrative rules that will govern board procedures and the establishment of fees to register existing facilities. The board must meet at least twice a year for two years to examine the benefits and drawbacks of licensing and registration.

SPRING CREEK'S SHORT LEASH
(October 27, 2005) A story in the Missoula Independent reported that Montana's behavior modification programs like Spring Creek Lodge, Thompson Falls, MT, 406-827-4344, mail@blueslide.com, www.blueslide.com, watch their troubled teen charges like hawks. In lieu of recent lawsuits and allegations of abuse, the report raised the question of: Who's watching them?

BOISE ACCREDITATION FIRM QUESTIONED
(October 29, 2005) The Deseret Morning News reported that accreditation issues in New York have now spread to Boise, ID, which is the home of the Northwest Association of Accredited Schools. The problem arose after New York determined that diplomas issued to graduates of Academy At Ivy Ridge, were invalid. Ivy Ridge is affiliated with the Utah-based World Wide Association of Specialty Programs and Schools

UHS SUFFERS 78 PERCENT LOSS
(October 29, 2005) A story in the Philadelphia Inquirer reported that Universal Health Services, Inc. (UHS), new owner of the former CEDU/Brown Schools programs in North Idaho, had a third quarter earnings loss of 78 percent in comparison to those reported within the same time period in 2004. UHS cited increased numbers of uninsured patients, forced closure of four hospitals damaged by hurricane Katrina in Louisiana and problems at two of its facilities in Texas as the major causes for the slump.

SECOND NATURE CASCADES OPENS
(October 31, 2005) Jason York, Admissions, Second Nature, Duchesne, UT, 817-599-4447, announced the opening of Second Nature Cascades in Bend, OR. The Cascades Clinical Director is J. Huffine, PhD and the Executive Director is Willow Huffine, PhD, RN. The first groups begin on November 17, 2005.

THAMES ACADEMY UPDATE
(November 2005) Kevin M.R. Mayne, VP Enrollment Management, Thames Academy at Mitchell
College, New London, CT, 800-443-2811, announced they are officially launching the Post Graduate/ Pre-College Experience for Fall 2006. With a limited enrollment of 30 students, now is the time to sign up.

SUMMIT CAMP SUMMER ENROLLMENT
(November 2005) The Summit Camp Inc., with main Offices in New York City, 212-689-3880, and summer address in Honesdale, PA, 570-253-4381, email, announced they are now accepting applications for their summer enrollment program for youth ages 8-17 with ADHD, verbal or non-verbal learning disabilities, Aspergers, Tourettes, Bi-Polar Disorder, etc.

REINHART JOINS NAMASTE
(November 2005) NAMASTE Child Development Center, Peralta, NM, 888-845-6176, email, announced that Dale Reinhart joined the staff on August 15, 2005 as Special Projects Coordinator and Associate to the Executive Director.

HLA LEARNING CENTER
(November 2005) Nicole Fuglsang, MA, LPC, NCC, Director of Public Relations, Hidden Lake Academy, Dahlonega, GA, 800-394-0640, announced that their Learning Center is currently serving 50 students for the fall semester.

HAMILTON JOINS LESLIE GOLDBERG
(November 1, 2005) Adam R. Goldberg, Educational Consultant, Leslie S. Goldberg & Associates, LLC, Needham, MA, 781-444-1001, announced that Amanda Hamilton, MS, has joined their educational consulting team.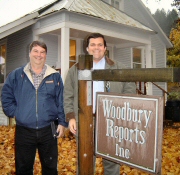 Gary Moe and Ron Adams

PARENT COACHING PROGRAM
(November 1, 2005) Gary Moe, Founder, True Principles, South Jordan, UT, 800-785-4587, 801-282-6335, and Business Development Director, Ron Adams, Coeur d'Alene, ID, 208-660-0041, ron@trueprinciples.com, stopped by to share information on the approach they use in their parent coaching business.

CEDAR RIDGE RTC TO CHANGE NAME
(November 3, 2005) Robert Nielson, Program Director, Cedar Ridge Residential Treatment Center, Roosevelt, UT, 435-353-4498, , , announced that with the new licensing category created by the state of Utah for "Therapeutic Schools," Cedar Ridge RTC will submit their application in January 2006 and change the program name to Cedar Ridge Academy, a therapeutic boarding school for high school students.

THIRD 'BRAT CAMP': GIRLS ONLY
(November 3, 2005) The Digital Spy, a UK publication, announced that a new girls' only "Brat Camp" will air in February 2006. The show will focus on seven out-of-control teenage girls attending Aspen Achievement Academy, Loa, UT, 800-283-8334.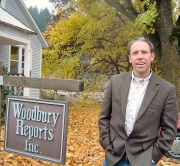 Patrick Hawkins

HAWKINS VISITS
(November 3, 2005) Patrick Hawkins, Clinical Director, Wilderness Treatment Center, Marion, MT, 406-854-2832, stopped by Woodbury Reports, Inc. for a quick visit while touring local programs such as Elk Mountain Academy in Clarkfork, ID.

ELK MTN. STAFF DROPS IN
(November 3, 2005) Carl Olding, Executive Director, Eric Opland, Orientation Director, and Gary Kroger, Program Director, Elk Mountain Academy, Clark Fork, ID, 800-355-3823, dropped in for a visit with Patrick Hawkins from Wilderness Treatment Center in Marion, MT.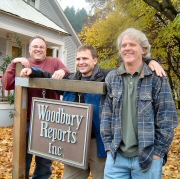 Carl Olding, Eric Opland and Gary Kroger


ASCENT NEWSLETTER
(November 4, 2005) Claudia Peterson, Admissions Coordinator, Ascent, Naples, ID, 800-974-1999, sent in an email with a copy of the program's first newsletter announcing they are now open and accepting students. It also lists Ascent's leadership team to include Director Denise Forbregd, Clinical Director John Schrom, Admissions Coordinator Claudia Peterson and Nursing Director Lynne Urfer, as well as a program description. The newsletter is available online.


BENCHMARK UPDATES
(November 4, 2005) Shelley Skaggs, Marketing & PR for Benchmark Young Adult School, Redlands, CA, 800-474-4848, announced the program is now completely moved into its new location and the new mailing address is: 25612 Barton Rd., #286, Loma Linda, CA, 92354. Education Center: 1971 Essex Ct., Redlands, CA, 92373.

KIDZ ARK ATTENDS IECA
(November 7, 2005) Kidz Ark, Sterling, CO, 970-522-5775, email, announced that Linda Littlefield, Co-Founder, and Deb Walker, Teacher, were planning to attend the IECA Conference in Philadelphia, PA, in November 2005.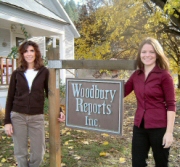 Shauna Clark and Chelsea Dickinson

CLARK AND DICKINSON DROP BY
(November 7, 2005) Shauna Clark, Owner, Clark Educational Loans, Coeur d'Alene, ID, 888-755-3079, and Educational Loan Specialist Chelsea Dickinson, stopped by Woodbury Reports, Inc. for a visit.

COMMUNITY SCHOOL NEWS
(November 8, 2005) Emanuel Pariser, Co-Director, The Community School, Camden, ME, 207-236-8404, announced that the happy ending in the book "Augusta Gone" took place at The Community School. He further announced that 40 percent of their graduates are now attending college at the University of Maine, Reed, Warren Wilson, Maine Community Colleges, Tufts, Goddard, Antioch, Cornell College, Lesley, etc.

ESA ACQUIRES OMBUDSMAN
(November 8, 2005) John M. McLaughlin, PhD, VP & Chief Development Officer, Educational Services of America, Nashville, TN, 605-332-4900, announced the company had purchased Ombudsman Educational Services, a 30-year-old provider of alternative education for public school districts across the country.

BRIDGES ACADEMY UPDATES
(November 8, 2005) Bridges Academy, Bend, OR, 888-283-7362, email, announced that Vicki Pride is the new Addictions Studies Coordinator. The program also announced that in September they received approval to enroll international students and is now offering an Ambassador Program to help parents adjust to their child's transition into a therapeutic program away from home.

KING GEORGE TAKING APPLICATIONS
(November 9, 2005) King George School, Sutton, VT, 800-218-5122, announced they are accepting enrollment applications for students ages 14-18.

BCA ANNOUNCES STAFF & STUDENTS
(November 9, 2005) Shawnale Wilson, Admissions Director, Boulder Creek Academy, Bonners Ferry, ID, 877-348-0848, announced the arrival of the their first students on November 15, 2005. She also announced that the following staff members have returned to the program and their titles: Paul Johnson, Executive Director, Linda Daggy, M.Ed., LCPC, LMHC, Clinical Director, Marjorie Timms, PhD, Academic Dean, Linda Manley, RN, Academy Nurse, Doug Marshal, Director Outdoor Programs, Teresa Tompkins, Lead Resource Coordinator and Latresa Pemp, Program Director.

SEEN PUBLISHES NEW HORIZONS ARTICLE
(November 9, 2005) Audrey A. Peavey, Admissions Director, New Horizons for Young Women, Orrington, ME, 1-800-916-9755, announced that the Southeast Education Network Magazine, recently published an article entitled "How to help your daughter develop a healthy body image" by Jan Kaufman, J Group Advertising For Daughters, Ink., a publication of New Horizons for Young Women. More...

BEEDY NAMED HEAD OF SCHOOL
(November 9, 2005) Mark Parlett, Chair, Board of Trustees, Jackie Weimer School, Belgrade, MT, 866-882-1351, or 406-579-6793, announced that the board selected Dr. Jeffrey Pratt Beedy as the founding Head of School. The new college prep school will open its doors to students in September, 2006.

NEXT STEP OFFERS TRAINING
(November 9, 2005) Bill Valentine PsyD, CC, Founder, Next Step For Success, Redmond, OR, 541-504-4748, announced that beginning March 1, 2006, Next Step For Success will offer a 20-week tele-class in parent coaching to individuals and programs working to improve communication with parents of struggling teens and young adults. The training will include didactic and self-study information on basic coaching proficiencies, peer-reviewed role playing and mentored coaching experiences with current Next Step clients. The certifying exam by the International Association of Coaches is included in the class tuition. For information visit the website and click on "Certification Prep Course."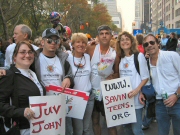 John Reuben

STICC FOUNDER RUNS NYC MARATHON
(November 10, 2005) A story on PRWEB reported that John Reuben, Founder, Saving Teens in Crisis Collaborative (STICC), Sudbury, MA, 877-249-1336, ran in the New York City Marathon on Sunday, November 6, 2005, to raise money for his non-profit organization as part of their first public fundraising effort since receiving IRS approval.

NEW COUNSELING DIRECTOR AT BROMLEY BROOK
(November 18, 2005) Veronica Devitt Jorgensen, Executive Assistant, Bromley Brook School, Manchester Center, VT, 802-362-9966, announced that Sharon Hartunian, LICSW, has joined their team as Counseling Director. Sharon's background includes family therapy, chemical dependency and curriculum development. She has several years experience in working with adolescents and their families.

JASON YORK: NEW CONTACT NUMBERS
(November 18, 2005) Jason York, Admissions, Second Nature, Bend, OR, 817-579-6040, announced he has changed his contact information, phone-817-579-6040, fax-817-579-6043.

UHS HOSPITALS TARGETED BY UNION ORGANIZERS
(November 18, 2005) The North Country Times, San Diego, CA, published an article about union organizers accusing the UHS hospitals in Las Vegas, NV, of following the "Wal-Mart" business model.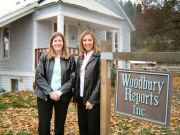 Kristie Jensen and Jennifer Jepson Wilson

NEW HAVEN VISITS
(November 22, 2005) Kristie Jensen, Admissions Manager, and Jennifer Jepson Wilson, Science Teacher, New Haven, Provo, UT, 801-380-4367, stopped by Woodbury Reports, Inc. while visiting programs in North Idaho.

BERLIN CENTER CHANGES NAME
(November 22, 2005) Linda Zimmerman, Program Director, The Irving N. Berlin Child Development Center ("The Berlin Center"), Los Lunas, NM, 505-866-9271, announced the program recently changed its name to "Sandhill Child Development Center." Sandhill Center is a residential treatment center for children and will continue its operations under the same management and staffing. Linda said that in addition to the name change, the Sandhill Center has obtained a not-for-profit status, and has been added to the list of approved schools for the California Department of Education. Linda invites inquires at the number listed above.

ASPEN ACHIEVEMENT UPDATES WEBSITE
(November 23, 2005) Aspen Achievement Academy, Loa, UT, 800-283-8334, announced their website has a new look and now provides updated news about the program, staff, family services and more.

SANTIAM STUDENTS EXPERIENCE DESCHUTES
(November 23, 2005) Julia Andrick, Marketing Communications Director, 208-265-8355, Catherine Freer Wilderness Therapy Programs, Bend, OR, 800-390-3983, announced that Founder and Executive Director Rob Cooley, PhD, and Santiam Crossing Program Director Brian MacInnes, recently took a group of Santiam students on a river expedition on the Deschutes River. The goal was to help them learn to handle unforeseen obstacles and face unexpected challenges.

SHIMMEAL CONDUCTS TRAINING
(November 23, 2005) Julia Andrick, Marketing Communications Director, 208-265-8355, Catherine Freer Wilderness Therapy Programs, Bend, OR, 800-390-3983, announced that Catherine Freer's Wilderness Program Manager Kirk Shimmeal, recently gave a training entitled "Risk Management in Therapeutic Wilderness Programs" in Utah at the Wilderness Risk Manager's Conference co-sponsored by NOLS, Outward Bound and the Student Conservation Association.

NEW HORIZONS CARF ACCREDITED
(November 28, 2005) Jacqueline Danforth, Executive Director, New Horizons for Young Women, Orrington, ME, 800-916-9755, announced that New Horizons has received a three year accreditation by the Commission on Accreditation of Rehabilitation Facilities Inc. (C.A.R.F.) for the following programs: Residential Treatment: Mental health for adults and Residential Treatment: Mental health for children and adolescents.

CANADVENTURE EXPANDS FOCUS
(November 28, 2005) Greg Stevenson, Executive Director, CanAdventure Education, Victoria, BC, Canada, 877-544-CAMP (2267), announced that new focused therapeutic model will be offered as part of its struggling teen programming starting January 2006.

NEW STAFF AT IN BALANCE RANCH
(November 28, 2005) In Balance Ranch Academy, Tucson, AZ, 877-304-3329, announced that Jackie O'Connell-Bagnati, LCSW, ACSW, was hired recently as one of the lead therapists and will coordinate the wilderness component.

ROGER'S MEM. OFFERS ONLINE ED.
(November 28, 2005) Beth Baus, National Outreach Specialist for Roger's Memorial Hospital, Oconomowoc, WI, 800-767-4411, ext. 309, announced in a Press Release that Roger's Memorial now offers continued education for their residents through the cooperation of an area high school and NovaNET®, an online coursework system. More...

ASPEN EDUCATION PURCHASES SAGEWALK
(December 2005) Amy Sandler, Aspen Education Group, Cerritos, CA, announced they have completed the acquisition of SageWalk-The Wilderness School, Redmond, OR, 800-877-1922. SageWalk is a therapeutic wilderness program that serves as a high-impact intervention for troubled teens between the ages of 13 and 17.

© Copyright 2012 by Woodbury Reports, Inc.