From Strugglingteens.com


Seen N' Heard
SEEN n' HEARD - OCTOBER 2005
Oct 17, 2005, 11:54



COMMUNITY SCHOOL EXPANDS ADMISSIONS
(July 22, 2005) Dora Lievow, Co-Director, The Community School, Camden, ME, 207-236-3000, announced the program has launched a new website and is now opening admissions to include out-of-state students, ages 16-20. Community School offers students the opportunity to complete high school during an intensive six-month course of study. Students receive a state approved diploma upon completion.

IVY RIDGE DIPLOMAS INVALID
(August 19, 2005) DeseretNews.com in Utah, reported that the Academy at Ivy Ridge, in up-state New York, World Wide Association of Specialty Schools (WWASPS) affiliated, was ordered to pay $1 million in refunds to the parents of the 113 students who had "graduated" since the program opened in 2001. NewsWatch 50, www.WWTI.com, in Watertown, NY, reported that Ivy Ridge had also agreed to pay a $250,000 fine after an 18-month investigation by New York Attorney General Eliot Spitzer, determined the school had no accreditation or authority to issue high school diplomas to these students. To read these and other stories on WWASPS affiliated programs visit www.strugglingteens.com/news/news.html.

SUMMIT FOR CLINICAL EXCELLENCE
(August 19, 2005) The Ben Franklin Institute, Scottsdale, AZ, 800-643-0797, info@bfisummit.com, in conjunction with Sierra Tucson presents the SUMMIT for Clinical Excellence November 2-5 in Scottsdale, AZ. The conference focuses on advanced training for behavioral health and addictions professionals. Register online or call 800-643-0797. Early registrations receive a discount.

VILLA SANTA MARIA RELEASES BOOK
(August 22, 2005) Joseph McGuill, CEO, Villa Santa Maria, Cedar Crest, NM, 800-453-5037, announced the recent completion and publication of a collaborative book by Villa Santa Maria and experts' nation wide in the field of Attachment Theory and Practice. The book is entitled Creating Capacity for Attachment Dyadic Developmental Psychotherapy in the treatment of Trauma-Attachment Disorders.

BETTON HOUSE OPENS
(August 26, 2005) Ann Kozak, Marketing Specialist, Family Foundation School, Hancock, NY, 845-887-5213, announced that Betton House, Michael and Roxanne Losicco, Directors-in-Residence, Scranton, PA, 877-723-8866, officially opened on August 22, 2005. Betton House is a transitional program for students, ages 18-24.

WILLOW CREEK ACCEPTS FIRST STUDENTS
(August 29, 2005) Steve Nielsen, Willow Creek School, Provo UT, 888-377-2215, announced that the program accepted its first students this week into its "unique, life-skills based program." The new program is designed for struggling teens, ages 14-17, who need a structured environment, a transition to adulthood, and direction in determining their occupational and academic future.

NEW ADMISSIONS AT BLACKWATER
(August 29, 2005) Blackwater Outdoor Experiences, Midlothian, VA, 804-378-9006, e-mail, announced Allison Sprinkle is the new Admissions Director. Allison looks forward to meeting everyone at the upcoming IECA conference in Philadelphia.

MAYA ANGELOU TO SPEAK AT MONTCALM
(August 29, 2005) The Montcalm School for Girls, Van Wert, OH, 866-289-9201, announced that Maya Angelou, inaugural poet for President Clinton in 1993, will speak on Saturday, October 15, 2005 at the Starr Commonwealth Van Wert campus as part of the first anniversary celebration and expansion of the organization's Montcalm School for Girls.

CANDACE BYNUM JOINS ECKERD
(August 29, 2005) Martha Chamberlain, Director of Marketing and Client Relations, Eckerd Youth Alternatives, Inc., 727-461-2990, announced that Candace Bynum joined the Eckerd team as Referral Relations Representative for the E-Sun-Alee program in Deer Lodge, TN. This program serves privately referred boys and girls, ages 10-17. Prior to joining Eckerd, Candace worked with Three Springs Paint Rock Valley and brings eight years admissions and marketing experience serving professionals and families.

NEW HIRES AT ANASAZI
(August 31, 2005) Michael Merchant, President, Anasazi Foundation, Mesa, AZ, 480-892-7403, announced that Virginia Robinson is the new Admissions Director and Dale Harris is a new therapist with the clinical team. Merchant also announced that CoyLou Steel was promoted to Director of Community Relations.

SAGEWALK COUNSELOR PROFILED
(August 31, 2005) The Daily Journal Online in Fergus Falls, MN, profiled a former resident of Fergus Falls, Cindy Scully-Fogel, in a story about her role on ABC's Brat Camp. Scully-Fogel, a counselor at Sagewalk, The Wilderness School, Redmond, OR, 800-877-1922, said although she wasn't crazy about the name "Brat Camp," as a whole the show was positive and she'd consider doing it again.

GRAND RIVER OFFERS TRANSITION
(September 2005) Randy Blum, Headmaster, Grand River Academy, Austinburg, OH, 440-275-2811, announced they now offer one of their existing dormitories as a transition dorm. In their continuing effort to support boys coming into their traditional college prep program from emotional growth and wilderness programs they have a 20-student dormitory for boys transitioning from programs.

CORRECTION:
(September 2005) Woodbury Reports apologizes for the incorrect spelling of Elizabeth Gordon's name in last month's headline on her quotes about "Brat Camp" in Seen N' Heard.

FALL 2005 FACES CONFERENCE
(September 2005) Richard Fields, PhD, Owner/Director, FACES Conferences & Home Study Programs, Redmond, WA, 877-633-2237, announced that the 6th Annual Conference on Adolescent Treatment is scheduled for October 26-29, 2005 in San Diego, CA. The 7th Annual conference runs from November 9-12, 2005 in Las Vegas, NV with a focus on Emerging Issues of Trauma and Violence, Substance Abuse, Couples and Adolescents.

MONTCALM FOR BOYS CELEBRATES
(September 2005) Montcalm School For Boys, Albion, MI, 866-244-4321 e-mail, announced it is celebrating its third anniversary on October 21, 2005.

CERTS ANNOUNCES MOUNTAIN SPRINGS
(September 1, 2005) Amy Jeppsen, Executive Director of CERTS, West Jordan, UT, 801-633-3653, announced the grand opening of Mountain Springs Preparatory Academy, Cedar City, UT, 801-699-3555, e-mail, Mountain Springs offers a completely new approach to transitional care for students ages 14-18 leaving a residential treatment setting.

SAN CRISTOBAL AND FOCUSED RECOVERY TEAM UP
(September 7, 2005) Terrance Mullaney, MA, Program Director, San Cristobal Ranch Academy, Taos, NM, 505-776-2524, announced the program is now collaborating with a private agency for treatment of addictions, Focused Recovery Inc., Anthony S. Geraci, Jr., Owner, to provide an Intensive Outpatient Program (IOP) to provide access and address the needs of clients seeking to live healthy, clean and sober lives.

INTERNATIONAL CONFERENCE ON LEARNING DISABILITIES
(September 8, 2005) The Council for Learning Disabilities announced the 27th International Conference on Learning Disabilities, focusing on assessment and research based practices, takes place on October 20-22 at the Fort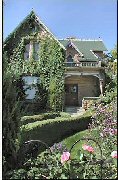 AIM HOUSE ANNOUNCES CHANGES
(September 9, 2005) Daniel Conroy, Co-Founder/ Executive Director, AIM House LLC, Boulder, CO, 303-554-0011, announced the appointment of Elizabeth Olson, LCSW to the position of Program Director. On September 12, 2005, Daniel announced that AIM House for Young Women had purchased and moved the program into a historic building in Boulder, which allows the program to increase its student capacity from 4 to 18.

ADKINS/ BUSBEE VISIT
(September 9, 2005) Lorn Adkins, M.Ed., LPC, and Darren Busbee, LPC, Boise, ID, 208-385-0888, stopped by Woodbury Reports, Inc. to discuss their plans to open a new residential program in southern Idaho sometime next year.

SALT CENTER ANNOUNCES 25 YEARS
(September 9, 2005) Autumn Palmer, Coordinator of Admissions and Outreach of the SALT Center at the University of Arizona, Tucson, AZ, 520-621-8493, announced in celebration of their 25th Anniversary they will be hosting a SALT Center Speaker Series. They invite everyone to visit the program and participate in the Speaker Series throughout the year. For more information or to schedule a visit, call 520-621-8493.

PINE RIDGE SPONSORS STUDENT
(September 12, 2005) Josh Doyle Admissions Pine Ridge School, Williston, VT, 802-434-2161, announced the private boarding school for learning disabled adolescents, ages 13-18, will sponsor one female residential student, tuition free for two semesters in academic year 2005-2006.

LEARNING DISABILITIES CONFERENCE
(September 14, 2005) The Learning Disabilities Association of California announced the 2005 State Conference of 45 Years of Meeting the Challenge takes place on October 27-29 at the Concord Hilton Hotel in Concord, CA. Pre-registration closes on Oct. 18. For more information call 866-532-6322 or email.


UNPRECEDENTED WEIGHT LOSS
(September 14, 2005) Ryan Craig, Executive Director of Academy of the Sierras and President of the Healthy Living Academies division of Aspen Education Group, Reedley, CA, 917-575-8903, announced the unprecedented weight loss outcomes for students attending the inaugural academic year at Academy of the Sierras, the nation's first residential treatment program and boarding school for adolescent and childhood obesity. Overall, students achieved a 64 percent reduction in their percentage overweight.


STILL WELCOMES NEW ARRIVAL
(September 16, 2005) Denise Dryden, BA, Admissions Counselor, NorthStar Center, Bend, OR, 866-313-7580, announced that early Friday morning, September 16, 2005, Julie Still, gave birth to a baby girl, Gracie Noel Still who weighed in at 8 pounds, 20 inches.

WOOL JOINS MASON & ASSOCIATES
(September 16, 2005) Ben Mason, Founder/ Owner, Mason & Associates, Waltham, MA, 781-209-0048, announced that Sara Wool has joined the professional staff at Mason & Associates and will assist families in finding the appropriate school or alternative education programs. She will also assist with therapeutic and experiential placement.

REDUCED TUITION AT ACHIEVEMENT CENTER
(September 19, 2005) The Achievement Center for Young Women, Manti, UT, 435-835-4475, e-mail, announced it is offering a reduced tuition fee to the first 16 young women to enroll in the program: Tuition $4300 monthly, enrollment fee $2000, uniform fee $ 150. The Achievement Center for Young Women is a long-term educational and residential treatment facility.

TEEN TRANSPORTERS, LLC OPENS
(September 20, 2005) William Fleming, Teen Transporters LLC, Orem, UT, 801-805-6522, Toll-Free 866-236-1609, announced the opening of a new transport service for families seeking help in getting their child to a designated school or program.

ASCENT STAFF DROPS BY
(September 20, 2005) Denise Forbregd, Director, John Schrom, Clinical Director and Claudia Peterson, Admissions Coordinator for Ascent, stopped by for lunch to discuss the future of the Ascent program in Naples, ID, 800-974-1999. They announced the projected reopening date for the program, now owned by Universal Health Services, is November 1, 2005.

LOPEZ & PETRICCIONE JOIN SAN CRISTOBAL
(September 21, 2005) Anthony S. Geraci, Jr., President and CEO of San Cristobal Ranch Academy, Taos, NM, 866-918-8383, and Terrance Mullaney, MA, Program Director, announced that Joe Petriccione and Aaron Lopez have joined the Ranch as therapists. Aaron is a Licensed Alcohol and Drug Abuse Counselor (LADAC), he graduated from Northern Illinois University with a Bachelors in Psychology. Joe is a Licensed Professional Mental Health Counselor (LPC ), he has a Masters in Education/Human Development from George Washington University.

TGI EVACUATED
(September 21, 2005) Anthony S. Geraci, Jr, President & CEO, Transitions of Galveston Island (TGI), Galveston Island, TX, 281-313-1908, www.transitionsGI.com, notified Woodbury Reports that all students and staff at TGI were being evacuated in response to the threat presented by Hurricane Rita. Geraci said they had an evacuation plan in place since day one.

RAMSEY PROMOTED
(September 21, 2005) Karen Fitzhugh, PhD, Head of School, King George School, Sutton, VT, 802-467-1200, announced the promotion of Jay Ramsey to Director of Admissions, Communications and Outreach.

DISCOVERY STUDENTS SCORE HIGHER
(September 21, 2005) Stephen C. Schultz, Discovery Academy, Provo, UT, 801-380-8820, announced that students at Discovery Academy scored higher on the American College Test than their peers on both the state and national level.

FREER BREAKS ENROLLMENT RECORDS
(September 22, 2005) Julia Andrick, Marketing Communications Director, 208-265-8355, Catherine Freer Wilderness Therapy Expeditions, Albany, OR, 800-390-3983, announced that from June through August, Catherine Freer Wilderness Therapy Programs enrolled 152 adolescents into one of their wilderness therapy expeditions, a 23 percent increase over 2004.

SANTIAM CROSSING INTRODUCES HELEN PAUL
(September 22, 2005) Julia Andrick, Marketing Communications Director, 208-265-8355, Catherine Freer Wilderness Therapy Expeditions, Albany, OR, 800-390-3983, announced that Nicole Carter, MA, Director of Educational Services at Santiam Crossing, Scio, OR, is leaving the program to continue her education, but hopes to return when she is done with her studies. Julia also announced that Helen Paul is the new Academic Director, and Santiam Crossing celebrated its first year of operation last month.

DRAGONFLY: INDEP. LIVING SKILLS
(September 22, 2005) Mona Treadway, Co-owner and Admissions Director, Dragonfly Adventures, Klamath Falls, OR, 541-850-0841, announced their Independent Living Skills Program serving 18 and older. Dragonfly Adventure's Independent Living Skills Programs seeks to assist young adults in achieving greater independence and lead a healthy productive life.

OBHRC MOVES TO U OF MINNESOTA
(September 23, 2005) Keith Russell, PhD, Associate Professor in Outdoor Recreation and Experiential Learning University of Minnesota, Minneapolis, MN, 612-626-4280, announced that Outdoor Behavioral Healthcare Research Cooperative, has moved to the University of Minnesota.

JACKIE WEIMER SCHOOL
(September 25, 2005) Marylis Filipovich, LCSW, Executive Director, Three Rivers Montana, Belgrade, MT, 877-221-1115, announced that the Jackie Weimer School, scheduled to open in September 2006 near Bozeman, MT, is seeking candidates to fill the position as the Head of the School.

FULSHEAR & TGI UNTOUCHED BY RITA
(September 26, 2005) Anthony S. Geraci, Jr, President & CEO, Fulshear Ranch Academy, Fulshear, TX, and Transitions of Galveston Island, Galveston, TX, 281-313-1908, announced there were no accidents, injuries or damages at either facility when hurricane Rita hit Texas.

BROMLEY BROOK WELCOMES NEW STAFF
(September 26, 2005) Rae Ann Knopf, MSW, Executive Director, Bromley Brook School, Manchester Center, VT, 866-537-2702, announced new staff including Sharon G. Hartunian, LICSW is joining the program in late October as Counseling Director, Laurie Sanford DuFault as program supervisor for community life, music teacher Leslie Purcell Upchurch and Mary A. Tyche in the Art Department.

STICC GEARS UP
(September 26, 2005) John D. Reuben, Founder, Saving Teens In Crisis Collaborative, LLC, 877-249-1336, announced that he will run in the New York City Marathon. "I hope that you will share this great day with me, my family and most importantly Saving Teens by giving generously to helping these deserving children. To donate please go directly to the online donations page." Saving Teens In Crisis Collaborative (STICC) is a non-profit organization formed in April of 2004 to assist disadvantaged troubled teens and their parents.

© Copyright 2012 by Woodbury Reports, Inc.