From Strugglingteens.com


Seen N' Heard
SEEN n' HEARD - AUGUST 2005
Aug 1, 2005, 17:00



GREENWOOD SCHOOL: NEW HEAD
(June 20, 2005) Stewart Miller, Headmaster, Greenwood School, Putney, VT, 802-387-4545, announced that he is honored to be selected by the Board of Trustees as the schools fourth headmaster and is excited to lead Greenwood into the future.

FAMILY SCHOOL DEBATERS TO NATIONALS
(June 24, 2005) Ann Kozak, Marketing Specialist, Family Foundation School, Hancock, NY,
845-887-5213, announced the debate team participated in six preliminary rounds of public forum debate at the 2005 National Debate Tournament in Philadelphia in June. The team was one of 214 competing and placed in the top 70.

CONSTRUCTION BEGINS AT MONARCH
(June 28, 2005) Ranel Hanson and Lori Armbruster, Admissions, Monarch School, Heron, MT,
406-847-5095, announced that the construction phase for Monarch's new lodge, drama building and art studio expansion, horse arena and paddocks is now underway.

ANDRICK/ ROSSITER JOIN CATHERINE FREER
(June 28, 2005) Julia Andrick, 208-265-8355, former marketing director for the CEDU/Brown Schools, announced that she is the new Marketing Communications Director for Catherine Freer Wilderness Therapy Expeditions, Albany, OR, 800-390-3983. Julia also announced that Brian Rossiter also joins the company as the Director of Outdoor Programming for Santiam Crossing.

ANOTHER ALL GIRLS EXPEDITION
(June 28, 2005) Julia Andrick, Marketing Communications Director, 208-265-8355, Catherine Freer Wilderness Therapy Expeditions, Albany, OR, 800-390-3983, announced Catherine Freer will run an additional all-female 21-day backpacking expedition led by three female staff members including a licensed therapist beginning August 7, 2005, for at-risk young women, ages 13-18.

HUEY RESIGNS FROM PROVO
(June 28, 2005) Ken Huey, PhD, Director of Business Development, Provo Canyon School, Provo, UT, 801-223-7124, announced that he is leaving Provo Canyon at the end of July 2005. Ken said he loved his time at Provo Canyon and has fond feelings for everyone there. He is hoping to move into a different administrative role in the industry and is exploring options to that end.

WELLSPRING PRAISED FOR WEIGHTLOSS
(June 28, 2005) Ryan Craig, President, Wellspring Camps and Director of Academy of the Sierras, Reedley, CA, 917-575-8903, announced the New York Times reported that Wellspring Camps are unlike traditional weight-loss camps because they use the cognitive behavioral approach where campers set goals and monitor themselves. Behavior modification is one of the most widely accepted approaches to long-term weight-loss success. Wellspring Camps are part of the Aspen Education Group. More...

LATENCY PROGRAM AT ALPINE ACADEMY
(June 29, 2005) Sarah Armstrong, Intake Coordinator/Education Liaison, Alpine Academy, 801-272-9980 ext. 139, announced that the new Latency Age Program is "rocking and rolling" and now has openings in both its adolescent and pre-adolescent programs. She further introduced new staff members for the latency program; family teachers Mary and Steve Foster; therapist Colleen Croff; special education teacher Angie Jones; and Christy Hall.

WILDERNESS SAFE/ EFFECTIVE
(June 29, 2005) A set of poll questions on the Woodbury Reports website www.strugglingteens.com, with almost 600 responses, indicates that web visitors overall feel that wilderness programs for at-risk teens were both safe and effective. Sixty-one percent of those voting (348) felt wilderness programs were safe, while 55 percent (309) felt they were effective. On the other side, 81 (14 percent) felt they were not safe, and 84 (15 percent) felt they were not effective. In addition, between a fourth and a third of the respondents were uncertain, with 139 (24 percent) being unsure if they were safe, and 172 (30 percent) being unsure if they were effective.

NEW ADMISSIONS AT BACHMAN
(June 30, 2005) Paul Jette, Headmaster, Bachman Academy, McDonald, TN, 423-479-4523, announced that Kane Ayres was recently named Director of Admissions.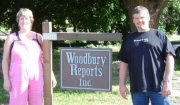 Albert and Nancy Johnson of Custom Youth Services, LLC.


JOHNSONS' VISIT WOODBURY REPORTS
(June 30, 2005) Albert and Nancy Johnson, Custom Youth Services LLC, of Prineville, OR, 541-447-3383 stopped by June 30 to have their picture taken and to visit a bit.

ECKERD STAFF KEY TO SUCCESS
(July 2005) Newszap.com reported Camp E-Tu-Makee, an Eckerd Youth Alternatives wilderness camp in Hendry County, FL, serves children ages,
10-17. Students spend about a year living mostly in a Florida wilderness setting. With a 77 percent success rate, this juvenile program promotes the students understanding of how their negative behavior affects those around them. More...

JOHN DEWEY ACADEMY CELEBRATES 20TH ANNIVERSARY
(July 2005) John Dewey Academy, Great Barrington, MA, 413-528-9800, celebrates twentieth anniversary in conjunction with its 18th Commencement Ceremony on Saturday, August 13, 2005.

HLA & RIDGE CREEK HARVEST TOUR
(July 2005) Brian Church, Admissions Director, Hidden Lake Academy, Dahlonega, GA, 800-394-0640, announced their Harvest Tour is scheduled for October 19-21. For more information or to participate in the fall tour of Hidden Lake Academy and Ridge Creek call the number listed above.

THREE SPRINGS CELEBRATES 20
(July 2005) Richard Williams, Director of Business Development, Three Springs, Inc., 888-758-4356, announced their 20-year anniversary of helping troubled children and their families. Williams also recognized Gregory Jones for his quiet devotion to the program, staff and children in his care. For over 10 years, Jones has served as a direct care counselor, group supervisor, Unit Director, Director of Staff Development and Program Director.

NEW STAFF AT TLLC
(July 2005) Jennifer Stokes, CTRS, Program Manager, Transitional Living and Learning Center (TLLC), Orlando, FL, 407-896-2655, announced the addition of two new Life Coaches, Lisa Valentine and Leighann Kurpetski. They will be working with students on academic issues and life skills in a variety of settings and events. Independent Living Coordinator Adam McCraken, PhD, is responsible for facilitating customized Life Management Plans with all of the students.

LA AMISTAD EXPANDING
(July 2005) Jan Ellison, Director of Business Development, La Amistad Behavioral Health Services, Maitland, FL, 407-647-0660, announced the expansion and relocation of their adult program. The current capacity of 14 beds will increase to 40, with the program located on several acres and offering many more amenities than currently available.

KRIEG JOINS GRAND RIVER
(July 1, 2005) The Grand River Academy, Austinburg, OH, announced that Sue Krieg, LPC, is a new staff member at the program. Sue brings over 25 years of experience in adolescent counseling to the position.

J. MASON FOCUSES ON CONSULTING
(July 1, 2005) Judge Mason, Educational Consultant, Sedona, AZ, 928-284-5719, announced that effective July 1, 2005, he is no longer working with the admissions department at Verde Valley School and is now focusing on his educational consulting practice and some long-awaited traveling with his wife Holly. Mason's Website...

UNIVERSAL HEALTH BIDS ON CEDU
(July 1, 2005) The Bonner County Daily Bee, Sandpoint, ID, reported that Universal Health Services Inc., submitted one of the highest bids, a $7.7 million bid, for four of the former CEDU properties in Idaho. The auction date for the CEDU properties is set for August 10, 2005. More...

YOUTH DYNAMICS, INC. PURCHASES AYA
(July 7, 2005) Kim Gardner, LCSW, Director of Alternative Youth Adventures (AYA), Boulder, MT, 406 443-8579, announced that Youth Dynamics, Inc., Billings, MT, bought AYA of Montana. Youth Dynamics serves over 900 youth in therapeutic foster care programs in Montana and are moving into group home treatment. Aspen Education Group developed AYA and sold it to the Community Education Centers of New Jersey after Aspen made the decision to abandon plans to work with adjudicated youth.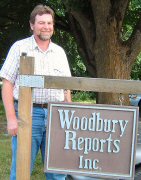 Paul Lithgow of Alan Ranch


LITHGOW STOPS BY WOODBURY REPORTS
(July 7, 2005) Paul Lithgow, Alan Ranch, Queen Creek, AZ, 480-688-5003, stopped by Woodbury Reports for a visit and to share information on the new Christian based program he and his wife Kathy are starting for boys on September 19, 2005.

DR. SMITH CEO OF DISTANT DRUMS
(July 12, 2005) Lee Wardle, Distant Drums, Nephi, UT, 866-822-8336, announced that he has stepped down as CEO, and Dr. Scott Smith is the new CEO of the Distant Drums Programs. Lee is now the admissions coordinator. He further announced the program is now offering a Utah licensed adolescent program "Distant Drums Beginnings," which is a companion program to their Adult Program. Additional Website...

TOPP LEAVES SHORTRIDGE
(July 8, 2005) Adam Rainer, Director, Shortridge Academy, Denver, CO, 303-377-1374, announced that Admissions Director Roger Topp left the school on July 15, 2005 to relocate to Boston and explore his graduate school opportunities. Adam added that Shortridge is now searching for a new admissions director for the program. Contact Carolyn Rainer for more information.

ROGERS HOSTS PROFESSIONAL SEMINAR
(July 8, 2005) Carol Schroeder, Rogers Memorial Hospital, Oconomowoc, WI, 262-646-1389, announced Harold Koplewicz, MD, founder and director of the NYU Child Study Center, will be the keynote speaker at Rogers Memorial Hospital's 2005 Frontline: Depression and Suicide in Children and Teens on September 15, 2005. The all-day seminar for health professionals is accredited and will be held in Waukesha, WI. To receive a Frontline brochure, call 1-800-767-4411 ext. 566.

LOCAL NEWS: SUWS OF THE CAROLINAS
(July 12, 2005) A story in the Citizen Times, Ashville, NC, described SUWS of the Carolinas, Old Fort, NC, 888-828-9770, from a variety of perspectives including a student who said that after just four weeks in the program, he has discovered a sense of accomplishment, a purpose in life and is learning more about himself. More…

NEW ADMISSIONS AT BLACKWATER
(July 13, 2005) Craig Taylor, Program Director, Blackwater Outdoor Experiences, Midlothian, VA, 804-378-9006, announced that Allison Sprinkle is the new Admissions Director.

IECA: PROPER PLACEMENT CRUCIAL
(July 13, 2005) Deborah Fisk, Communications Manager, Independent Educational Consultants Association (IECA), Fairfax, VA, 703-591-4850, issued a statement saying educational consultants stress the need for individual assessment and placement. "Intervention and wilderness programs such as the program depicted in "Brat Camp" can be an excellent alternative for families with at-risk teenagers," said Mark Sklarow, Executive Director of IECA. "But programs vary, and the key to a successful outcome is finding the proper placement for each individual child." More...

PORTLAND PRESS PROFILES SUMMIT
(July 19, 2005) Adam Tsapis, Admissions Director, Summit Achievement, Stow, ME, 207-697-2020, announced that MaineToday.com, a travel publication, posted a story written by the Portland Press which included an interview with Will White, Clinical Director of the Summit Achievement Program and how the school fits into the community of Stow. More…

TGI: NEW ADMISSIONS DIRECTOR
(July 20, 2005) Anthony Geraci, Executive Director, Transitions of Galveston Island, Galveston, TX, announced that Don Purves joined the team as Admissions Director.

NEW AT BRIDGES ACADEMY
(July 21, 2005) Erick R. Scheiderman, Bridges Academy, Bend, OR, 888-283-7362, announced that Danny Frank, Staff Mentor and Outdoor Activities Coordinator, was recently promoted to Program Director. Erick also announced that Vicki Pride, a licensed professional counselor, who has several years experience in working with adults and adolescents with drug and alcohol addictions, joined the staff on July 1, 2005 as the new Addiction Studies Coordinator.

HEALTHY LIVING ACADEMY ON CNN
(July 21, 2005) Ryan Craig, Healthy Living Academies, Reedley, CA, 917 575 8903, Academy of the Sierras, announced that CNN's Paula Zahn is highlighting the program in a four-part series called "Four Weeks to Lose." The show is chronicling the experience of two campers currently attending, both were awarded full scholarships to attend through a partnership with the South Carolina-based Foundation called Louie's Kids.

RYTHER LAUNCHES COACHING
(July 21, 2005) Benjamin Wahl, Program Coordinator, Ryther Child Center of Seattle, WA, 206-856-9490, a non-profit agency, recently launched the Collaborative Coaching Program. This new program provides mentoring and coaching services to young people working to re-establish healthy lives and parents seeking to support them.

OPENINGS AT SPRUCE MOUNTAIN
(July 22, 2005) Edwin I. Levin, LICSW, Assistant Director, Spruce Mountain Inn, Plainfield, VT, 802-454-8353, announced the program has several openings available this summer in its residential/psychiatric treatment program for young adults.

SACS VISITS CHEROKEE CREEK
(July 23, 2005) Kathy Whitmire, Executive Director, Cherokee Creek Boys School, 864 647-1885, announced that SACS (Southern Association of Colleges and Schools) visited the program on July 8, 2005 and is fully recommending the program for SACS accreditation. Cherokee Creek hopes to receive SACS certification sometime this summer.

CHAMBERLAIN MARKETS EYA
(July 25, 2005) Rhonda Carpenter, Corporate Communications Specialist, Eckerd Youth Alternatives, Clearwater, FL, 727-461-2990, announced that Martha L. Chamberlain is the new Director of Marketing and Client relations.

© Copyright 2012 by Woodbury Reports, Inc.