From Strugglingteens.com


Interviews
BILL LANE
Interviews
Jun 24, 2005, 10:17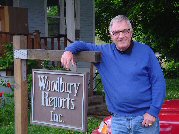 Bill Lane visits Woodbury Office.

BIGGER THAN LIFE
A personal journey into the history of CEDU

By: Kathy Nussberger

Great sense of humor and quick wit describes the fun side of Bill Lane, but you can't help but feel the deep dedication and loyalty Bill has for the families and students he served for the 31 years he worked with the CEDU Family of Services. Today, he continues to serve those families with his new company, Bill Lane & Associates. Bill explained how he met and became friends with CEDU's founder, Mel Wasserman, several years before the first program began.

"I met Mel in San Francisco several years before he started CEDU, while I was working for Synanon, a drug rehabilitation center," Bill said. "I remember talking with him about his ideas and thought he might have a better way of working with teens and younger students. But as the years passed, we went our separate ways with Mel moving to Palm Springs, and I never really thought much more about it, until I began hearing about a new non-profit organization that had opened a school in Running Springs, CA."

According to Bill, Mel started the first program in about 1966, but it was several years after that when Mel approached him about working for CEDU.

"A few years after the program opened, I started reading and hearing about it, and we began communicating back and forth, but I was pretty content at Synanon, which was how I became involved in working with all ages, from teen to adult," said Bill. "However, when Mel asked me to come down and take a look at CEDU, which at the time consisted of a very small school in Running Springs and an office in Los Angeles, I agreed and was pretty excited about what I saw at the program. He offered me a job and I started working for Mel in January 1974, 'I was only nine at the time,' he joked."

In the early days of his work with CEDU, Bill's expertise was in public relations/ fundraising and he traveled all over the country to locate whatever the program needed.

"At that time, they had very few private pay, it was mostly adjudicated kids, so I used to work very closely with the families who donated money to the school," he said. "But then I began traveling a lot when we needed funding for building projects. If we needed materials, I would move to Oregon for a month and go to every saw mill and lumber yard in the state with a list, and based on that list, I would get them to donate the materials we needed. After that I would contact trucking companies to get them to donate their services for picking up and hauling the materials to the school. That's how we helped to fund the organization. If we needed beef, I went to Texas for a month and visited every cattle yard to "get the beef."

As time went on, Bill moved into admissions and every other aspect of the organization, culminating in his becoming president of CEDU High and Middle Schools, director of Hilltop and finally, his ultimate love, director of the transport service CEDU began providing.

"I fell into what has become a passion for me when Mel suggested starting a transport service, I love what we do and the services we have to offer the families, educational consultants, psychiatrists, etc. that I work with throughout the country," Bill explained. "Mel approached me about 12-years-ago with the idea because it was evident that we were getting a lot of students who required transport services. We felt we could do a good job of transporting them ourselves, and we could better prepare the students in their understanding of the schools they were coming too. Whenever Mel was considering a new venture, he would say to me, 'Bill, look into this, see if it is feasible and if it will work.' The transport service was a very successful venture."

Bill explained how escorting students to a school is often a very scary situation for both the parents and students, so he quickly addresses the anger and fear and defuses it by describing the program and explaining what the child may expect upon arrival at the school.

"Although the company name is different today, I still have the same employees and implement the same beliefs as I did when CEDU was running the service," he said. "Everyone who works for me is very well trained with CPR and First Aid certifications, and all employees must pass both a federal and state background check to escort a student. I employ a lot of people up here in North Idaho, and when CEDU closed down in March, I immediately incorporated under Bill Lane & Associates Inc., and we continued with business as usual."

Bill said he also fell into an entire industry that he truly loves, "quite frankly, going to work for CEDU in the 70's was a godsend to me because it was new, the only place available at that time and it was a major contributor in spearheading today's movement in the struggling teens industry. A lot of the folks who work in the industry today also worked for CEDU. It's really been a great experience; I wanted to continue doing it even after CEDU closed because working with students and parents is wonderful."

When the IECA first started over 20 years ago, Bill said he was one of the first people to bring CEDU to the attention of the educational consultants who were members of the organization.

"Personally, I believe Mel would be devastated by the closure of the CEDU schools," Bill said. "I think what's taken place is unconscionable; Mel as the inspirational, big man and visionary, was a very dynamic guy. He knew what he wanted and what he had to do to get it. He was a tough guy to work for on the one hand, but was also the fairest person I knew and treated his employees very well, which is why he had one of the biggest programs in the industry."

Bill explained that when Mel sold CEDU to the Brown Schools, the company was at its peak in the market. All the schools were full and everything was going great. "However, after the first and second year the company was owned by Brown Schools, the staff turnover at the highest levels was unbelievable. There was no one left with any time or stability in the company, and the organization went backwards. Mel saw what was happening, and he would say, 'well, we don't own it any more,' but you could tell he was very disappointed."

The day of the infamous phone call announcing the CEDU closures caught everyone off guard, including Bill who said he was in the middle of transporting a student to the Ascent program in North Idaho when he was told they couldn't take the boy. "I spent time with Mel on his 70th birthday, which was shortly before he died, and I can say that what was done to the parents, students, staff and consultants that day, probably made him turn over in his grave. To not give any notice to anyone, especially the parents, students and staff was unconscionable. The legacy is wounded, but lives on in the industry. The family can't believe what happened to the CEDU name; they are stunned that it progressed to that point because Mel put his heart and soul into that company."

© Copyright 2012 by Woodbury Reports, Inc.