From Strugglingteens.com


Extended Insights
BILL LANE HONORED IN DENVER
Extended Insights
May 25, 2005, 14:42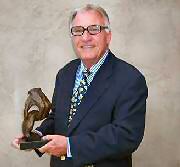 Bill Lane receives achievement award.

A large gathering of friends and colleagues came together on Saturday, May 14, in Denver, CO, in recognition of Bill Lane's vast contributions and dedication to the children and families he has served over the years.

With everyone dressed in fine clothing, the festive affair took place in the upscale 1515 Restaurant on Market St. in Denver. Those in attendance shared their appreciation of Bill and his commitment to help at-risk youth and their families with testimonials, gifts and a slide show starring Bill, his wife Carol, Mel Wasserman and many of the close partners Bill worked with over the years. With a graciousness that is as natural as breathing to Bill, he was very humble and appreciative of this well deserved recognition.

"It is unbelievable to be honored in such a way," Bill said. "There is no such thing as a free lunch and I always work hard because working with people inspires me." Bill worked with CEDU for 31 of the 36 years the schools were in operation. He added that from day one he knew he was a very lucky guy because he was doing a job he not only enjoyed but truly loved and looked forward to each day. And those feelings have not diminished since that first day, in fact, they have grown immeasurably and today he continues his dedication and commitment to the families and youth with his own escort service. Bill can be reached at bill-lane@sbcglobal.net

© Copyright 2012 by Woodbury Reports, Inc.