From Strugglingteens.com


Seen N' Heard
SEEN n' HEARD - JULY 2005
Jun 29, 2005, 15:52





NEW CLINICAL DIRECTOR AT ASPEN ACHIEVEMENT
(April 27, 2005) Gil Hallows, Executive Director, Aspen Achievement Academy, Loa, UT, 800-283-8334, announced that Paul Goddard has accepted the position of Clinical Director at Aspen Achievement Academy. Goddard brings both clinical and administrative experience to the position, including years as the psychologist at New Haven, Clinical Director at Vista, and both Clinical Director and Executive Director at Adirondack Leadership Academy in New York.

SAGEWALK OFFERS NEW PROGRAMS
(April 28, 2005) Larry Soli, President, Wilderness Therapy Programs Inc, SageWalk – The Wilderness School, Redmond, OR, 800-877-1922, announced three new programs for the summer session that will be integrated into the overall program: SageWalk Recovery will combine students who share the same addictions and needs; SageWalk Family Coaching Services will emphasize parent awareness/involvement and aftercare; and SageWalk Wilderness Program for Girls will focus on the unique needs of female students and their families. He further announced three new staff members: Sharon Picard, PhD, interim Clinical Director; Sandy MacDonald, LCSW; and Sherry LiaBraaten, RN.

BETTON HOUSE OPENS: FALL 2005
(May 2005) Michael and Roxanne Losicco, Directors-in-Residence, Betton House, Scranton, PA, 877-723-8866, founded by Family Foundation School, Hancock, NY, 845-887-5213, announced the construction of its new transitional living program for students, ages 18-24 will be completed in August 2005. The program is available to students who want to work or attend college after emerging from a structured program. Beginning in August 2005, the program will accept year-round admissions.

CLD HOSTS 27TH INTERNATIONAL CONFERENCE
(May 3, 2005) The Council for Learning Disabilities, Leesburg, VA, 571-258-1010, announced that October 20-22, 2005 are the dates for the 27th International Conference on Learning Disabilities in Ft. Lauderdale, FL.

GRAND RIVER SUMMER ACADEMY 2005
(May 3, 2005) The Grand River Academy, Austinburg, OH, 440-275-2811, announced the dates for their six-week Summer Academy 2005 are June 26-August 5, 2005. The Summer Academy is a five- to seven-day boarding program that is open to students in the ninth to twelfth grades.

FACES: CONFERENCE DATES
(May 6, 2005) Richard Fields, PhD, Owner/Director, FACES Conferences & Home Study Programs, Redmond, WA, 877-633-2237, announced the dates for the fall conferences. In San Diego, CA, the sixth annual conference will focus on Adolescent Treatment on October 26-29, 2005. At the seventh annual conference on November 9-12, 2005 in Las Vegas, NV, the focus will be on a variety of topics including Emerging Issues of Trauma and Violence.

BFI HOSTS SUMMIT
(May 9, 2005) Ben Franklin Institute, Cave Creek, AZ, 800-643-0797, announced that the Clinical Excellence Summit is on July 28-31, 2005 in Boulder, CO. Online registration is available online.

FOUNDER RESUMES CONTROL OF AGS
(May 18, 2005) Adolescent Guidance Services (AGS), 877-700-3300, announced that AGS founder William Lopez, on May 16, 2005, has resumed control of the day-to-day operations as the president of the company.

NUZMAN RESIGNS FROM ANASAZI
(May 16, 2005) Kimberly Nuzman, Anasazi, Mesa, AZ, 480-892-7403, announced she had resigned from the program. She said that until Anasazi finds a replacement, the person to contact is Mike Merchant.

NEW LEAF OF NC OPENS
(May 23, 2005) Kathryn Huffman, Admissions Director, New Leaf Academy of North Carolina, Hendersonville, NC, 828-697-5029, announced that the program opened with 13 students on April 18, 2005 and is currently accepting applications for girls, ages 10-14.

BODIN ASSOCIATES QUARTERLY
(May 24, 2005) Miriam Bodin, Educational Consultant, Bodin Associates, Los Altos, CA, 650-937-1111, sent Woodbury Reports a copy of the company's first edition of their newsletter, Bodin Associates Quarterly. In the first edition, Miriam explains how she founded the company and its progression over the past 25 plus years.

EDVENTURES 2005 CONFERENCE DATES
(May 24, 2005) Steve Pines, Executive Director, The Education Industry Association, Potomac, MD, 800-252-3280, announced that the annual conference is set for July 20-22, 2005 at the Wyndham Inner Harbor in Baltimore, MD.

GABLES ACADEMY ANNOUNCES SUMMER PROGRAM DATES
(May 25, 2005) James D. Meffen, III, Headmaster of, Gables Academy, Stone Mountain, GA, 770-465-7500, announced two programs, which began June 6, 2005, for children, age nine through high school. The eight-week summer school ends July 29, 2005, and 10-week summer camp ends August 12, 2005. Both programs offer parents a choice of either day or residential placement, sports and late enrollments are welcome.

ORME SCHOOL HOSTS BBQ
(May 26, 2005) Orme School, Mayer, AZ, is hosting its annual Summer BBQ on July 23, 2005 as the program celebrates 76 years. To attend the event, please RSVP by July 13, 2005 to assistant headmaster for external affairs, Stuart Rosebrook at 928-635-7601.

JACOBSON-WARREN/ FRANCES PARTNERS
(May 28, 2005) Dore E. Frances, Educational Consultant, Bend, OR, 208-667-9098, announced that Betsy Jacobson-Warren, Bend, OR, 541-598-0550, has joined her team as an educational consultant. Prior to joining Dore Frances, Betsy was the Director of The Academy at Sisters in Bend, OR, for 10 years.

UPCOMING IECA CONFERENCES
(June 2005) The Independent Educational Consultants Association, announced the following dates for upcoming IECA conferences: Fall Conference is set for November 14-16, 2005 in Philadelphia, PA, and the Spring Conference is scheduled for May 4-6, 2006 in Chicago, IL. E-mail for info.

FAMILY FIRST TRANSPORTATION, LLC
(June 2005) Amanda Denson and Megan Ravenscroft, agents and co-owners of Family First Transportation, LLC, Thompson Falls, MT, 406-827-5454, submitted an introduction of their adolescent transport company to Woodbury Reports, Inc. According to the brochure, Family Transportation, LLC is a full service transport company that has "successfully transported many teens throughout the nation and abroad."

SAGEWALK HOSTS BRAT CAMP
(June 2005) The Futon Critic reported that SageWalk – The Wilderness School, Larry Solie, Executive Director & CEO, Redmond, OR, 800-877-1922, is the new setting for ABC's new reality series, "Brat Camp." The show premieres with a two-hour special broadcast, on Wednesday, July 13 (8-10 p.m., ET) on the ABC Television Network. Six families will send their kids to the program in the desperate hope that, once it's over, they will get back the children they once knew and loved. More...

JOHNSON JOINS THREE RIVERS MONTANA
(June 1, 2005) Marylis Filipovich, LCSW, Executive Director, Three Rivers Montana, Belgrade, MT, and Mark Parlett, announced Jeff Johnson joined their team as the Marketing and Admissions Director. "Jeff brings over 17 years of experience to Three Rivers, and is excited to have another opportunity to work more closely with the consultant and professional community." Jeff is available on his cell: 406-570-0546, or through the office in Bozeman, MT at 877-221-1115.

NW PASSAGES OPENS BOYS PROGRAM
(June 2, 2005) Alan and Kandy Satterlee, Northwest Passages, LLC, Kalispell, MT, 406-756-5444, announced the program is in the process of opening a boy's transition program for up to four young men who need the assistance and support of a supervised living environment. The boys program will offer most of the same services that the program offers to the girls/women's house.

JONES OPENS NEW OFFICE
(June 6, 2005) Yvonne Perier Jones, PhD, announced she is no longer associated with Appian Education. She has associated with Dana Dean Doring and her new office is located at 121 Lakeside Ave, Seattle, WA, 206-324-3344 or by cell phone at 206-850-3793. Yvonne also has a new email address.

ROGERS MEMORIAL HOSTS WORKSHOPS
(June 6, 2005) Rogers Memorial Hospital, Oconomowoc, WI, 800-767-4411, is hosting several new workshops, retreats and professional education seminars starting with the Circle of Understanding on August 5-7, 2005; Frontline Teen Depression and Suicide, September 15, 2005; Understanding and Managing Self-Mutilation and Suicide Assessment and Response, both on October, 7, 2005; and Practical Strategies – Chemical Dependency on November 4, 2005.

PENINSULA VILLAGE GRADUATES
(June 6, 2005) In the Spring edition of their Newsletter, Peninsula Village, Louisville, TN, 800-255-8336, announced that 32 high school students graduated on May 20, 2005.

IN BALANCE: STAFF CHANGES
(June 6, 2005) In Balance Ranch Academy, Tucson, AZ, Patrick J. Barrasso, MSW, LCSW – Founder, 877-304-3329, announced that clinical therapist, Ugo Uche, left the program after being called back into active duty for the US Army. Sarah Cunningham from Ann Arbor, MI, will fill the position vacated by Uche as a clinical therapist.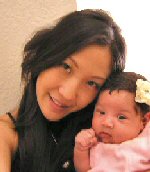 John and Michi Haywood announce birth of baby girl.

HAYWOODS ANNOUNCE BABY
(June 7, 2005) John Haywood, Vision Adolescent Services, Clovis, CA, announced that he and his wife, Michi, delivered their second child, a baby girl.

ACADEMY OF THE SIERRAS ON NPR & CNN
(June 7, 2005) Ryan Craig, Healthy Living Academies, Academy of the Sierras, Reedley, CA, 917-575-8903, announced that a story on the Academy of the Sierras ran on National Public Radio in California and CNN over the weekend of June 10, 2005. Academy of the Sierras, a Healthy Living Academy, is a therapeutic boarding school for overweight teens ages 13-18. To listen to the NPR's California Report story on AOS, please visit: More...

AULDERN ACADEMY CELEBRATES GRADUATES
(June7, 2005) Richard B. Williams, Director of Business Development, Auldern Academy, Siler City, NC, 256-880-3339, celebrated this year's high school graduates. Dr. Beecher, Auldern Academic Director, who coordinated the moving ceremony, said this is the first year the school has had the honor of conferring a diploma to a student who spent her entire high school career at Auldern Academy.

LA EUROPA ACADEMY ANNOUNCES NEW STAFF
(June 8, 2005) Kent Tasso, Admissions, 801-755-8802, Amy Jeppesen, Clinical Director, La Europa Academy, Salt Lake City, UT, 801-633-3653, announced that the newest addition to the Certified Educational Recreation and Therapeutic Schools and Programs (C.E.R.T.S.) now has 12 students enrolled with a capacity of 30 girls. They also included the following staff announcements: Kori Mayeski, M.S., Education Director; Nora Urbanelli, LCSW, Program Director; Johanna Beeman, MA, Art Therapy and Courtney Merrill, Wilderness Therapist.

BERTRAM ANNOUNCES ADDITIONS
(June 8, 2005) Cammie Bertram, Camille M. Bertram Educational Consultants, Fairfield, CT, 203-255-2577, announced that Holly McGlennon Treat, MA, is the new Director of Boarding School Advisory Services. Alan Haas, IECA, and his Connecticut-based consulting firm, Educational Futures, joined the team in a formal relationship to provide college and graduate school advisory services for clients, and that James R. "Bar" Clarke II, was promoted to Director of Special Needs Services.

MELEE AT IVY RIDGE
(June 8, 2005) A story in the New York Times described a "melee" that happened at Ivy Ridge, a WWASP program in New York State, at about 10:15 p.m. on May 16 when someone pulled a fire alarm in the boys' dormitory.More...

MISSION MOUNTAIN HOSTS REUNION
(June 10, 2005) Mission Mountain School, Condon, MT, 406-754-2580, is inviting supportive alumni students and family members to a Founders Day Reunion BBQ on Sunday August 14, 2005. The event will honor the retirement of Gary Kent. Supportive alumni students are asked to contact Colleen Harrington and RSVP by August 1, 2005.

NATWC 12TH ANNUAL CONFERENCE
(June 10, 2005) Sandy McClintock, Administrator, National Association of Therapeutic Wilderness Camps (NATWC), Ohiopyle, PA, 724-329-1098, fax 724-329-1098, announced the 12th Annual Training Conference "Power Of Community" at Montgomery Bell State Park in Burns, TN on September 18-20, 2005.

TOUGH-LOVE SCHOOLS: LOVED/ HATED
(June 11, 2005) A three-part story on Fox News reported on the pros and cons of the WWASP network of schools, Laverkin, UT, and the actions of Rep. George Miller, D-Cailf, who introduced federal legislation regarding the oversight of residential treatment programs and wants the U.S. Justice Department to make unscheduled visits to WWASPS facilities. More...

THREE RIVERS MONTANA OFFERS JUMP START
(June 14, 2005) Marylis Filipovich, LCSW, Executive Director, Three Rivers Montana, Belgrade, MT, 877-221-1115, announced they are offering a 14-day leadership program called "Jump Start," for boys and girls, ages 12-17, and making good choices. Jump Start is a "high adventure leadership camp with an emotional growth component." More Jump Start.

ALPINE ACADEMY OFFERS NEW PROGRAM
(June 14, 2005) Sarah Armstrong, Intake Coordinator/Education Liaison, Alpine Academy, 801-272-9980 ext. 139, announced that Alpine Academy is now offering residential treatment for girls, ages 6-12 at their recently opened Latency Age home in Cedar Hills, UT. Alpine is currently taking referrals, for more information contact the Alpine Academy admissions office.

BRAD MATHESON JOINS HOMEWARD BOUND
(June 14, 2005) Brad Matheson, Homeward Bound, 801-360-4088, announced he is transitioning into a position with Dr. Tim Thayne and Homeward Bound as of July 1, 2005. He added that Patti Hollenbeck-Dial PhD, owner and founder of Maple Lake Academy, Payson, UT, 801-319-9476, will move into the admissions role.

NEW ADMISSIONS DIRECTOR AT PROVO
(June 15, 2005) Ken Huey, PhD, Director of Business Development, Provo Canyon School, Provo, UT, 801-223-7124, announced that Sally Hill recently took over as Director of Admissions. Prior to this position, Sally worked as a therapist at Provo for a number of years before moving into Utilization Review, which she ran for a number of years.

GERACI ANNOUNCES ONLINE PHOTO GALLERIES
(June 15, 2005) Anthony Geraci, President & Executive Director, San Cristobal Ranch Academy, Taos, NM, 505-776-2524, announced that the websites for San Cristobal Ranch, Fulshear Ranch Academy, Fulshear, TX, 281-346-2225, and Transitions of Galveston Island, Galveston, TX, 409-766-1888, now have photo galleries up on their websites.
San Cristobal Gallery
Fulshear Gallery
Transitions GI Gallery

NEW HORIZONS EXPANDS ADMISSIONS
(June 16, 2005) Audrey Peavey, Admissions Director, New Horizons for Young Women, Springfield, ME, 800-916-9755, announced that as of June 1, 2005, the program is now accepting teenage girls diagnosed with diabetes mellitus. Each referral will be accepted or denied on a case-by-case basis after a thorough review of the medical and clinical assessment.

ECHO SPRINGS: NEW EMAIL
(June 16, 2005) Rhea Verbanic, Admissions Director, Echo Springs, Bonners Ferry & Coeur d'Alene, ID, 208-267-1111, announced the new email address for the program is linked above.

ST. PAUL'S ACADEMY ANNOUNCES STAFF CHANGES
(June 16, 2005) The St. Paul's Preparatory Academy e-Bulletin, Phoenix, AZ, announced that Rich Nastro, St. Paul's Social Studies teacher and Athletic Director, was promoted to Dean of Students for the 2005-2006 school year. The e-Bulletin also announced that Matthew Littlefield joined St. Paul's Academy teaching staff.

MONTANA PROGRAMS UNDER REVIEW
(June 16, 2005) A story in the Missoulan News discussed the recent Montana legislation, WWASP and other Montana based programs for at-risk teens. The author focuses a great deal of the story on allegations against Spring Creek Lodge, a WWASP program located in Thompson Falls, MT, which is in the midst of being investigated and one of the WWASP programs named in a lawsuit in a California court. More...

TURLEY JOINS EYA
(June 20, 2005) Rhonda Carpenter, Corporate Communications Specialist, Eckerd Youth Alternatives, Clearwater, FL, 727-461-2990, announced that Stewart Turley has joined the board of directors.

NATSAP LETTER TO CONG. MILLER
(June 21, 2005) The National Association of Therapeutic Schools and Programs (NATSAP), Jan Moss, Executive Director, and John Santa, PhD, Board President, wrote a letter to Congressman George Miller, (D-Calif), regarding his "Legislation to Curb Child Abuse in Residential Treatment Programs." A copy of this letter and a letter to NATSAP members is available online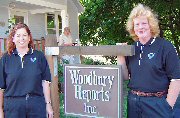 Ruth Aktepy and Sheila Leslie Visit Woodbury Reports.

HAVEN WINGS/ PPC VISIT
(June 21, 2005) Ruth Aktepy, Director, Haven Wings – Accompaniment Services, Thompson Falls, MT, 406-360-4615, and Sheila Leslie, President, Phoenix Protective Corp., Spokane, WA, 509-448-4277, stopped by Woodbury Reports, Inc. to share information about Ruth's new transport agency.

FATHER KEEPS DREAM ALIVE
(June 22, 2005) A story in the Orange County Register provided an overview of the trials and tribulations Bob Weimer has faced since deciding to follow his daughter Jackie's dream of opening a wilderness school in Three Forks near Bozeman, MT. Jackie died in 2003 after falling 350 feet while rappelling down Devil's Tower near Three Forks. To fulfill the dream, Bob is currently trying to raise $350,000 to open the Jackie Weimer School by September 2006 - or 2007 at the latest. Free registration required for this link. More...

BNSF AWARDS $1,000 TO YGBR
(June 22, 2005) Andrea Kenney, CAP, Director of Executive Services, Yellowstone Boys & Girls Ranch, Billings, MT, 406-655-2125, announced that the Burlington Northern SantaFe Foundation awarded $1,000 to Yellowstone Boys and Girls Ranch (YBGR) to assist in the purchase of a portable welder and generator to help boys and girls in the Ranch's vocational training program develop basic welding and job skills.

EYA'S ACCOUNTANT GRADUATES
(June 22, 2005) Rhonda Carpenter, Corporate Communications Specialist, Eckerd Youth Alternatives, Clearwater, FL, 727-461-2990, announced that Nancy Brielmaier, EYA Accounting Manager, graduated the Leadership EYA inaugural class. Brielmaier, who joined EYA in 2001, was honored by President and CEO Karen V. Waddell on June 9, during the organization's Board Development Conference in Clearwater, FL.

MORE SCHOOLS JOIN ISPA
(June 22, 2005) Andy Anderson, Managing Partner, Independent Small Programs Alliance (ISPA), Clearwater, FL, 727-512-9144, announced that Alpine Academy of Salt Lake City, UT, Jeff Simpson, Director, 800-244-1113, and the Grove School, Madison, CT, Kathy Kimmel, Admissions Director, 203-245-2778, have joined the ISPA.

ISPA WEBSITE NOW AVAILABLE
(June 22, 2005) Andy Anderson, Managing Partner, Independent Small Programs Alliance (ISPA), Clearwater, FL, 727-512-9144, announced that the new ISPA website is now up and running for parents, referring professionals, like-minded programs and other professionals.

WILLOW CREEK ANNOUNCES NEW STAFF
(June 23, 2005) Mark Ward, Executive Director, Willow Creek School, Provo, UT, 888-377-2215, announced Alan Misbach is the new Clinical Director. Alan has 17 years experience in working with adolescents and families in a clinical environment, which most recently included the Children's Justice Center. Also joining Willow Creek School as Academic Director is Greg Hudnall. Greg is currently Student Services Director for Provo School District, and was principal of Independence High School for 11 years where he worked with at-risk students.

LEACH (SLATE) JOINS SAN CRISTOBAL
(June 24, 2005) Anthony Geraci, President and CEO of San Cristobal Ranch Academy, Taos, NM, 505-776-2524, announced that Christy Leach (formerly Slate) is the new Admissions Director, effective July 1, 2005. Christy's experience includes assisting families and Educational Consultants, having served as Admissions Director for Northwest Academy, a CEDU Education Program, prior to relocating to Boise, ID where she was Community Liaison for Intermountain Hospital. Contact Christy at 208-921-2547 or by E-mail.

BERLIN CENTER ANNOUNCES EXPANSION PLAN
(June 24, 2005) Linda Zimmerman, Executive Director of the Berlin Center, Los Lunas, NM, 505-866-9271, announced the approval to build add a second residence to their rural location. The expansion will double the current capacity of 13 before the end of 2005. The Berlin Center's therapeutic attachment model serves boys and girls between the ages of 5 and 14. For more information, call Rosella McCaffrey at 505-553-6800.






© Copyright 2012 by Woodbury Reports, Inc.