FEBRUARY 2004
Paid Advertisement
CATHERINE FREER'S PAUL SMITH ELECTED TO JCAHO'S HEALTHCARE ADVISORY COMMITTEE
(January 1, 2004) Paul Smith, Chief Operations Officer, Catherine Freer Wilderness Therapy Expedition, 541-926-7252, www.cfreer.com, Albany, Oregon, has been appointed to the Joint Commission on Accreditation of Healthcare Organization's (JCAHO) Behavioral Health Professional and Technical Advisory Committee (PTAC). The PTAC plays an essential role in providing advice about the standards and survey procedures for the Joint Commission's accreditation programs. Paul's term begins January 1, 2004, and extends through December 31, 2005.

GALENA RIDGE EXPANDS
(January 1, 2004) Paul Clark, owner of Galena Ridge, Trout Creek, Montana, 406-827-4440, announced the addition of the Cougar Mountain Ranch residential facility, managed by Glen and Evelyn Schenavar. Cougar Mountain joins 20 Peaks and Galena Ridge in providing small and family based residential programs. Clark said they have 10 students this year and plan to expand to a maximum of 18 in 2004. Clark still directs the Galena Ridge wilderness program and acts as chief counselor for the three residential components.

FOUNDATIONS FOR HOPE LICENSURE
(January 5, 2004) Bill and Cindy McFeature, Foundations for Hope, Inc., Bristol, Virginia, 276-466-2757, foundforhope@charter.net, www.foundationsforhope.com, reported the Commonwealth of Virginia Department of Mental Health and Substance Abuse Services has licensed Foundations For Hope, Inc. as meeting their high standards of quality of mental health services. Foundations For Hope provides various levels of care for five residents, including assessment and evaluations, individual, group and family psychotherapy, milieu treatment, and a therapeutic ranch program facilitated by equine professionals.

JUSTICE DEPT REFUSES WWASPS INVESTIGATION REQUEST
(January 9, 2004) The Washington Times, www.washtimes.com, reported the US Justice Department has declined a November 3, 2003 request from Congressman George Miller, senior Democrat on the House Committee on Education and the Workforce, to launch a formal investigation of the World Wide Association of Specialty Programs and Schools (WWASPS). The reason given was that the authority given the US Justice Department "does not extend to facilities outside the United States or purely privately owned facilities."

MIDNIGHT MOUNTAIN OFFERS AFFORDABLE PROGRAM
(January 11, 2004) Randy Krohn, Owner/Operator Midnight Mountain Life Skills Training Center, Boyds, Washington, 509-738-9808, info@midnightmtn.com, www.midnightmtn.com, a co-ed residential emotional growth program for 18-24yr olds, announced they are "pleased to offer their services at a significant savings from "the going rate" for such programs…When we figured out how much to charge for our new outdoor-oriented program, we determined how much we needed to keep our program and our small family staff healthy, not how much we could get. Our overhead and our needs are modest, allowing for our rate structure to fall $1000.00/mo. below similar programs. We hope our more affordable rates will allow families who just can't afford other emotional growth programs the help they need for their struggling teen." Additional savings are available for the first three students to enroll in this new program.

CASCADE SCHOOL CLOSES ITS DOORS
(January 12, 2004) Michael Allgood, Headmaster at Cascade School writes: "It is with the deepest regret that we must inform you the Cascade School will be closing on January 20, 2004. Over the past year, the school responded to decreased enrollment by cutting costs and restructuring its business, and the outlook by December was promising. Unfortunately, the enrollment dropped precipitously, with the unanticipated withdrawal of students during the holiday break and the first week of January. As a result, the school is no longer able to meet its financial obligations, and our remaining students will need to transfer to other settings on or before January 20. We are deeply distressed that this action had been necessary. We have enjoyed working with you over the past twenty years. We are proud of the hundreds of children who benefited from their enrollment at Cascade, and we thank you for your role in making possible those successes."

MEDIA COVERAGE FOR BOULDER CREEK, WOODBURY, SPIRES, NATSAP
(January 14, 2004) The Chicago Tribune, at http://www.chicagotribune.com.story in a story titled, "The Last Resort," by Bonnie Miller Rubin, surveys the "therapeutic schools" industry discussing an Illinois student's experience at Boulder Creek Academy, Bonners Ferry, Idaho. It also quotes educational consultant Jeanette Spires, Lake Forest, Illinois, Lon Woodbury, educational consultant and publisher of the trade publication The Woodbury Reports, and Andy Anderson, director of the National Association of Therapeutic Schools and Programs. The story estimates that the industry is a $1 to $1.2 billion dollar industry serving 10,000 to 14,000 school-age children.

SHORTRIDGE ACADEMY FIRST YEAR A SUCCESS
(January 15, 2004) Adam Rainer, Director of Shortridge Academy, (603) 755-3096, Shortridge Academy, Milton, New Hampshire, www.shortridgeacademy.com, 603-755-3096, writes: "we are pleased to announce the completion of our first year of operation as a New England emotional growth boarding school….we now have a current enrollment of 24 students and will continue to enroll more students at a cautious pace in order to maintain the steady building of our strong and supportive school culture. Our first group of upper school students are now preparing to enter the final six month phase, with an Outward Bound in the Florida Keys sailing expedition to heighten their focus on critical thinking skills, teambuilding, and setting their sights on applying their social, emotional, and intellectual skills in real world situations. For consultants who would like to schedule a tour of our campus, please contact Adele Logan, Director of Marketing, 303-494-1862, and for admission information, contact Roger Topp at 603-755-3096.

EXPLORATIONS' NEW WILDERNESS DIRECTOR: AARON FERDANDES
(January 15, 2004) Lorne Riddell, Director of Explorations, Trout Creek, Montana, 406-827-3863, Explorations@blackfoot.net, www.explorationsmt.com, an Aspen Education Group wilderness program, announced the hiring of Aaron Fernandes as their wilderness program director. Fernandes managed the Outdoor Leadership School at Brown University, and most recently was the Field Director for Aspen Achievement Academy. Explorations is now accepting students in its Wilderness Assessment Course seven days a week.

SUMMIT PREPARATORY SCHOOL SEEKS ADDITIONAL THERAPIST
(January 16, 2004) Jan Johnson, LCSW, 406-758-8100 x3, Associate Director & Director of Admissions at Summit Preparatory School, Kalispell, Montana, www.summitprepschool.org, announces they are seeking an additional psychotherapist, and are offering "rewarding full-time employment with competitive salary and excellent benefits." Duties include assessment, treatment planning, and individual, group and family therapy both in office and outdoor wilderness settings, for a boys' team of 10 to 12 students. Candidates must hold a Doctorate or a Masters degree in Psychology, Clinical Social Work, or counseling from an accredited program, have at least two years of experience and be licensed in, or eligible for licensure in Montana. Fax resume to 406-758-8150. For more information, visit www.strugglingteens.com/employment.

JOURNEY INTO AMERICA
(January 16, 2004) Carla Fabian, Semester Director for Journey Into America, Santa Rosa, California, 707-575-3363, www.TimeOutAdventures.net, inspired by IECA Educational Consultant David Denman, announced their 12-week "Journey Into America" program for 17-20 year-olds.' The purpose is to allow young people to take "time out" of the classroom "to enrich their personal development." The group will travel across the country exploring and experiencing the variety the United States has to offer. The next trip goes from March 11 to June 1, 2004, and the Fall trip will start in September and last to December.

RMA STAFF SNOW SCULPTURE TEAM
(January 17, 2004) Lori and Kelly Lynch, staff at Rocky Mountain Academy, Bonners Ferry, Idaho, 877-457-6170, www.rockymtnacademy.com, received a certificate for participating in the Idaho Snow Sculpture contest in Bonners Ferry, Idaho as part of the Rocky Mountain Academy snow sculpture team. The snow sculpture they did, "The Cabin," was modeled after a family cabin constructed on Priest River in 1888. A picture of their sculpture can be found in the online story of the contest at www.ruralnorthwest.com.

FAMILY FOUNDATION SCHOOL YEARBOOK WINS PRIZE
(January 19, 2004) The 2003 edition of the Family Foundation School yearbook received a gold medal from the Columbia Scholastic Press Association, which is sponsored by Columbia University. This award acknowledges that the Family School's yearbook is in the top five percent of all that were submitted nation-wide by both public and private schools. The first paragraph of the judges' general comments read as follows: "WOW!! What a school!! What a staff!! What a student body (and talented too)!! And what a yearbook, displaying all of the miracles possible in your daily lives—with effort and motivation." The school is very proud of the work that Chris Stein and all the students did to create this yearbook.

SAN CRISTOBAL RANCH ACADEMY APPROVED FOR LOAN PROGRAM
(January 19, 2004) Anthony S. Geraci Jr., President of the San Cristobal Ranch Academy, Taos, New Mexico, 505-776-2524, www.sancristobalranchacademy.org, a transitional learning center for young men 18 and over, announced they are now offering a financing option to their families through the prepGate k-12 loan program, which is designed to help "make the cost of a private school education more affordable."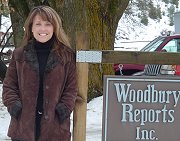 CHRISTY SLATE VISITS WOODBURY REPORTS, INC.
(January 19, 2004) Christy Slate, admissions director of Northwest Academy, Naples, Idaho, 877-882-0890 www.northwestacademy.com, stopped by Woodbury Reports to say hello and to give us an update.

CLAUDIA PETERSON VISITS WOODBURY REPORTS
(January 19, 2004) Claudia Peterson, Admissions Director for Rocky Mountain Academy, Bonners Ferry, Idaho, 877-457-6170, www.rockymtnacademy.com, stopped by Woodbury Reports, Inc. on her way to a dentist appointment.

SUNRISE ACADEMY JOINS PSYCHIATRIC SOLUTIONS INC.
(January 21, 2004) Boyd Hooper bhooper@sunriseacdemyrtc.com, Admissions Director, Sunrise Academy, Hurricane, Utah, www.sunriseacademyrtc.com, 801-380-3525, announced the academy has become part of Psychiatric Solutions, Inc. of Tennessee. "By joining Psychiatric Solutions, Sunrise Academy gains access to a broad array of behavioral healthcare resources that will allow it to expand its services while maintaining its excellent reputation. Psychiatric Solutions, Inc. offers an extensive continuum of behavioral health programs to critically ill children, adolescents and adults through its operation of 23 owned or leased freestanding psychiatric inpatient facilities with more than 2,800 beds. The Company also manages freestanding psychiatric inpatient facilities for government agencies and psychiatric inpatient units within general acute care hospitals owned by others." Sunrise Academy provides behavioral health services to girls between the ages of 12-17 years.

ALLIANCE BEHAVIOR CONSULTING
(January 22, 2004) Tracey Lange, Alliance Behavior Consulting, Sandpoint, Idaho, www.alliancebehaviorconsulting.com, 208-263-4535, informed us that they have upgraded their website, which is now listed at www.strugglingteens.com. This customized in-home behavior program has the goal of keeping families together.

CEDU MIDDLE SCHOOL CELEBRATES HOLIDAYS AND CAMPUS ADDITIONS
(January 22, 2004) Brandi Elliott, School Director, CEDU Middle School, 800-884-2338, www.cedumiddleschool.com reported they "closed 2003 with our traditional Hanukkah and Christmas festivities. Building on our students' interest in music, the school received a number of gifts under the Christmas tree including a guitar, electric keyboard, bongo drums, and a karaoke machine…We are providing students with plenty of opportunities to expand on their musical interests. Counselor Brian Follis is an accomplished guitarist and is giving interested students guitar lessons. Moreover, students will have time in-and-out of classes to access our new multi-media center. This professionally equipped studio is complete with a soundproof room for recording."

GRAPHIC FOR LAUGHLINS
(January 22) Will Laughlin, Director, wlaughlin@threesprings.com and Beth Laughlin, Communications, Auldern Academy, 919-837-2336, Siler City, North Carolina, www.auldern.com/ stopped by Woodbury Reports on a whirlwind tour of programs in the area, long enough to smile by the sign.