FEBRUARY 2007
Paid Advertisement
LATEST WRINKLE IN FINDERS FEES
(November 4, 2006) In a conversation between Lon Woodbury, MA, CEP, founder of Woodbury Reports, Inc., 208-267-5550, and an IECA member, the Educational Consultant discussed being approached by an individual representing a program participating in the IECA swap meet at Miami Beach. The person offered to split the finders' fee he might receive for any student referred to him. When reminded of the IECA prohibition against accepting fees from a school for placement of a child, the person responded that this was no problem because he was on contract and not staff of the school. Therefore, the deal would be between the consultant and an independent person and the Consultant would not be receiving any money from a school or program. Needless to say, the IECA member turned him down flat.

NATSAP CHANGES BOARD MEMBERS
(December 2006) Jan Moss, Executive Director of the National Association of Therapeutic Schools and Programs (NATSAP), Prescott, AZ, 928-443-9505, announced in the 4th Quarter 2006 report for the organization, that the last two founding board members just finished their eight-year term serving on the Board. John Mercer and John Santa, PhD stepped down to make way for three new board members, Linda Carpenter of Hope Ranch, Michael Merchant of Anasazi and Sidney Parham of Family Foundation School.

SCHMIDT ADMISSIONS & MARKETING AT ASHBY
(December 19, 2006) Dr. Alfred Allen, Headmaster at Ashby Academy, Ashby, MA, 877-386-0055, announced Vincent Schmidt, MA, was hired as Director of Admissions and Marketing. The school has also become an associate member of NATSAP and is starting the accreditation process through NIPSA.

ELK MOUNTAIN CELEBRATES 13 YEARS
(December 21, 2007) Loretta Olding, Director of Admissions at Elk Mountain Academy, Clark Fork, ID 208-264-5318, announced that Elk Mountain Academy celebrated its 13th year of service in December 2006. She also announced enhanced services in the therapeutic and academic components of the program.

GATEHOUSE GRADUATES ACCEPTED IN WICKENBURG
(December 21, 2006) Glenna Conway, Admissions Director at Gatehouse Academy, Wickenburg, AZ, 928-231-5004, submitted a press release describing four recent graduates of Gatehouse Academy, who had their artwork accepted for display in several locations around the Wickenburg community.

OXFORD HIRES GREG STAAT
(December 21, 2006) Philip H. Davis, Head of Oxford Academy, Westbrook CT, 860-399-6247, announced the hiring of Greg Staat, a 2001 graduate of Oxford Academy, as a teacher and dorm master.

ASTART SURVEY RESULTS TO BE PRESENTED MARCH 4-7
(December 26, 2006) The Research & Training Center for Children's Mental Health, University of South Florida, will host the 20th Annual Research Conference - A System of Care for Children's Mental Health: Expanding the Research Base, on March 4-7, 2007. One of the presentations will be by Allison Pinto, Christina Young and Robert Friedman on the results of their online survey to gather information about (alleged) "institutionalized abuse in unregulated residential facilities." More...

FITZGERALD LEAVES CKC TOURS
(December 26, 2006) Kay Ford, owner of CKC Tours, Crozier, VA, 804-784-3037, announced that Todd Fitzgerald, tour coordinator, is leaving for new opportunities. Upcoming tours will continue as planned. Also, CKC Tours has received a certificate of organization as a LLC from the state of Virginia, among several improvements in the services.

CHANGE ACADEMY WELCOMES FUGLSANG
(December 26, 2006) Ken Huey, CEO of Change Academy at Lake of the Ozarks (CALO), Lake of the Ozarks, MO, 801-830-8801, announced Nicole Fuglsang has accepted the position as Admissions Director for the program. CALO is a residential treatment center focusing on the treatment of issues of attachment, trauma and affect regulation.

IECA SPRING CONFERENCE DATES
(December 26, 2006) The Independent Educational Consultants Association (IECA), Fairfax, VA, 703-591-4850, info@IECAonline.com, announced in the Insights magazine the spring conference in Boston, MA will be April 25-28, 2007.

STUDENTS EARN VOLUNTEER OF THE YEAR
(December 28, 2006) Anthony Geraci, President of Fulshear Ranch Academy, Needville, TX, 979-793-3011 announced the girls at Fulshear earned an award for Volunteer Group of the Year at Fort Bend County Women's Shelter.

GERSH ACADEMY JOINS IPSA
(December 28, 2006) Andy Anderson, Founder of the Independent Small Programs Alliance (ISPA), Clearwater, FL, 727-512-9144, announced that the Gersh Experience at Daemen College is the newest member of the ISPA.

STAFF CHANGES AT SHORTRIDGE
(December 28, 2006) Adam Rainer, Founder/ Director of Shortridge Academy, Milton, NH, 603-755-3096, announced that Christopher Locke has announced he will be stepping down as Academic Director, effective January 26th 2007. Adam also announced that Sarah Wagner has been appointed the Interim Academic Director and that she will be working closely with Chris, together with the Academic Department Heads, Dr. Carol Keyes and Mr. Oliver Arigi.

TROUBLED WITH TROUBLED TEENS PROGRAM
(December 28, 2006) Maia Szalavitz, author of the book HELP AT ANY COST, writing in the January edition of Reason Magazine, continues to confuse professionally staffed private residential programs with the abuses occurring in public boot camp and juvenile justice programs. More...

THREE SPRINGS HEADING TO EMPLOYEE OWNED
(December 28, 2006) Three Springs Inc., Huntsville, AL, 888-758-4356, announced in their 4th quarter 2006 newsletter, that they are initiating "a process to allow for a controlling interest of the company to be transferred to the hands of our employees."

EQUINE THERAPY WORKSHOP SUCCESS
(December 29, 2006) Shannon Knapp, Founder of Horse Sense of the Carolinas, 828-683-7304, announced they presented a workshop at the November 2006 annual conference of National Association of Social Workers (NASW). The conference was held at the 90 acre Horse sense farm and attracted over 50 participants. More…

BRYNUM LEAVES ECKERD
(January 1, 2007) Candace Bynum, 265-503-9717, announced she left Eckerd Youth Alternatives effective December 31, 2006. Candace also announced that after working in the industry for over 10 years, as admissions and marketing director for Three Springs and Eckerd, she wants to take a break before possibly returning to the network.

PACIFIC QUEST WELCOMES SULLIVAN
(January 1, 2007) Suzanne McKinney, MA of Pacific Quest, Hilo, HI, 808-937-5806, announced Marney Sullivan, is the new Admissions Director for the program.

NADASI AT WILDERNESS TREATMENT CENTER
(January 5, 2007) Ben Dorrington, Admissions Director of Wilderness Treatment Center, Marion, MT, 406-854-2832, announced that Dr. Chris Nadasi is their new consulting psychologist. Dr. Nadasi is a Licensed Clinical Psychologist, Certified School Psychologist and has worked with other programs including Montana Academy and he was Clinical Director at Summit Preparatory School. Dr. Nadasi will perform initial psychological assessments on all clients and be available to perform any expanded testing as well as educational evaluations. He replaces Dr. James Murphy in this role.

RICKEL OPENS ACADEMIC OPTIONS
(January 5, 2007) Jill Rickel, Parkland, FL, 954-340-1636, announced she is opening her private practice specializing in post-secondary placement and college counseling for LD/special needs students. Her business is named Academic Options, Inc. Rickel previously had been with College Living in Florida.

ROSECRANCE VIDEO IN THE NEWS
(January 5, 2006) Kim Lowrie, National Marketing Manager for the Rosecrance Health Network, Rockford, IL, 773-895-2996, sent a link to a Chicago ABC TV news clip consisting of a three minute segment on the Rosecrance Health Network Recovery Home in Rockford, IL.

OXFORD ACADEMY IN THE NEWS
(January 7, 2007) The Hartford Courant, (Connecticut) featured Oxford Academy, Westbrook, CT, 860-399-6247, as a place where floundering students can get the individualized help so many students need.

GOLDEN JOINS WILLOW SPRINGS CENTER
(January 8, 2007) Pam Golden, Community Liaison at Willow Springs Center, Reno, NV, 800-448-9454, announced that she has joined the marketing team. Formerly working at Intermountain Hospital, Pam has over 17 years of experience in behavioral health.

BRIDGES ACADEMY NEW WEBSITE
(January 8, 2007) Erick Scheiderman, Admissions for Bridges Academy, Bend, OR, 541-318-9345, announced their new web site includes downloadable newsletters, real time chat with admissions counselor section, educational loan calculator and a student assessment tool, and upcoming a parent extranet for families whose sons are enrolled at Bridges Academy.

MONARCH CENTER ESALEN INSTUTUTE TRIP
(January 8, 2007) Dave Ventimiglia announced the Monarch Center for Family Healing, Georgetown CO, 303-569-0767 x 206, will be hosting a trip to the Esalen Institute in Big Sur, CA, for May 25-June 3, 2007. This trip is designed for those interested in, or seeking careers in, the wilderness and/or Gestalt fields.

HALLOWAY EXEC. DIR. OF RIDGE CREEK
(January 11, 2007) Jeff Halloway, Assistant Headmaster at Hidden Lake Academy, Dahlonega, GA, 706-867-1720, announced that he has recently taken over as executive director of Ridge Creek.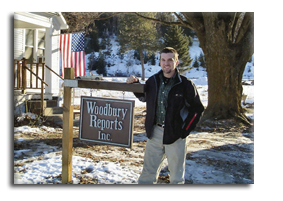 BRUNER VISITS WOODBURY
(January 11, 2007) Matthew Bruner, Director at Men of Valor Ranch, Northport, WA, 509-509-732-8936, stopped by Woodbury Reports Inc., to introduce his new program.

STONE MOUNTAIN DAM REPAIR
(January 12, 2007) Sam Moore, Executive Director of Stone Mountain School, Black Mountain, NC, 828-669-8639, announced the first phase of dam repair, emptying the lake, is now successfully completed and they are beginning phase two, designing a reconstruction plan.

SILVERADO WELCOMES NEW TEACHER
(January 16, 2007) Denise Westman, Director of Admissions and Marketing for Silverado Boys Ranch, Panguitch, UT, 435-676-8482, announced a new addition to their academic team. Annette Davis has extensive experience in education and will be teaching English and Social Studies at the ranch.

ELK RIVER WILDERNESS ONE YEAR OLD
(January 17, 2007) Beth Ragland, Vice President of Marketing for the Pinnacle Schools dba Elk River Wilderness Challenge, Huntsville, AL, 256-682-8690, announced the one-year anniversary of the 8-week intervention and assessment program. Elk River Wilderness Challenge is a co-ed, short-term program for adolescents, ages 12-18, located in north Alabama.

SECOND NATURE PROGRAM IMPROVEMENTS
(January 17, 2007) Jason York, Admissions for Second Nature, Duchesne, UT, 866-205-2500, announced that Second Nature has enhanced their program by adding loan options, academic credits and psychiatric video conferencing.

TALISMAN OFFERS MORE
(January 17, 2007) Linda Tatsapaugh, Director of Talisman Programs, Black Mountain, NC, 888-458-8226, announced their first Academic Semester for teens with Aspergers' Syndrome started on Jan. 15th. Also, this summer they are offering expeditions for teens with ADHD and Aspergers in New York, Oregon and Washington, including backpacking, paddling and sailing on a tall ship.

SHAFFER WELCOMES GRANDDAUGHTER
(January 18, 2007) Linda Shaffer, MA, Educational Consultant, Sandpoint, ID, 208-263- 8394, announced the birth of her granddaughter, Kiera Ann Shaffer, who was born on Sunday, January 14, 2007, to her son Alex and his wife Stace. Kiera weighed 7 lb, 14 oz.

FAMILY SCHOOL ALUMNI ORGANIZE
(January 19, 2007) Ann Kozak, Marketing Specialist for the Family Foundation School, Hancock, NY, 845-887-5213, reported that a dozen members of the new Family Foundation School Alumni Association met on January 13, 2007, in Scranton, PA, to develop a mission statement, establish priorities and discuss outreach efforts. Invited guests included Mike Ducey, VP of Development for the school. The Alumni Association grew out of the school's first alumni reunion held last September which attracted more than a 125 former Family Foundation School students from around the country.

ICR STUDENTS PARTICIPATE IN BURUCA RITUAL
(January 19, 2007) Guy Leguyonne, Admissions Director for Introspections of Costa Rica, 888-280-4227, announced that the students recently participated in a 500 year old annual ceremony with an indigenous tribe. During the ritual, the tribe gathers an extract used to create the purple dye for the tribe's hand woven materials for the entire year.

MEN OF VALOR RANCH OPENS
(January 19, 2007) Matthew Bruner, Director of Men of Valor Ranch, Northport, WA, 509-732-8936, announced the ranch opens February 1, 2007. Men of Valor Ranch is a 12-month residential program for struggling young men ages 18-25.

CALL FOR PRESENTERS
(January 19, 2007) NATWC (National Association of Therapeutic Wilderness Camping) has issued a call for presenters for its 14th Annual conference. The conference will be held Sept. 16-18 on Jekyl Island, GA. The conference focuses on sharing practical skills, best practices, and cutting edge research with both front-line and management staff of Therapeutic Wilderness Courses. Presenter applications and information are available at or contact Linda Tatsapaugh, 828-779-2635.

NEW CLINICAL DIRECTOR AT SAN CRISTOBAL
(January 19, 2007) Christy Leach, Admissions Director of San Cristobal Academy, Taos, NM, 866-918-8383, announced the appointment of Dr. Linda Salvucci as the new Clinical Director. Dr. Salvucci will help oversee all therapeutic activities for the families and students of San Cristobal Academy.

VOYAGEUR JOURNEY APPLICATIONS
(January 20, 2007) John Huie, Director of the Environmental Leadership Center for Warren Wilson College, Asheville, NC, 828-771-3006, announced applications are available for the Voyageur Journey August 4-11, 2007 four hours north of Toronto Canada for those interested in re-connecting with the natural world.

ROGERS SPONSERS EATING DISORDER CONFERENCE
(January 22, 2007) Rogers Memorial Hospital, Oconomowoc Wisconsin, 800-767-4411, info@rogershospital.org, announced their sponsorship of Seeds of Hope, the first annual Crisis to Action Conference in Madison Wisconsin February 17, 2007 for a gathering of eating disorder professionals. For more information go to http://www.CultivatingHope.org.

KOCUREK'S OPEN IN DALLAS
(January 22, 2007) Carolyn Kocurek, Educational Consultant with Academic Answers, Austin, TX, 512-306-8567, announced that she and Chris have recently opened an additional office in Dallas. The toll free number for the Dallas office is 866-306-8585.

WEDIKO ACCEPTING SUMMER APPLICATIONS
(January 22, 2007) Patrick Ryan, Assistant Director of Wediko Children's Services Summer Program, Windsor, NH, 617-292-9200, announced they are accepting applications for their 45-day summer program for 2007.