NOVEMBER 2007
Paid Advertisement
KNIGHT HEADS WILDERNESS QUEST
(September 17, 2007) Troy Knight, MS, Executive Director for Wilderness Quest, Monticello, UT, 435-459-9223, announced he accepted the position of Executive Director for the Wilderness Quest team. Troy was the Program Director and Quality Assurance Director for Wilderness Quest for the past two years and has worked in the field of behavioral health care for over 15 years. Troy holds a Masters degree in Health Care Administration and has specialized training in Joint Commission standards and compliance.

WIEGRATZ NEW ROGERS OUTREACH REP
(September 19, 2007) Rogers Memorial Hospital, Oconomowoc, WI, 800-767-4411 x573, announced Mary Jo Wiegratz is the new Senior National Outreach Representative replacing Beth Baus who left to pursue a graduate degree at Vanderbilt University.

SUNRISE LAUDS CLINICAL TEAM
(September 23, 2007) David Prior, Executive Director for Sunrise Academy, Hurricane, UT, 435-635-1185, recognizes the clinical team of: Dr. Jack Hinman, Clinical Director, Michele Peterson, licensed clinical social worker and Brad Simpson a clinical social worker. Prior states "Sunrise's clinical team is in a position of great strength".

SCHMIDT ADMISSIONS DIRECTOR AT SUWS
(September 24, 2007) Kathy Rex, Executive Director at SUWS Adolescent and Youth Program, Shoshone, ID, 208-886-2565, announced Vincent Schmidt as the new Director of Admissions. Vince began his career as a primary therapist at a youth program in 1995. He then joined Aspen Education Group's Academy at Swift River as a founding therapist, and worked his way up to become one of the program's clinical managers. Vince discovered a passion for admissions, and became the Admissions Director at a therapeutic boarding school before joining SUWS.

NEW PROGRAM/ ACADEMIC DIRECTORS AT NORTHSTAR
(September 24, 2007) Sean Fievet, Executive Director for NorthStar Center, Bend, OR, 541-385-8657, announced Scott Fitzwater and Alice Huskey have been named Program Director and Academic Director, respectively. Scott once served as a Case Manager for NorthStar, and most recently as Program Director for SageWalk, the Wilderness School. Alice was promoted to Academic Director upon the retirement of Tina Linden-Levy, having served as an Academic Instructor for four years.

NEW ACADEMIC COMPLEX AT SANDHLL
(September 24, 2007) Linda Zimmerman, CEO of Sandhill Child Development Center in Los Lunas, NM, 505-866-9271, announced the Sandhill Center recently completed construction on a new academic complex for the 2007-08 academic year. The complex includes three new classrooms, additional computer lab space utilizing empirically validated A+ online interactive technology, and a neurofeedback lab.

NEW ECKERD ALTERNATIVE SCHOOL
(September 24, 2007) Tom Denham, Director of Communications for Eckerd Youth Alternatives, Suches, GA, 727-461-1236, announced its newly licensed and accredited outdoor therapeutic program and alternative school, Eckerd Academy of the Blue Ridge, GA, held an open house for the public October 3, and opened October 8.

CARDOZA NEW PRESIDENT OF WAD
(September 25, 2007) Angela Segal, PR Director for West Shield Investigations, Huntington Beach, CA, 800-899-8585, announced Southern California private investigator and business owner Allen P. Cardoza was elected as President of WAD (World Association of Detectives) for the 2008 term. Cardoza is President of West Shield Investigations.

THOMAS NEW ADMISSIONS AT PINE RIDGE
(September 25, 2007) John Thomas, Admissions Director for Pine Ridge School, Williston, VT, 802-434-2161, announced he is the new admissions director for Pine Ridge School, working under the new headmaster Dana Blackhurst. Thomas also announced the "school is entering its 40th anniversary" with an extensive re-evaluation resulting in progressive expansion in both physical plant and academic programs for students with learning differences.

BART STARR TO APPEAR AT ANASAZI GALA
(September 25, 2007) Virginia Robinson, Director of Admissions for Anasazi Foundation, Mesa, AZ, 800-678-3445 x109, announced Legendary NFL quarterback Bart Starr and his wife Cherry will join ANASAZI's Young Leaders to receive the 2007 "Turn for Peace" award at the Gala in November.

CORE SOLUTIONS OPERATES ONLINE PARENT SUPPORT
(September 25, 2007) Randall Cook, Operations Manager for Core Solutions, Winchester, CA, 877-271-4427, announced they were chosen to operate the new online Parent Community for Tipton Academy located in Tipton Kansas. The new online Parent Support Community is solely dedicated to parents who have a child currently enrolled at Tipton Academy.

SUNHAWKS NEW CLINICAL DIRECTOR
(September 26, 2007) Kristen Hayes, Communications Manager for Aspen Education Group, Cerritos, CA, 562-467-5531, announced that David Chandler "Davee", LCSW, has been promoted to Clinical Director of Sunhawk Academy, St. George, UT, 800-214-3878. Chandler has worked as a therapist for Sunhawk since 2005. In his new role, Chandler will direct the medical and clinical departments, and manage program development and implementation.

ECHO SPRINGS TURNS 14
(September 27, 2007) Echo Springs Study Transition Center, Bonners Ferry, ID 208-267-1111, announced they recently passed their 14th anniversary. Echo Springs has worked with 141 students since its inception in 1993.

TAEKWONDO YELLOW BELTS EARNED BY OPI
(September 27, 2007) Jodi Haines Blinn, Associate Director of Marketing for Optimum Performance Institute, Woodland Hills, CA 818-430-1714, announced one OPI participant and Program Director, Katie Mikolyski, received their yellow belts in Taekwondo from the International Taekwondo College.

BETTON HOUSE CELEBRATES TWO YEARS
(September 28, 2007) Michael Losicco, Director of Betton House, Scranton, PA, 877-723-8866, announced Betton House recently completed its second year of operation as a "sober dorm" for young adults, 18 to 24, making the transition from structured school, program or rehab to college.

CALO TRAINS AT VILLA SANTA MARIA
(September 28, 2007) Nicole Fuglsang, Admissions for Change Academy Lake of the Ozarks (CALO), Lake Ozark, MO, 866-459-1362, announced Landon Kirk and Rob Gent, two CALO therapists, attended an attachment and residential care special training conducted by Dan Hughes at Villa Santa Maria in New Mexico.

SKY VIEW ACADEMY LICENSE SUSPENDED
(September 28, 2007) The Bureau of Services for Child Care, Division of Child and Family Services in Carson, NV suspended Sky View Academy's license. According to the Notice of Suspension, the "suspension is in response to incidences where children in the care of Sky View Academy participated or experienced in sexual or physical assault when a lack of appropriate supervision by staff of Sky View Academy occurred." For more information contact Amber L. Vestbie, Social Services Chief II, Division of Child and Family Services, 4126 Technology Way, Carson City, NV 89706.

LEARNING CLINIC ACCREDITED
(October 1, 2007) Robert A. LeGary Jr., MA, Director of Residential Services for The Learning Clinic, Brooklyn, CT, 860-774-1037, announced The Learning Clinic was granted accreditation by the New England Association of Schools and Colleges (NEASC). This status endorses their diploma and equates their education to Connecticut and New England non-public schools.

SOBER COLLEGE SWINGS WITH TRAPEZE THERAPY
(October 2, 2007) Annika Richards, Director of Public Education for Sober College, Woodland Hills, CA, 800-465-0142, announced a new therapeutic addition to their curriculum this month with Trapeze Therapy. The Richie Gaona Trapeze School, located just two miles from campus, allows individuals to walk a high wire, jump on a large trampoline and learn circus acrobatic skills. Many of Hollywood's stuntmen additionally train at Richie Gaona's school in preparation for an upcoming movie role.

NATUROPATH VISITS CLEARVIEW HORIZON
(October 4, 2007) Tami Gebhardt, Assistant Director of Clearview Horizons, Heron, MT, 406-847-5850, announced Dr. Joshi, a Naturopath doctor included Clearview Horizon in his list of schools to visit during his tour of Residential Programs. He met with some of the students and shared his philosophy of health and healing.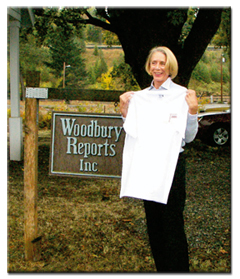 THOMPSON VISITS WOODBURY REPORTS
(October 5, 2007) Holly Thompson, Admissions Director of Hyde School At Woodstock, Woodstock, CT, 860-963-4758, stopped by the Woodbury Reports office to visit.

DISCOVERY SCHOOL OF VIRGINIA FOR GIRLS
(October 7, 2007) Chris Yates, Executive Director of the Discovery School of Virginia, Dillwyn, VA, 434-983-5616, announced their girls' program is now open. The Discovery School of Virginia and the Discovery School of Virginia for Girls serves young people who are experiencing emotional, behavioral, and learning problems.

BENCHMARK COMPLETES TRAINING
(October 8, 2007) Shelley Skaggs, Marketing and PR for Benchmark Young Adult School, Redlands, CA, 714-963-4148, announced the Primary Counselors at Benchmark have successfully completed the "Coaching Young Adults in Program" course and have obtained their International Coach Federation (ICF) sanctioned Life Coach Certificates, specific to coaching young adults in program.

WOODBURY REPORTS EXPRESSES OUR CONDOLENCES TO ETHNA HOPPER
(October 9, 2007) It is our sad duty to report that we were just informed by Educational Consultant Peter Sturtevant that long time Educational Consultant Ethna Hopper's husband, John Gordon Hopper, died on September 26, 2007. He had a brain injury 35 years ago and had spent the rest of his life supported and loved by his wife and children at a facility for brain-injured adults in Charlottesville, VA. That wonderful place is called Building a Bridge Foundation. If anyone has any wish to donate to a charity in memory of John, contributions may be made to the Building a Bridge Foundation, 712 Park Street, Charlottesville, VA, 22902.

MAUTZ JOINS PACIFIC QUEST
(October 9, 2007) Suzanne McKinney from Pacific Quest, Hilo, HI, 808-937-5806, announced Anthony (Toby) Mautz, MSW, is the new Counseling Director. Toby has a BA in Sociology and a Masters Degree in Social Work from Boston College. He worked for a nonprofit Residential Treatment Center for two years in the Boston area, moved to Salt Lake City where he worked on a grant for the public school system, then served as a primary therapist at Aspen Ranch and Aspen Achievement Academy before becoming Clinical Director at AAA in 2003. Most recently, Toby served as Director of Clinical Services for an educational consulting firm, coordin-ating student and family treatment services.

GROWTH AT SHORTRIDGE
(October 9, 2007) Hannah C. Mariotti, MA, LPC, Director of Admissions and Marketing for Shortridge Academy, Milton, NH, 603-755-3096, announced the completion of an extensive building project with new classrooms, office space, meeting rooms, art studio, yoga/dance studio, workout room, music room and a two story cathedral great room. In addition, she announced that Kay Patch, Psychiatric Nurse Practitioner has joined Shortridge as Clinical Director.

NATSAP TESTIFIES TO CONGRESS
(October 10, 2007) Jan Moss, Executive Director of the National Association of Therapeutic Schools and Programs, Prescott, AZ, 928-443-9505, testified to Congress in the Congressman Miller Hearings aimed at our network. "As the numbers of kids who attempt suicide, engage in destructive and criminal behavior, and fail to graduate from High School rise, concerned parents have turned to therapeutic schools and programs. We are committed to working with Congress, the states, other organizations, and parents to ensure that regulations and legislation provide for realistic and workable therapeutic programs that meet the highest standards of care."

MURRAY LEAVES PROVO/ CANYON CREEK
(October 10, 2007) James Murray announced his resignation as Director of Business Development at Provo Canyon School and the Academy at Canyon Creek, Provo, UT, 413-268-7022. Questions regarding either program should be directed to Brad Gerrard at 801-229-1038.

ESPLIN ADMISSIONS AT PROVO CANYON
(October 10, 2007) Susan Hawkins of Provo Canyon School, Orem, UT, 801-852-1138, announced Brent Esplin, LMFT is the new Admissions Director of Provo Canyon.

CATHERINE FREER RESPONDS TO HEARINGS
(October 11, 2007) Julia Andrick, Marketing Director for Catherine Freer Wilderness Therapy Program, Albany, OR, 208-265-8355, responded to the House Hearings with "We support Rep. Miller and the Education Committee in doing what is possible to eliminate abusive and neglectful programs. At the same time, we believe it is important to preserve viable options for children and families in need of responsible and ethical therapeutic schools and programs. Our program has consistently supported regulations and standards for the treatment industry and we currently hold the highest level of state licensing and national accreditation that is available to us today."

BILL LANE STOPS BY FOR A VISIT
(October 14, 2007) Bill Lane, Founder/ President of Bill Lane & Associates, San Diego, CA, 858-488-5319, stopped by to pick up his T-Shirt and get his picture taken by the Woodbury Sign while in town visiting.

VALLEY VIEW PARENTS WEEKEND
(October 17, 2007) Rick Bulger, Associate Director for Valley View School, North Brookfield, MA, 508-867-6505, announced that Valley View School recently celebrated another Parent's Weekend, with close to 200 parents and other family members attending. The key speaker was nationally recognized expert Dr. Robert

FFS NAMES CONSULTING PSYCHOLOGIST
(October 19, 2007) Emmanuel Argiros "Mike", President of the Family Foundation School, Hancock, NY, 845-887-5213, announced that Mark P. Vogel, PhD, Clinical Psychologist, is a new consulting psychologist at the school. Dr. Vogel, whose practice includes child, adolescent, and family therapy, has worked extensively with educational institutions in the diagnostic testing of children with emotional problems and learning disabilities. He has taught numerous community workshops on parent/teenage relations and child-rearing techniques and is a specialist in alcoholism and substance abuse. His role at FFS will include the psychological evaluation of new students and individual psychotherapy as needed. The school's previous psychological consultant, Dr. Charles Moss, retired in September.

OPI WELCOMES DIRECTOR OF MARKETING
(October 22, 2007) Jodi Haines Blinn, Associate Director of Marketing for Optimum Performance Institute, Woodland Hills, CA, 818-430-1714, announced Sianita Calon is the new Director of Marketing. Sianita earned a Bachelor's degree from the University of Southern California with majors in Broadcast Journalism and Ethical Philosophy, and is currently pursuing a graduate degree from California State University, Los Angeles in Psychology and Counseling.