STICC GIVES THANKS/ UPDATE
(April 22, 2008)
Ken Huey
, PhD, CEO of
CALO
(Change Academy Lake of the Ozarks), Lake Ozark, MO, 573-746-6331, announced the addition of Wayne Juliano as Academic Director. Wayne has worked in education for the past 16 years as a science teacher, curriculum coordinator and K-12 principal.
BCA STUDENTS IN WASHINGTON DC
(April 22, 2008)
Paul Johnson
, Director of
Boulder Creek Academy
, Bonners Ferry, ID, 877-348-0848, announced eight students recently travelled to Washington, DC to participate in the Presidential Scholars Program.
WTC JOINS ISPA
(April 22, 2008)
Andy Anderson
, MRA, Managing Partner of
ISPA
(Independent Small Programs Alliance), Clearwater, FL, 727-512-9144, announced Wilderness Treatment Center partnered with ISPA. WTC is a 60-day, inpatient, chemical dependency treatment facility for adolescents/young adult males ages 14 to 24.
SILVERADO STUDENTS HELP LOCAL FAMILY
(April 22, 2008)
Denise Westman
, Director of Admissions for
Silverado Boys Ranch
, Panguitch, UT, 435-676-8482, announced numerous students from Silverado Boys Ranch recently donated their weekly allowance, their snack-shack money, and even their savings (in some cases from their SBR earnings accounts) to help a local Panguitch family who lost a child in April.
BCA STUDENTS GRADUATE
(April 22, 2008)
Paul Johnson
, Director of
Boulder Creek Academy
, Bonners Ferry, ID, 877-348-0848, announced five students graduated Boulder Creek Academy in May.
PARENT COMMENTS ON RANCHO VALMORA
(April 25, 2008)
Lisa Rosenberg
, a parent, submitted a Letter to the Editor of Strugglingteens.com regarding her experience with Rancho Valmora. Her letter can be found online at
Strugglingteens.com/news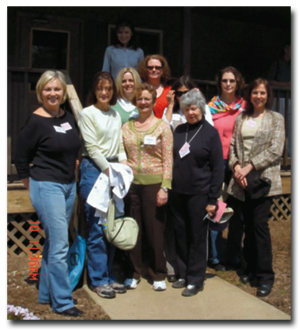 Pictured are Susan Grossi, Robin Bullington, Barbara McCaslin, Jill Porter, Loi Eberle - Row 1, Shelby Swartz, Leli Sarsozo, Christie Woodfin - Row 2, Elizabeth Donnelly - Row 3, Claire Law - Row 4
CONSULTANTS TOUR VIRGINIA & WEST VIRGINIA SCHOOLS
(April 25, 2008)
Kathy Parker
Senior Referral Relations for
Three Springs
, Inc., Huntsville, AL, 434-977-1752, announced several Educational Consultants visited programs in Virginia and West Virginia. The programs on the tour included New Dominion School Virginia (
Three Springs
, Inc.,), New Lifestyles,
Alldredge Wilderness Journey
, and
Greenbrier Academy
.
ACADEMY OF THE SIERRAS NAME CHANGE
(April 29, 2008)
John Gordon
, Chief Marketing & Business Development Officer for
Wellspring
, Reedley, CA, 617-792-4121, announced Academy of the Sierras, Weight Loss Boarding School, was renamed to Wellspring Academies to reflect focus on wellness and adoption of healthy lifestyle.
NEW THERAPIST AT THREE RIVERS MT
(April 30, 2008)
Steve Moore
, Clinical Director at
Three Rivers Montana
, Bozeman, MT, 406-388-5748, announced Evan Rick will join Three Rivers as a Family Therapist on June 1. Evan is highly passionate about working in adventure, wilderness and directly with teens and families.
SOLACIUM LEADERSHIP CHANGES
(April 30, 2008)
Dustin Tibbits
, Executive Director of
New Haven Residential Treatment Center
, Spanish Fork, UT, 801-380-4363, announced Anthony Geraci resigned as Solacium's Chief Operations Officer and Chief Marketing Officer, and David Michel will succeed Val Christensen as the President and Chief Executive Officer of Solacium.
HUNTER SCHOOL ESY SUMMER PROGRAM
(April 30, 2008)
Tim Tyler
, Admissions and Program Manager of the
Hunter School
, Rumney, NH, 603-786-9427 ext 26, announced the Hunter School is accepting enrollments for the ESY Summer Program, which runs from July 7 – August 15, 2008. The Hunter School specializes educating students with ADD, ADHD, Asperger's Syndrome and related behavioral and emotional issues.
MISSION MOUNTAIN SCHOOL RESPONDS
(May 1, 2008) Colleen Harrington, Assistant School Head for Mission Mountain School, Condon, MT,
406-754-2580, submitted a letter to Congressman Miller regarding the hearings held on HR 5876, with the purpose of addressing inaccuracies in the testimony. The response can be found online at
Strugglingteens.com
ANTHONY GERACI SAYS 'THANK YOU'
(May 1, 2008)
Anthony Geraci
, 281-253-3264, Founder of
San Cristobal Ranch Academy
,
Fulshear Ranch Academy
,
Transitions of Galveston Island
, and former COO of
Solacium
, submitted a Letter of Thanks to the industry for 10 wonderful, supportive years of service.
NEW CLINICIAN AT LOGAN RIVER ACADEMY
(May 2, 2008)
Larry Carter
, Executive Director at
Logan River Academy
, Logan, UT, 435-755-8400, announced Shannon Kegerries has joined the team as a clinician. Shannon has a Masters of Counseling from Pittsburg State University and worked with families in a Truancy Diversion Program for at risk teens.
WHITE MOUNTAIN KAYAK & CLIMBING CAMPS
(May 5, 2008)
Ben Mirkin
, Director of Summer Programs, The
White Mountain School
, Bethlehem, NH, 603-444-2928 X72, announced both their Kayak Camp and Climbing Camp for 12-16 year olds will be July 12 – July 19, 2008.
SUMMER PROGRAMS AT EXPLORATIONS
(May 5, 2008)
Penny James
, Owner and Director of
Explorations
, Trout Creek, MT, 406-827-3863, announced this summer they will again conduct several programs in their Montana Big Sky Summer Adventure, including both a girls' and a boys' summer Wilderness Adventure Course starting June 23, and a 30-day Boys High Adventure Challenge starting July 5.
HALVERSON ADMISSIONS DIRECTOR AT 2N
(May 5, 2008)
Brad Reedy
, Director of
Second Nature Wilderness Program
, Duchesne, Utah, 866-205-2500, announced
Leah Halverson
has been appointed to—and accepted—the Admissions Director position at Second Nature Therapeutic Programs. Halverson has been with Second Nature for eleven years, four as part of the admissions team.
BECKET STUDENTS BECOME DJ FOR A DAY
(May 6, 2008)
Julie Gaffey
of
Becket Family of Services
, Orford, NH, 603-359-5951, announced two residents from Becket House at Pike recently had the chance to play "DJ for a Day" at WLTN radio station (96.7) in Littleton, NH. The goal of the trip was to give the boys a taste of what life is like to run a radio station.
NEWS AT OPI
(May 7, 2008)
Anne LaRivere
, Director of Admissions for
OPI
(Optimum Performance Institute), Woodland Hills, CA, 888-558-0617, announced Lisa Bove, LCSW, MDiv, a medical social worker at Kaiser Permanente Hospital, joined the team of therapists at the Optimum Performance Institute. Lisa worked as an individual, family and group psychotherapist and received her Masters Degree at USC. Anne also announced OPI hosted Film Maker Aaron Rockett, who visited OPI to discuss his newest documentary "The Fixer: Afghanistan Behind the Scenes".
NEW COMPOSITION OF STICC BOARD
(May 7, 2008)
John D. Reuben
, President and Founder,
Saving Teens®
In Crisis Collaborative (STICC), Sudbury, MA, 877-249-1336, announced Tamara Ancona, Sharon Levy, Grant Liebersberger and Scott Sells will join Leslie Goldberg, Adam Goldberg and Lon Woodbury as members of the STICC Board of Advisors.
COASTAL?MOUNTAIN GOLF TOURNAMENT
(May 7, 2008)
Kelley White
, Executive Program Director for the
Coastal Mountain Youth Academy
, San Juan Capistrano, CA, 949-498-7042, a day school for struggling teens, announced their first Annual Caddyshack Golf Tournament will be June 9, 2008, at the San Juan Hills Golf Club.
NEW LEAF APPRECIATION FOR FRENDS OF FAMILY
(May 7, 2008)
Robbi O'Kelley
, MSW, LCSW, CADCII of
New Leaf Academy
of Oregon, Bend, OR, 877-820-5050 submitted a letter regarding services at Friends of Families Foundation's loan process. She said, "One of our New Leaf Academy parents recently accessed the Friends of Families Foundation's loan process to help their daughter finish our program. This is one of those families that is always on board with the program and working hard to get the most out of everything we offer. Without the Foundation's funds, they would have had to bring their daughter home prematurely. The Foundation's loan program allowed this family to ensure that their daughter comes home at the appropriate time when all the components are in place for a successful transition. Thank you!"
TURNABOUT/STILLWATER PARTNERS WITH HOMEWARD BOUND
(May 8, 2008)
Peter Henrie
, South Jordan, UT,
866-359-4600, announced
Turnabout/ Stillwater Academy
has partnered with Homeward Bound, to assist families with aftercare services and the transition process of students returning home. Each family is given a Turnabout therapist and a Homeward Bound transition specialist, who work together to create an individualized plan for the student. In addition, families have access to the Family Bridge, an internet based program used for communication between the family and support team.
OK CORRAL GATHERING SET FOR JULY 18
(May 9, 2008)
Greg Kersten
, Founder of Equine Assisted Psychotherapy, EAGALA, and now the
OK Corral Series
, Ephraim, UT, 866-391-6565, announced a gathering, titled the Corral Gathering, will take place July 18, 2008 in Nephi, UT. The purpose of the Corral Gathering is to give newcomers and EAP veterans an update on the latest trends in the field, as well as instruct four new and original equine-assisted activities created by Kersten - whose signature exercises, such as "Life's Little Obstacles," "Extended Appendages," and "Temptation Alley," are known and used worldwide. The Corral Gathering will be held at the Juab County Fairgrounds indoor arena and is open to the public. Cost is only $50 for OK Corral members, $75 for non-members.
OXBOW FEATURED ON VIDEO
(May 9, 2008) CBS7 in Odessa, TX, recorded a two-part series covering teenage porn addiction. The videos feature interviews with students and staff of
Oxbow Academy
, Wales, UT, 435-436-9460.
VALENTINE JOINS MAPLE LAKE ACADEMY
(May 9, 2008)
Patti Hollenbeck-Dial
, Admissions Director of
Maple Lake Academy
, Payson, UT,
801-798-7700, announced Logan Valentine is now the Primary Therapist at Maple Lake Academy. Logan is a licensed therapist who has worked clinically with adolescents over the past thirty years and specializes with Aspergers Syndrome, Non Verbal Learning Disabilities, Autism, Bipolar Disorder, Depressive disorders, substance abuse, Tourette's, trauma, psychosis, and comorbidities with these disorders.
PONCA PINES ACADEMY NOW OPEN
(May 9, 2008)
Betsy Jacobson-Warren
, Executive Director of
Ponca Pines Academy
, Omaha, NE, 402-457-1420, announced Ponca Pines Academy is now open and serving at-risk young women, ages 17-19. Ponca Pines Academy students may be dealing with issues around adoption, attachment, substance abuse, mental health disorders, trauma, and poor academic performance. Ponca Pines Academy is new program of Uta Halee Girls Village, which has successfully worked with at risk youth for more than 50 years.
FRIENDS OF FAMILIES HELPS MANY
(May 9, 2008)
Jim Powell
and Brandi Elliott, Co-Founders of
Friends of Families Foundation
, Lake Arrowhead, CA, 951-317-3151, announced since the Foundation's inception in 1998, they are proud to have helped dozens of families in need. In 2007 alone, the Foundation supported six families in need. The Foundation's mission is to assist families in achieving stable and productive family lives by ensuring that the necessary funds are available to enable their children to graduate from participating schools and programs.
HILLSTEAD AT SECOND NATURE
(May 11, 2008)
Leah Halverson
, Admissions for
Second Nature Wilderness Program
, Duchesne, UT, 866-205-2500, announced
David Hillstead
, PhD, has returned to Second Nature after a few years at Willow Springs. Dr. Hillstead will run a treatment specific group for adolescent boys with Learning Disabilities and/ or ADD/HD.
GODDARD AT SECOND NATURE ENTRADA
(May 11, 2008)
Leah Halverson
, Admissions for
Second Nature Wilderness Program
, Duchesne, UT, 866-205-2500, announced
Paul Goddard
, PhD, has returned to Second Nature Entrada. Dr. Goddard specializes in clinically complex adolescent girls.
FFS RESPONDS TO MILLER HEARING
(May 12, 2008) Jeff Brain, MA, Vice President for External Relations and Acting Director of Admissions for Family Foundation School, Hancock, NY, 845-887-5213, submitted a response to the Miller Hearings on Bill HR 5876. The Response can be found online at
Strugglingteens.com
HARRISON DIRECTOR OF AIM HOUSE WOMEN
(May 12, 2008)
Jude Rudolph
, Director of Marketing for
AIM House
, Boulder, CO, 303-554-0011, announced Linda Harrison, MS, LPC, LCAS, MAC, NCC, is the new Program Director of AIM House Women's program.
SOBER COLLEGE ADDICTIONS WORKSHOP
(May 13, 2008)
Sober College
, Woodland Hills, CA, 818-917-7903, will present The Road To Recovery, a Professional Development Series, June 26, 2008, at 11:00am - 2:30pm, in Houston, TX. Gabrielle Pelicci, PhD, will be the keynote speaker, with an afternoon discussion panel including
Brian Brekke
, President of Sober College University,
Mike Bayer
of
Mike Bayer & Associates
,
Michael Yeager
,
Contemporary Teaching
and
Ben Dorrington
of
Wilderness Treatment Center
.
HOUSE COMMITTEE SIGNS OFF ON WILDERNESS THERAPY PROGRAMS
(May 14, 2008) An article in the Salt Lake Tribune announced the House panel signed off on House Bill HR 5876 Wednesday. The bill now goes to the full House for vote.
NEWS AT OPEN SKY
(May 14, 2008)
Aaron Fernandes
, Executive Director of
Open Sky Wilderness Therapy
, 970-382-8181, announced Admissions Director, Lauren Lollini, gave birth to a beautiful baby girl, Lucy Grace, on January 17, 2008, and has now returned to her position at Open Sky. Aaron also announced Dr. Jade Wimberley has joined the team as a Naturopathic Physician. In addition, Open Sky formally introduced the "Family Quest" program, an additional service provided for families who are appropriate to do intensive family-systems work while their student is at Open Sky.
CUSTOM YOUTH SERVICES VISITS WRI
(May 15, 2008) Albert Johnson, Founder of Custom Youth Services, Prineville, OR, 541-447-3383, brought an agent, Richard Archuleta, by the Woodbury Reports office for a visit while in north Idaho on a transport. Custom Youth Services provides Christian transportation for at-risk youth.
OLIVERIAN SUMMER PROGRAM BEGINS
(May 15, 2008)
Mike Doherty
, Admissions Director of the
Oliverian School
, Haverhill, NH , 603-989-5368, announced the Oliverian School Summer Session begins on Sunday, June 22, 2008.
NATSAP PRESENTS TALKING POINTS
(May 15, 2008) Alicia Arteaga of NATSAP (National Association of Therapeutic Schools and Programs), Prescott, AZ, 928-443-9505, submitted NATSAP's immediate call to action for all NATSAP members, to respond to HR 5876 ("Miller Bill"), which has just successfully emerged from mark-up and approval by the House Education and Labor Committee. The talking points have been posted online at
Strugglingteens.com
STICC THANKS ASPEN
(May 15, 2008)
John D. Reuben
, President and Founder,
Saving Teens®
In Crisis Collaborative (STICC), Sudbury, MA, 877-249-1336, would like to extend special thanks to
Aspen Education Group
. Aspen reached out to their alumni, parents, and professional service providers and contacts to support the Saving Teens® methodology and mission to bring troubled teens and their families through a comprehensive, multi-phase, individualized recovery and education plan.
SCHWARTZ AT PENINSULA VILLAGE
(May 16, 2008)
Kelly Roberts
, Coordinator and Community and Alumni Relations at
Peninsula Village
, Louisville, TN, 865-380-4452, announced Michelle Schwartz, LPC, LADAC, has joined Peninsula Village as the new Manager of Residential Services for the Girls Program. Michelle has 20 years experience working with patients with co-occurring disorders.
RUDMAN JOINS BRAINWORKS
(May 16, 2008)
Saul Rudman
, Client Relations for
Brainworks
, Monterey, CA, 831-657-0650, announced he is now working for Brainworks CA, which specializes in visual communications and who pioneered Emotional Response Communications
KARREN OPENS ELEMENTS WILDERNESS
(May 16, 2008)
John Karren
, Founder of
Elements Wilderness Program
, Huntington, UT, 801-505-8481, announced the opening of Elements Wilderness Program, a small wilderness program operated in the Manti-La Sal National Forest, southeast of Salt Lake City. For more information visit their new website.
GRAY WOLF RANCH CELEBRATES 10 YEARS
(May 19, 2008)
Woody Bernas
, Program Director for
Gray Wolf Ranch
, Port Townsend, WA, 800-571-5505, has extended an invitation to join them for the 10 Year Anniversary on May 24-25, 2008.
NEW BUILDINGS AT LITTLE KESWICK SCHOOL
(May 19, 2008)
Terry Columbus
, Admissions for
Little Keswick School
, Keswick, VA, 434-295-0457, invited everybody to join them June 12, 2008 at 2:30 PM for the Ribbon Cutting Ceremony for their new Academic and Residential Building.
NEW INITIATIVES AT OPI
(May 19, 2008)
Anne LaRiviere
, Director of Admissions at
Optimum Performance Institute
, Santa Barbara, CA, 888-558-0167, announced Optimum Performance Institute is initiating specialized programming related to addictions to on-line gaming and computers, with an in-service presentation for staff and therapist by Dr. Jack Kuo, MD, who heads a computer addiction program at Promises, in Malibu, CA. In addition, OPI will offer students who are working towards becoming a certified addiction specialist, an internship through Pierce College's Addiction Studies Program, under the supervision of Martin Cisneros, CAC, RAS, OPI's Director of Chemical Dependency Services and Jeff Kestenbaum, LCSW, Director of Counseling Services.
GRAY WOLF RANCH CELEBRATES 10 YEARS
(May 19, 2008)
Woody Bernas
, Program Director for
Gray Wolf Ranch
, Port Townsend, WA, 800-571-5505 announced Gray Wolf Ranch recently celebrated its 10 year Anniversary on May 24, 2008.
TURNABOUT/STILLWATER GRADUATES 19
(May 19, 2008) Marilyn Prettyman, Principle at
Stillwater Academy
, South Jordan, UT, 866-359-4600, announced 19 students graduated from Stillwater Academy in May 2008 with their high school diplomas.
MASON ASSOCIATES OPEN NYC OFFICE
(May 20, 2008)
Ben Mason
of
Mason Associates
, Charlotte, VT, 802-425-7600, announced Mason Associates has opened a new office in New York, NY.
HORSE POWER LEARNING CENTER OPENING
(May 20, 2008)
Georgia Benyk
of
Horse Power by Equine Learning Center Inc.
, Desert Hills,AZ,
623-217-4786, announced they will be holding a Grand Opening at their Yin Yang Ranch, Saturday June 21 at 9:00 AM – 11:30 AM, with live demonstrations of the activities they offer.
BETTON HOUSE HOSTS WORKSHOP
(May 20, 2008) Michael A. and
Roxanne Losicco
, Directors-in-Residence,
Betton House
, Scranton, PA, 887-723-8866, announced that Jeff Brain, MA, Director of Counseling at Betton House, conducted a parent workshop in May for the parents of currently enrolled students. The focus was "Examining Communication Dynamics," and included materials and discussion to help parents support and build stronger adult-adult relationships with their emerging adult children. Parents examined their communication patterns to see how they support or hinder their child's efforts to relate to them as an adult.
NEW DORMS UNDER CONSTRUCTION AT FFS
(May 20, 2008)
Rita Argiros
, Vice President for Administrative Affairs,
The Family Foundation School
, Hancock, NY, 845-887-5213, announced that construction has begun for a new girls' dormitory on the school's 150-acre campus. The school currently houses girls in eight trailers, five of which will be replaced with the new structure. The school's current enrollment of 250 students includes 90 girls who will enjoy more spacious, comfortable quarters when the structure is completed in June 2009.
FULL NATSAP STATUS TO BETTON HOUSE
(May 20, 2008)
Roxanne Losicco
, Director-in-Residence,
Betton House
, Scranton, PA, 887-723-8866, announced that the program has received full membership status in NATSAP. Betton House, a sober dorm serving students in five Scranton-area colleges, has been operating since the fall of 2005 and has graduated more than 60 students from its 12-Step based program.
FFS STUDENTS ATTEND AA CONFERENCE
(May 20, 2008)
Emmanuel Argiros
, President,
The Family Foundation School
, Hancock, NY, 845-887-5213, announced that nine boys from the school were selected to attend the 21st International Alcoholics Anonymous Men's Conference, "Fellowship for a Lifetime," held this year in Scranton, PA on April 18-20. The students took advantage of the location and stayed at Betton House in Scranton for the weekend event. All of them had struggled with alcohol before enrolling in the school and have been active in the 12-Step program which is an integral part of the school's therapeutic milieu.
OPENINGS AT VIVE!
(May 21, 2008)
Amanda Thomas
, MS, MFTI, Referral Relations for
Vive Inc.
, Boulder, CO, 303-449-2516, announced VIVE has several staff positions available for Parent Coach Therapists and Mentor Therapists, in the following areas: New York City, Dallas/Ft. Worth, Boulder, Denver, Los Angeles, San Francisco, Chicago, Atlanta, and Boston.
NWGT VISITORS TO WRI
(May 23, 2008)
Ken Huey
, PhD, CEO of
CALO
(Change Academy Lake of the Ozarks),
Jonathan Mack
, LPCC and
Joel Smith
from
Sandhill Child Development Center
in Los Lunas, NM,
Christina Wilson
of
Academy at Sisters
, Bend, OR,
Mark Barrentine
, LCSW, Executive Director of
Evangel House
, Saint Martinville, LA, and
Tommy Faulk
, Pastor at First Assembly in Lafayette, LA, stopped by the Woodbury Reports office for a visit after the 3rd Annual Northwest Get Together.