JUNE 2004
Paid Advertisement
UK STUDENT ATTENDS BRAT CAMP
(Apr. 2, 2004) The Bucks Free Press, a UK Internet publication, explained in www.bucksfreepress.co.uk that a teenager who qualified for a TV promotion for "Brat Camp," and spent three months at Redcliff Ascent in Utah working on his drug use and volatile temper. His mother says after the experience "he's a pleasure to have around and he's not used anything since he's come back."

NON-PROFIT SCHOOL TO OPEN
(Apr. 5, 2004) Mike Merchant, President of Anasazi Foundation, 480-892-7403, www.anasazi.org, Robert Weimer, Three Rivers Wilderness Programs 949-250-9331, and the Lee Pesky Learning center www.lplearningcenter.org announced their collective intent to open The Jackie Weimer School, a non-profit residential school to serve young men with behavioral problems and learning disabilities. Scheduled to open in the fall of 2004, the campus is located on 60 acres near Bozeman, Montana. See additional information at www.strugglingteens.com

DESISTO SCHOOL TO CLOSE IN JUNE
(Apr. 13, 2004) The Berkshire Eagle reported www.berkshireeagle.com that after the Massachusetts State Office for Child Care Services refused to lift the ban on new admissions, the DeSisto School for emotionally troubled children will relocate a group of its students to the school's Mexico campus and close the Stockbridge school in June. Executive Director Frank McNear said, "The school closure is partly because of financial problems resulting from OCCS's refusal to lift a freeze on admissions." (Visit the homepage of the Berkshire Eagle, and search the archives for the entire story.)

JURY RULES AGAINST MT. PARK BAPTIST
(Apr. 16, 2004) Daily American Republic reported www.darnews.com that a federal jury found in favor of a student who claimed a school employee shoved him against a sink at Mountain Park Baptist Boarding Academy in Cape Girardeau. However, Judge Charles Shaw said the Academy did not violate any federal labor laws by requiring the student do his chores because it was "for the educational benefit of the students and not the school."

GROUP HOMES' PERMITS AT ISSUE
(Apr. 17, 2004) The Deseret Morning News reported, deseretnews.com that Cedar City, UT officials are asking lawmakers to review licensing requirements for group homes in light of the Mar. 8 attack and beating death of a youth counselor. Although the state revoked the license of the Maximum Life Skills Academy for three serious rule violations, Sen. Tom Hatch and other state officials requested that lawmakers invoke more stringent standards and look at security issues and training of staff before granting a license.

ECKERD WITHDRAWS WILDERNESS PROPOSAL
(Apr. 18, 2004) The News Register reported news-register.net that according to officials from Eckerd Youth Alternatives proposal to place a "wilderness camp" for troubled young people in Wetzel County, WV, "is not moving forward at this time. Given strong opposition from the community, that's probably where the proposal should remain."

NEW WILDERNESS PROGRAM AND SCHOOL NEAR BOZEMAN
(Apr. 19, 2004) The Bozeman Daily Chronicle, www.bozemandailychronicle.com describes the preparations for the Three Rivers Wilderness Program and the Jackie Weimer School near Bozeman.

CHADDOCK TOUR
(Apr. 26, 2004) Dana Dean Doering ARNP, IECA, Poulsbo and Seattle, WA, 206-324-3344, dana@childfamily.net, www.childfamily.net, announced a June 4-6, 2004 tour of Chaddock in Quincy, IL, 217-222-0034, www.chaddock.org. The tour will have several sessions on Integrative Attachment Therapy, featured at Chaddock. For detailed information, contact Karen Buckwalter, Director of Attachment Programs at 217-222-0034 x319, kbuckwalter@chaddock.org. Doering is considering developing other similar tours in the future that would give more in depth information, if other consultants are interested.

BREHM OPTIONS PROGRAM
(Apr. 27, 2004) Donna Collins, director of Admissions for Brehm Preparatory School, Carbondale, IL, 618-457-0371, www.brehm.org, announced they are now accepting applications for their Options Program, a 2-year program designed for students with learning disabilities "who have graduated from high school, and need to further develop academic and social skills."

MONTANA ALTERNATIVE YOUTH ADVENTURES SHIFT DIRECTION
(Apr. 29, 2004) The Missoula Independent, included an article on Wilderness Therapy programs, www.missoulanews.com called "Wild Child" that reviews regulation proposals, especially the proposal by Alternative Youth Adventures (AYA). AYA has suspended their Montana wilderness operations until the new regulations go into effect. In the meantime, AYA is continuing to operate their Mental Health Center programs in Montana such as intensive level therapeutic group homes and day treatment school program.

CHEROKEE CREEK CELEBRATES ONE-YEAR ANNIVERSARY
(May 2004) Genelle Petrey, Executive Director of Cherokee Creek Boys School, Westminster, SC, 864-647-1885, gpetrey@cherokeecreek.net, www.cherokeecreek.net announced the school is celebrating one-year of service to middle school boys and their families.

HILLSIDE SCHOOL SUMMER PROGRAM
(May 2004) Steve Deyesso, Director of Summer Programs at Hillside School, Marlborough, MA, 508-303-5707, sdeyesso@hillsideschool.net, www.hillsideschool.net, a school that focuses on providing "a strong, fundamental education within a nurturing family environment" announces Camp Hillside 2004, for coeducational students entering grades 4 through 9, with flexible scheduling for English language arts and mathematics "designed for traditional learners, as well as those with learning differences," as well as studio art, field-gym-pool games, Ian computer gaming, and soccer.

DECK HOUSE INCOMING HEADMASTER
(May 1, 2004) Tom Blackford, Incoming Headmaster for Deck House School, Edgecomb, ME, 207-882-7055, www.deckhouseschool.org, replacing James "Bar" R. Clarke II, emphasized in an essay in their Spring 2004 newsletter, that going into the second 25 years of the school, the mission is still the same, to provide quality education and still be small enough that "we all eat at the same table."

BENNETT JOINS PENINSULA VILLAGE
(May 3, 2004) Don Vardell, Administrator of Peninsula Village, Louisville, TN, 800-255-8336, www.peninsulavillage.org, announced Joanne Bennett will be their first Clinical Outreach Specialist, focusing on the Southeastern United States and helping provide placement guidance for adolescents "who need intensive, long-term behavioral and/or substance abuse treatment." Bennett will work out of her home in Atlanta, GA, and can be reached at 404-493-6772, Joanne.bennett@comcast.net.

DENMAN TIME OUT TOURS
(May 3, 2004) David Denman, an Educational Consultant in Sausalito, CA, 415-332-1831, www.TimeOutAdventures.net, again plans his Tour du Mont Blanc, a Rite of Passage challenge for young people age 16-19 circumnavigating western Europe's highest Mountain. The 2004 Treks for boys will be June 19 to July 2, and for girls June 20 to July 3.

BRUSH RANCH SCHOOL INCLUDED IN NEWSWEEK MAGAZINE
(May 3, 2004) Brush Ranch School, Tererro, NM, 505-757-6114, www.brushranchschool.org, was included in an article in Newsweek magazine titled "Why Don't We Call Them Quirky?" The article, pointing out the harm that can come from diagnostic labels, refers to Brush Ranch school as a school for children with learning differences where labels do not apply.

GORDON ON COMMISSION ON DISABILITY
(May 5, 2004) Sandy Gordon, sabrallc@comcast.net, founding President of Independence Center, Los Angeles, CA, 310-202-7102, announced she is currently serving on the Los Angeles Commission on Disability, and is the first Commissioner to serve as the spokes person for children and young adults with special needs. Sandy is also a child advocate and is involved with day placements.

HYDE SCHOOL ALUMNI WEEKENDS
(May 5, 2004)The Hyde school, Bath, ME and Woodstock, CT, www.hyde.edu, monthly e-mail publication AHEM announced the up coming Alumni weekend for Hyde-Bath will be June 4-6 on the Bath campus and for information call Liza Conry, lconry@hyde.edu, at the Alumni/Development office at 207-443-7389. The Hyde-Woodstock Alumni weekend will be May 28-30 on the Woodstock campus and for information call Rob Schuller, rschuller@hyude.edu, at 860-963-4788. The school will also be hosting Admissions Receptions for various regions around the country for prospective parents to meet with Hyde parents and learn about Hyde.

JENNINGS TO BILTMORE ACADEMY
(May 6, 2004) Stone Mountain School, Black Mountain, NC, 828-669-8639, www.StoneMountainSchool.org, TalismanSc@aol.com, announced that Catherine "Cat" Jennings, who founded Stone Mountain School in 1990, will be leaving to become the Executive Director of Biltmore Academy, a planned new school serving middle-school aged girls. Both schools are part of the Aspen Education Group.

ECKERD YOUTH ALTERNATIVES OFFERS SUMMER ADVENTURE PROGRAM
(May 7, 2004) Rhonda Carpenter, Corporate Communications Specialist for Eckerd Youth Alternatives, Inc. 727-461-2990 ext. 336, admissions@eckerd.org, www.eckerd.org, announced that their Camp E-Toh-Anee in Stewartstown, NH, 800-914-3937, is offering two experiential learning, adventurous summer sessions during July and August for boys and girls ages 13-17. Youth who are experiencing behavioral, academic, ADHD, substance abuse and/or oppositional behavior are "ideal for this summer adventure program."

MORE HYDE LEADERSHIP SCHOOLS
(May 10, 2004) Joe Gauld, Founder of Hyde School, www.hyde.edu, a leader in family-based character education, announced plans to establish five more Hyde Leadership Schools, which includes two charter school applications in New York City and Oakland, CA. They hope to open these two schools in September, 2005. Hyde is working with both the Walton and Gates Foundations. These foundations are committed "to transform American education through the charter school movement." They are working on developing Hyde charter schools in other regions, hoping to open in 2006 and beyond. The coordinator of this effort is Julie Greenlaw at jgreenlaw@hyde.edu, 207-443-7386. The two schools they hope to open in 2005 are modeled after the Hyde charter school in Washington D.C.

THREE RIVERS ORGANIZING
(May 10, 2004) Marylis Filipovich, LCSW, Executive Director of Three Rivers Montana, Manhattan, MT, 877-221-1115, admissions@threeriversmontana.org, serving adolescents ages 13-17, announced that "Three Rivers Montana, the ANASAZI Way program in Montana" has hired Steve Moore as a therapist. The non-profit outdoor behavioral healthcare program has scholarships available for June, July, and August enrollments. They also would welcome contributions to expand their scholarship program.

TEEN IN RECOVERY FORUM
(May 11, 2004) Todd Cardin, Clinical Director of Bitterroot Homestead, Marion, MT, 406-854-2121, announced a monthly publication called "Peer to Peer", a monthly printed forum for teens in recovery, emphasizing the stories of and by teens. Encouraging child care professionals to reproduce this flyer and get it into the hands of as many recovering teens as possible, the goal is "The more we get kids in recovery to communicate with each other, the less alienated they will feel."

SUMMER AT PINE RIDGE SCHOOL
(May 12, 2004) Joshua Doyle, Director of Admissions at Pine Ridge School, Williston, VT, 802-434-2161, www.pineridgeschool.com, prs@pineridgeschool.com, announced the six week summer school emphasizing "Intensive… academic, social, and personal enrichment program for learning disabled students with specific language-based learning disabilities and nonverbal learning disabilities" ages 9-18 will start July 4, 2004.

HISPANIC SCHOLARSHIP TO WISDOM RANCH SCHOOL
(May 14, 2004) John Tucker, Co-Founder and Director of Admissions at Wisdom Ranch School, Arco, ID, 208-527-4751, john@wisdomranch.org, www.wisdomranch.org, announced one of their students received a $1,000 scholarship from the Hispanic Youth Symposium held in Sun Valley, April 30th. The student will graduate in June and plans to pursue a career in veterinary medicine.

NEW STAFF AT AIM HOUSE
(May 19, 2004) Daniel Conroy, Founder of AIM House, a program for young people ages 18 and above, Boulder, CO, 303-554-0011, danny@aimhouse.com, www.AIMHouse.com, announced the appointment of Suzanne Forrester (formerly Caswell) as Program Director. Forrester has been a mentor at AIM House for the last seven months. Previously, she held responsible positions at Cascade School in northern California, teacher of students with LD and ADHD at Landmark College, and with Orme School in Arizona.

JACK ECKERD, FOUNDER OF ECKERD WILDERNESS, DIES AT 91
(May 19, 2004) The Associated Press reported www.ajc.com, in Tampa, FL, founder of Eckerd Wilderness Programs Jack Eckerd, a hard-driving businessman who turned three rundown drug stores into an empire that bore his name, died Wednesday in Clearwater at age 91. On a business visit to Texas in 1968, Eckerd first saw a wilderness camp for troubled kids while searching for some way to give back to the state that had so richly rewarded him. The plight of troubled kids appealed to him. In typical Eckerd fashion for getting business done, a boys camp opened near Brooksville, about 70 miles north of Tampa, just six weeks later.

BRIDGES ACADEMY HAPPENINGS
(May 20, 2004) Erick Scheiderman, Director of Admissions for Bridges Academy, Bend, OR, 888-283-7362, Erick@bridgesboysacademy.com, www.bridgesboysacademy.com, announced the National Association of Therapeutic Schools and Programs (NATSAP) has accepted their application for membership. They also launched a "new student reporting system designed to measure a student's progress and success within his Individual Achievement Plan (IAP)." Called T.R.A.I.L. Student Reporting System, the initials stand for "Trust, Relationships, Academics, Insight and Life skills. They also have added Layne Hood, LCSW to their counseling team, and Kelley Jones as a mentor and program planner.

HOPWOOD TO TAKE LEAVE OF ABSENCE
(May 20, 2004) Carol Hopwood, of Transitional Living Care, Kalispell, MT, 406-257-1339, announced starting June 15, she will be on a leave of absence "for the remainder of 2004, so will not be taking any new referrals until my return next year."

SHELTERWOOD INTRODUCES TWO NEW PROGRAMS
(May 21, 2004) Jessica Jimerson, MA, Executive Director, Shelterwood, Littleton, CO, 303-268-3010, jjimerson@shelterwood.org, www.shelterwood.org, announced that Shelterwood is now offering two new programs for teens and their families. Hope House is a 110-day substance abuse program for boys ages 15-18. The teens and their families work with certified substance abuse counselors and Christian mentors to develop individualized treatment plans. Family Intensives is a three-day program exploring all aspects of the family dynamic, and includes a marital component to help parents overcome conflicts when dealing with each other and their child. Family Intensives is designed to prevent family crisis' and re-establish relationships.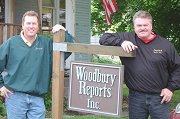 SAGEWALK VISITS WOODBURY REPORTS
(May 21, 2004) Kevin Warner, kevinw@sagewalk.com, CEO, and Brian Rossiter, brian@sagewalk.com, Program Director of SageWalk the Wilderness School, Redmond, OR, 800-877-1922, 541-316-4800, www.sagewalk.com stopped by Woodbury Reports on their way through north Idaho to give us an update on changes to their program. SageWalk now has a stronger parent component, as well as improved aftercare/ transition planning for their graduating students. For more information, please contact Brian.

BOB KANTAR VISITS WOODBURY REPORTS
(May 24, 2004) Bob Kantar, Educational Consultant from Lyndonville, VT, Rkantar@aol.com, www.BobKantar.com, 802-626-4620, stopped by Woodbury Reports, Inc. for a visit on his way through north Idaho.