The day my family visited New Leaf Academy, parent workshops were in the beginning stages. Half of the girls were out with their parents; the rest of them were at school, eagerly awaiting their turn to see their parents. They were buzzing with excitement as many hadn't seen their families in a couple months. For such young girls, I would think a program like this could be a trying experience; however the girls we met seemed very well adjusted and eager to share their progress with their families.
New Leaf Academy is an all-girls therapeutic boarding school for 10-14 year olds at time of admission. They work with girls who may struggle making and keeping friends, have difficulty regulating and controlling anger and emotions, have trouble following family rules or sticking to limits, exhibit poor decision-making skills that may potentially lead to high-risk adolescent behaviors down the road, and tend to struggle in school, either because the learning environment is not tailored to her needs, or because her emotions interfere with her learning. Some of the clinical diagnoses include mood disorders, anxiety disorders, spectrum disorders, etc.
We arrived at the office late morning to a quiet campus. We were greeted at the office by Craig Christiansen, Founder and Executive Director. After a discussion of the history of the program we left the office and drove to the living area of the campus. The campus is setup in a type of triangle setting: the office is separate from the living quarters, and both are separate from the school component. This gives the girls a feeling of normalcy with separation of school and home life.
At the Residential Campus, I instantly felt that this home was for little girls. There was a cozy tree house built for playing, two rabbit houses, a community building for students to lounge and attend community and therapeutic sessions, two separate dorm-style residences, and the Great Hall for dining and community in the middle of the dorms.
When we walked into the first of the dorms, I had an instant emotional attachment to the program. Emotional attachment is often triggered by sensory perceptions and the trigger for me here was the pleasant smell. It smelled just like the school I had attended almost 20 years ago and a comforting feeling swept over me. As is typical for a well-run program, the dorms were well kept and organized. Each girl's space was personalized with stuffed animals, pictures, and personal effects. The rooms were very bright and colorful as well, bringing a cheerful feeling. Also in each dorm is a staff station that is manned at all times even while the girls are away at school. Staff members are able to organize each student's Residential program and be available to meet each of their individual needs promptly.
As we walked through the Residential Campus, I noticed there were stations for rewards for the girls and there were also areas where girls could request a time out. Time out is not typically used as a punishment; however girls learn quickly that it can be a great tool for their own self-regulation. And of course, before we left the Residential Campus, we visited the bunny houses that New Leaf Academy is known for. Each girl receives a bunny that she then learns all about and enters into the county fair each year. Recently the girls planned, designed and painted the bunny houses. They did a great job!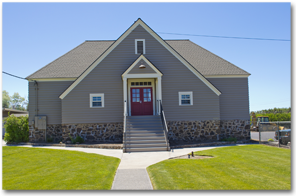 We left the Residential Campus and drove to the Academic Campus, less than a mile down the road. The girls attend school in the Angeline Young Historical School House. This small school is the perfect size for the girls at New Leaf Academy. At the school, girls were playing in the yard as lunch was being prepared. We met with Elaine Smith, MA, the Academic Director who explained the academic program at New Leaf. One of the most impressive aspects with New Leaf is their ability to get young girls to self-regulate their studies and their emotions. It's a whole child program that focuses on promoting independence and self-direction. The school has four main classrooms and quite an impressive library that has become a motivator in itself with positive peer pressure. Girls at New Leaf become avid and excited readers as they learn fairly quickly that reading is a "cool thing to do."
When a student begins her journey at New Leaf Academy, she is assessed in reading, writing and math skills to place her in a grouping of peers who share skill development. Each girl receives an Individualized Academic Plan (IAP) tailored specifically to her needs, based on her academic history, strengths and weaknesses, personal learning style, etc. Goals are set and then shared with each girl so she can prepare her educational program at New Leaf and actively participate in her next placement. This component was foreign to me in the younger programs.
We talked with one girl who had recently went on a school visit with her parents to determine which school she would attend after New Leaf. She had made a great decision on the school she chose, and was able to give direct pros and cons about the choices and reasons she chose the program she did. It was well thought out and she was confident she'd made the right decision.
I was completely impressed with the manner in which all the girls came up and talked with us that day. They walked up unprovoked, introduced themselves and then just started talking with us. They were curious about who we were and genuinely friendly with us. It was clear they "owned" this school and were completely at home in their environment.
New Leaf Academy appropriately fills a much needed niche in our world. The program is tailored to the developmental, social, emotional and academic needs of their girls. I recommend that if a girl seems appropriate for this program, go visit them and learn how they work. We left feeling a real sense that these girls were in a nurturing place that would help them learn to self-regulate every aspect of their lives and become active mentors for society as they grow up.
Kristie Campbell
is the youngest daughter of Lon and Denise Woodbury. She has worked for Woodbury Reports, Inc. as an intern and a consultant since 1999, working her way up to Assistant Director of the company. Kristie graduated from Explorations Wilderness in 1993 and Mission Mountain School in 1994. She has written articles for the Woodbury Reports Newsletter based on her experiences, has visited numerous schools and programs, attended and presented at IECA and NATSAP Conferences and is the editor of the Parent Empowerment Handbook, Woodbury Reports Newsletter, and Strugglingteens.com. Kristie graduated with a BS in Psychology in 2011. Member: APA, IECA, Affiliate Member NATSAP. 208-267-5550, kristie@woodbury.com.