We arrived at the Intermountain an hour earlier than scheduled on the day we dropped in for a visit. Intermountain is a non-profit program that provides year round treatment for children ages 4-13 at admission. The students often come to Intermountain with issues such as depression, anxiety, intractable anger, aggression toward self/others, poor social skills, attachment and relationship issues, loss and grief issues and difficulty in school. Additionally, Intermountain may work with children with other issues such as sexual reactivity, autistic spectrum disorder, neuropsychological concerns and/or seizure disorders.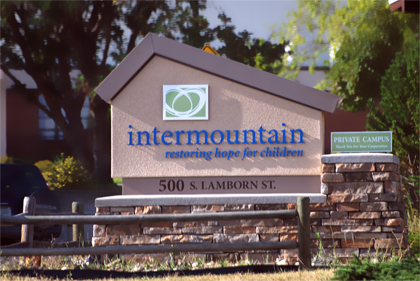 I say "dropped in" because as I didn't really give much notice that I was even coming. I pulled up to the parking lot and noticed a group of students was coming out of the school at that moment across the campus from where we sat. Watching from a distance, it was obvious that the children felt safe in their group and were comfortable exploring. The teachers would talk and all the children would watch their examples then try to accomplish the task. The children would move away from the teachers in circling patterns and then change movements and return to them, going further each time and returning faster or slower depending on which instruction they'd been given. Later I learned that this was a PE class teaching the students to freely explore movements and spaces.
When we arrived at the campus, I called Sami Buttler, RN, Professional Relations Manager, to let her know that we'd arrived an hour early. She explained that although there were many meetings going on that day, including a conference call she had to attend to and a few key people being on vacation before the start of the fall trimester, she would find someone to accommodate my visit to the program right away. Other programs at this point will often make you wait for your scheduled visit, but this program was readily willing to accommodate my inconvenience on them.
Within a few minutes of my call, Sara Murgel, Admissions Manager came to the administrative office to meet me. We took proper precautions to ensure the identity of the children would be kept safe and then moved to one of the cottages where the children live. The cottage was definitely a home for children. The first thing I saw when we walked into the house was a quasi-closet off to the side of a large room that was filled with toys and games obviously played with daily. The open living room had couches and chairs arranged in a large square in the middle of the room. In this area, "family" gathered for weekly family meetings. On the other half of this large room was the dining area where numerous tables were put together to create one large family dinner table where the children eat home meals family-style.
Along the outside walls of this very large room were the children's bedrooms. Each child at Intermountain has his/her own bedroom with a private bathroom and can decorate it how he/she chooses. Several of the rooms were decorated with posters on the walls, personalized quilts, and more toys. The rooms were well lived in, not all of them were tidy; however, everything was at least attempted to be put away with beds made.
Each cottage houses up to eight children with a variety of ages. This way the atmosphere feels more like a true family than a program. There are direct care counselors in each cottage and a full-time cottage supervisor who does all the planning for the home, in addition to a therapist.
Since I visited on a school day, the children were in classes by the time I arrived. Sara discussed the staff rotation with me as we walked over to the Intermountain School. Because of the intensity of the children's needs, Intermountain requires a minimum two-year commitment from any employee who works with the children. Because they pay close attention to the needs of their staff and schedule them accordingly, Intermountain has a very low turnover rate as fewer direct care staff suffer from burnout.
The school was decorated with student projects, done during the summer session. Intermountain follows a lighter schedule during the summer session to create a sense of normalcy for the children. Watching the children interact with the teachers in their classes was amazing. Knowing that many children come with issues surrounding underachievement or other school issues, it was refreshing to see how excited and interactive the classes were and how much the students participated. There was much laughter and a lot of playfulness. Although I was invited to enter the classes, I watched interactions from the outside so as to not disrupt the schedule. We went on to another classroom where there were a handful of students varying in age. Sara introduced me to the staff members in this room who explained that this room was designed for the students who needed a break from the classroom or those who were not ready to join the privilege of attending class yet. The children in this room stopped to look up at me and smiled. A little boy, who had been struggling to keep his attention on anything for more than about two minutes, had found a task that kept his attention for the last five minutes. We watched him for another five minutes before moving on.
A decoration on the way to the school office holds a lot of meaning for not only staff, but for the children as well. Tile art on the walls (created by Intermountain staff) spread down the hall like the roots of a tree. Each child contributed a piece of themselves to the project as a way to give back to the school and leave a small part of themself for future students.
Intermountain also offers a private day school to area children who need added emotional support. With these students, often their parents will come in throughout the day to participate with their child in their education and/or in therapy sessions. In addition, there is an optional Chaplain's program available to support student's spiritual needs.
The overall atmosphere at Intermountain is safe and structured with a loving environment. Most importantly, the staff members genuinely care for these children, and strive to teach them how to be children, learn to play and have fun as they work through complex emotional, psychological and behavioral issues.
I lived in McTaggert Cottage from November 2000 to August 2002. Mitch was in charge of the cottage. My special staff were Kelly A. and Dan H. There was M.L., Alex, Katrina, and Louie B. Graveyard was Sara and Flow. In day treatment there was Louie, Janis, Rob, and Mike. My teachers were Vicky and Kim. I have lots of good memories of all of them.

Don't get me wrong we all had our moments, but I admit I had lots of anger issues back in those days, and Intermountain Children's Home worked for me. To this day I would recommend that place to anyone who has a child that's emotionally disturbed.

I just want to say thank all of you for your help. Email me anytime; I would love to reconnect.

LP (former student)
Contact info on file