Paid Advertisement
Starr Commonwealth
Albion, MI


Henry Winkler For Starr
Commonwealth Founders Day


Contact:
Dana Jacob
800-837-5591 ext. 2312
info@starr.org

July 9, 2007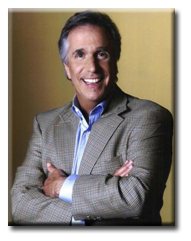 Starr Commonwealth is proud to announce that Henry Winkler, the actor known as "The Fonz" from his performance on the sitcom "Happy Days," will appear at the 2007 Founder's Day event scheduled for Oct. 7.

Founder's Day is held the first Sunday of every October at Starr Commonwealth's Albion campus and is open to the public. It marks the anniversary of Floyd Starr, his family and 13 boys moving into Gladsome Cottage on Oct. 3, 1913.

Winkler, an actor, producer, director, author and children's advocate, was chosen to appear at Starr Commonwealth's 94th anniversary celebration for multiple reasons.

"Henry Winkler is multi-generational and someone who relates to all our staff, our children, their families and our friends," said Dr. Martin L. Mitchell, President and CEO.

"Mr. Winkler is dedicated to the well-being of children and serves as an inspiration to all those who have suffered from low self-esteem. We're honored he's joining us on this important day."

Founder's Day also will offer many family-friendly activities, including a petting zoo, games and activities for children, a Classic Car Show and a luncheon featuring guest speaker Winkler.

Before a career in acting, Winkler admits to struggling through school from what he would later identify as dyslexia. Because of his academic struggles, Winkler said he grew up with "a high level of low self-esteem."

He, however, was able to overcome his learning disability and succeed in higher education, having received a Bachelor's Degree from Emerson College in 1967 and a Master of Fine Arts Degree from the Yale School of Drama in 1970. He later received a Ph.D. in Hebrew Literature in 1978 from Emerson College.

Winkler's acting debut came in the eighth grade when he played the role of Billy Budd in the school play of the same name. In addition to "Happy Days," his television credits include producing and directing "MacGyver" and "Sabrina, the Teenage Witch."

He also reestablished himself with younger movie-goers and TV viewers with appearances in "Scream," "The Waterboy" and "Arrested Development."

Winkler also is an author, having co-penned a series of children's books called "Hank Zipzer: The Mostly True Confessions of the World's Best Under-Achiever" based on his early struggles with dyslexia.

Offscreen, Winkler is married with three children. He and his wife are involved in various children's charities, including Children's Action Network (CAN), which they founded in 1990. The organization is dedicated to improving the lives of America's children through public education, advocacy and policy initiatives on issues such as foster care, adoption, immunizations and children's entertainment guidelines.

Since its founding, Starr Commonwealth has expanded beyond its Albion campus to include sites in Battle Creek and Detroit, Michigan, as well as in Van Wert and Columbus, Ohio. We also serve boys and girls through Montcalm Schools, families through foster care and day treatment and professionals through a variety of programs such as No Disposable Kids®.

Starr Commonwealth is located in Albion, Mich., just off I-94 at exit 119. All Founder's Day events are open to the public. For more information, call Dana Jacob at 800-837-5591 ext. 2312.