GROWING UP WITH "MOM"
Paid Advertisement

The Educational Consultant

By Kathy Nussberger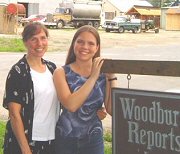 Despite the constant ringing of the phone and extremely long hours dedicated to helping parents find school and/ or program solutions for their children, being the child of an educational consultant does offer both benefits and pitfalls. Emily Eberle, the 16-year-old daughter of IECA member Loi Eberle, describes life with mom, the educational consultant.

"My mom worked for Woodbury Reports as the editor and an educational consultant for several years, before deciding earlier this year to work from home as a full-time educational consultant," said Emily; Bonners Ferry Jr. Miss 2004. Emily is a very upbeat and talented young musician, who has her ducks in a row and goals for the future.

"Yes, she is home more than most parents, but the phone is constantly ringing and now she works about 23 hours a day," Emily said, laughing. "It's kind of nice that she is in charge of her own schedule because she is able to pick me up and drop me off when I have something planned, but she is constantly on the phone when she does it, so we don't get to talk much during those times."

Emily is able to enjoy some of the benefits of having an educational consultant for a mom, such as going on trips to places like Costa Rica, where she enjoyed supervised fun on the beach while Loi visited programs.

"It will also be helpful when I begin touring colleges on the east coast," Emily explained. "While I am touring a college, mom can visit some programs in those areas."

Though Loi recommends the different schools and programs to parents daily, Emily has never attended any of them, and she attributes that partially to her mom's profession.

"Mom is incredibly paranoid, and she always assumes the worst about whatever I am doing or who I'm hanging out with," Emily explained. It's a little constricting at times because she is always monitoring my actions and my friends, but I understand that it is part of her job. It's just a little frustrating because a lot of parents probably wish their kids got in as little trouble as I do."

Loi said it's true that being an educational consultant can be an occupational hazard with her own two children because she does worry about both; Will, 22, and Emily.

As in any relationship, Emily and Loi have a bad day now and then, but Emily said overall she has a good relationship with her mom. "I am a kid, and I just try to keep things interesting for her," she said laughing. "It's my job to make sure she doesn't get bored."

"I think that anyone who isn't misbehaving can get a little defensive with someone who questions their every move," Loi explained. "There has to be a balance between checking in and not being paranoid. One day Emily surprised me with a beautifully written email that addressed how I am always questioning her about every aspect of her life, and in it, she pointed out her good grades, her positive behaviors, etc., and asked me why I questioned her every move. After reading that email, I thought darn, I have to admit she's thought all of this through very well and had done an excellent job of advocating for herself."

Loi recognizes that many of the parents she works with are very trusting people who are clueless about what's going on in their child's life, and she said wants to maintain that trust with her children, yet, not be clueless about their lives.

"I keep hearing about these high functioning kids who have one traumatic event in their life and everything falls apart," Loi said. "As parents, we have a sense that no matter how well everything goes, there is always this fear factor involved, and we need to teach our kids skills to handle the inevitable challenges that occur."

Emily admits she has led a very sheltered life, and that it would have been difficult to go down the wrong path with Loi watching over her, but said she feels it was mostly a matter of personal choice not to get involved with drugs, the wrong crowd, or lifestyle.

"I've been pretty sheltered, and that's what I blame for my lack of a social life, but I never wanted to be controlled by peer pressure or substances. I guess that's a result of the values my mom instilled in me while I was growing up," Emily explained. "My mom is of course, very big on education and that's been a large part of my life too. Mom always encouraged me to set goals, but I've chosen what I want to accomplish and I'd like the credit for those choices."

Emily works with local peer mentoring programs to encourage younger kids to make healthy choices regarding drugs, alcohol and sex. "I try to be a role model for them." Emily said. "I want them to realize that they don't have to party to enjoy life. In most small towns, if you're not a partier, you don't have a social life, and I'd like to change that perception. I believe I can make a positive impact on their decisions before they reach high school and are influenced by negative peer pressure."

Loi said that becoming a consultant changed the way she looked at things, more specifically; she started taking into consideration how important it is to be consistent and clear about boundaries, while also taking time to really try to be there for her children.

"Building a relationship with my children was always very important because consequences have no meaning if there is no relationship," Loi said. "I would love to take credit for Emily, but Emily did this, and I think my role is to simply love and emotionally support my kids and their decisions, regardless of what they want to do with their lives. Of course I let them know there are some things I won't support, but I'll still love them."

Loi added that another reason she became a consultant was because she saw a lot of very talented, sensitive and intelligent kids who were struggling in their current setting.

"I feel for the kids and their families, and I know there are other options that could help them," Loi said. "I enjoy getting to know their stories and their unique needs, and find it very gratifying to see the families heal. I am really proud of both my kids, and I am glad they are my kids. I am sure I made mistakes, but I've always had good intentions."

"Emily concluded by saying: "I am her teenage daughter and that affects our relationship. I can't really say whether my mom being an educational consultant was a positive or negative experience because she's been involved in the educational field for so long, and I wouldn't know what it's like to have a mother with a different career. All I can say is that she's still my mom, no matter what her job is, and she'll always be there for me. That's what's important." Mom added: "and she often says, 'I love you' at the end of our phone conversations."