I originally planned to write two separate visit reports on Elk Mountain Academy, formerly in Clark Fork, ID, and Elk Creek Academy, in Heron, MT. Recently however, Elk Mountain Academy moved to the Elk Creek campus and in the move, Elk Creek Academy transitioned into a subsidiary program within Elk Mountain Academy.
Although Elk Mountain and Elk Creek share a facility, and are similar programs, they are still both individual. I began my visit with Elk Creek Academy, just across the Idaho border in Heron, MT. The facility is a beautiful new 23,000 square foot building tucked away on the upper edge of a gorgeous valley, with plenty of true wilderness surroundings. Even in the middle of winter, with the creek slightly frozen, enough mountains to feel like a ski resort and freshly falling snow, the location is one of the most beautiful places I have visited.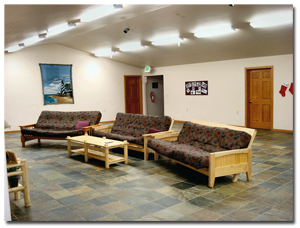 Upon arrival, I was met by Doug Richardson, who runs the Elk Creek program on the Elk Mountain Academy campus. As we walked toward the front door of the new facility, I was greeted by a staff member's dog who was visiting for the day. We entered the facility into a large foyer, with a staircase to the left, offices to the right, and the classrooms straight ahead through a large open community room. As we walked through the various parts of the academy, Doug explained what type of boys would be appropriate for Elk Creek.
Students at Elk Mountain Academy (including the Elk Creek program) typically present with substance abuse, social or family disorders, low self-esteem issues, anger, blaming, co-dependency, victimization, learning disorders, behavioral disorders such as ODD/ ADD/ ADHD and related clinical disorders, abandonment issues related to adoption and divorce, depression, psychosocial and personality disorders. The boys average between 14 and 18 years old.
Many of the boys I met were recovering addicts with low self-esteem. Although they had good eye contact and general curiosity about me, they were somewhat shy and involved with schoolwork when I walked through class. One boy took time away from his lesson to talk with me and shared a great deal of information about why he was in the Elk Creek program and some of the accomplishments he had made while there. I was impressed at his level of focus on his studies, and as he shared his newest test scores with me, a sense of pride passed over him.
Elk Mountain Academy has traditional academics, though the program is still spiritually based, students work from state approved textbook curriculum. The school is accredited and overseen through the Northwest Association of Accredited Schools. In addition to traditional academics, students may take advantage of remedial classes or online college courses as needed.
The education tract for the Elk Creek program is unique, incorporating religion into the lessons the students study. Students work through packets of lessons called PACES (Packets of Accelerated Christian Education), which consist of biblical lessons as they are applied to life, history, all the typical core curriculum requirements and ethical and moral lessons. Students are able to progress at their own pace and often advance through one and a half years of high school credits during their one-year stay. The Elk Creek curriculum is accredited through the Commission on International and TransRegional Accreditation (CITI) and the Southern Association of Colleges and Schools (SACS).
The academic portion of the Academy, and much of the individualized therapy, takes place on the first floor of the new facility. The first floor houses a weight room, computer lab, several classrooms, therapy and administration offices, a music room and a large open room with a stage for productions and mini-concerts. The second floor of the facility consists of a large open, cafeteria style dining area, a fully industrial kitchen, a lounge area where boys can earn movie time and the bedrooms. The rooms were spacious and immaculately tidy being that they were rooms for adolescent boys. Boys are responsible for family style chores, which are doled out based on a rotation, and each is responsible for his own laundry and personal space. Although each room had a sliding glass door to the balcony outside, each door (both to the inside and out) had an alarm, to alert night staff if any of the doors were opened during the night.
Although a therapeutic boarding school, the staff at Elk Mountain Academy feels it is important to allow the boys to earn recreational activities and express themselves in normal adolescent male activities. Carl Olding, Program Founder, and much of the staff believe that boys need to learn healthy risk-taking activities to replace many of their harmful risk-taking behaviors. To enhance learning new activities that spark the boys' interests, the campus includes a dirt-bike track complete with jumps, a snowboard hill with amenities for tricks and skill, a horseshoe pit, athletic field, running track and an indoor skateboard ramp/ half-pipe. At first thought, I wasn't sure that these activities should be allowed for troubled boys, but walking through the campus, seeing firsthand the level of safety involved and thinking of it in terms of the schools' philosophy, it made perfect sense to me. I realized that this might be exactly what they boys at Elk Mountain needed to help them feel normal.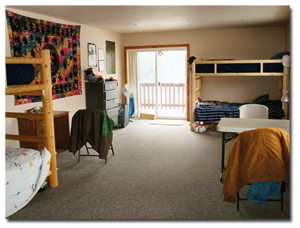 In addition to the educational component, Elk Mountain Academy has a strong 12-Step component, as well as group and individual therapy. Students are required to attend at least three recovery meetings each week, which may include Alcoholics Anonymous or Narcotics Anonymous, as well as meeting with their 12-Step mentor. Boys also have the opportunity to attend church if they want to. I had an opportunity while on campus to sit down with a couple different therapists and mentors to talk about their views of the program and their experience working with these boys. They were all consistent with the methods and view of the mission of both programs.
One aspect of Elk Mountain Academy that impressed me was the staff meeting that occurred on campus the day I visited. The program utilizes a weekly staff meeting to share information about every boy, where he's at in his program, how he's doing academically, any medical questions or concerns, etc. This to me showed staff continuity, allowing all members to work individually with each student, but also allowing staff members to appear consistent to the boys.
On the day of my visit, the boys were spending the afternoon celebrating Christmas. The staff had asked each boy to select qualities or interests and display them on their stockings. The artistic creativity of these boys was truly enjoyable. Some painted silly nonsense while others painted thought provoked stories of their pasts. When the boys at Elk Mountain Academy shared their stockings, the others watched intently and commented encouragingly. After each presented his stocking, the other boys cheered approvingly allowing the presenter a little sense of personal pride. After the presentations, several groups of students gathered to play music, sing songs and enjoy the afternoon.
I felt comfortable at Elk Mountain Academy. The down home, cozy feeling made me feel like I could relax here for hours. Unfortunately, though a heavy snowstorm was moving in and I had to head out. I thanked the boys for sharing their afternoon with me and drove away.