CENTER FOR CHANGE
Paid Advertisement

Orem, Utah
801-224-8255
info@centerforchange.com
www.centerforchange.com

Visit by Larry Stednitz, PhD, September 30, 2004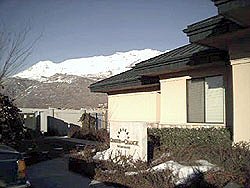 Center For Change is a multi-faceted program dedicated to the treatment of anorexia and bulimia. The Center is located in Orem, UT, in a residential/ commercial district with views of the Wasatch Mountain range. Nestled inside a 15,000 square foot building is the in-patient component and the residential and independent living programs are in the newer 46,000 square foot building. Completed in January, the residential and independent living expansion accommodates 46 more patients. After developing the 16-bed in-patient component over eight years ago, public demand and research indicated that the additional 46-bed residential program would enhance the treatment of the patients. The new residential building contains academic classrooms, exercise, expressive arts groups, music therapy, nutrition, body image therapy and other treatment space. Both buildings are attractive, upscale and beautifully decorated to make students feel "at home" in this environment. Center For Change has 28 adolescent beds, 14 adult beds and four independent living beds in the residential building.

Six people founded Center For Change: Michael Berrett, PhD, Harold Frost, PhD, Randy Hardman, PhD, David Anderson, MD, Julie Clark, PhD, and Jeff Anderson, business manager. During the early 1980's, the eating disorder program was operated at Utah Valley Regional Hospital by Drs. Berrett and Frost. When the insurance companies reduced their funding for in-patient treatment, the five therapists/owners maintained their individual out-patient private practices and their professional relationship with each other. Eight years ago, the founders recognized that their interest combined with the need for in-patient and residential programming for eating disorder patients required a more intensive therapeutic experience than out-patient treatment provided. Center For Change offers a strong clinical emphasis and is directed toward what is considered in the truest sense, a Best Practices approach to working with this difficult and recalcitrant illness. This Best Practices approach incorporates the knowledge, research, and practice of psychiatric, psychological and medical techniques to treatment.

Dr. Barrett and Pam Kidd, the admissions directors, said that while eating disorders are the prominent clinical feature, 90 percent of their patients are diagnosed as depressed, 50 percent with personality disorders and the majority having borderline characteristics. Additionally, 30 percent have obsessive compulsive disorder and nearly 70 percent experience post traumatic stress disorder. Forty percent of the patients also have alcohol and drug problems.

The treatment approach includes a strong focus on the non-denominational spiritual development of their patients. They believe that a modified 12-step model is the best way to achieve a spiritual awareness and emphasis harmony and balance in life. The program utilizes numerous spiritual interventions that they find useful in helping a patient recover from eating disorders. The examples of spiritual interventions include encouraging people to become involved in their religious community, encouraging prayer, teaching spiritual concepts, encouraging forgiveness, encouraging spiritual imagery and meditation, and others. Psychodynamic and cognitive therapies sort out the complexities of internal work. The patients receive four psychotherapy sessions weekly in the in-patient phase and twice weekly in the residential phase along with group therapies.

The program uses experiential therapies extensively because patients with eating disorders have learned not to feel and become closed off from their feelings. Art, music, sand tray therapy and various outdoor activities are some examples of experiential treatments.

Family therapy is a major tool of the program at Center For Change. They use a family systems approach with a workbook modified to serve as a guide for the parent's to use as a parallel process as their daughter learns. The parents attend five day monthly workshops and family therapy groups.

The program frames these eclectic approaches through five distinct stages of treatment. Intricate to their work is James Prochaska's work and book, Changing for Good. They believe change happens in a predictable process:




The first step is to help the patient gain awareness and acceptance of their eating disorder. This step is completed in the in-patient phase of the program.


The second stage teaches them how to accept ownership and responsibility for the healing process. This step is completed in the in-patient phase of the program.


Third, they are ready to make changes and they commit to achieving these changes. They face their fears and take the necessary steps to resolving their issues. This step begins in the residential phase of the program and is considered the most difficult step to achieve.


The fourth step is self-correction and leadership. They realize that everyone has set-backs, but they learn to take the leadership to self-correct and move on in their recovery.


The final step teaches them to give back to others by mentoring and supporting those patients still in the earlier steps of treatment.



Center For Change is appropriate for patients who have life threatening eating disorders. Though it is more costly than traditional therapeutic schools that consultants work with, the cost is comparable to similar programs of this type. While this program is expensive, a large percentage of the patients have at least part of the cost off-set by insurance.