ALASKA CROSSINGS
Paid Advertisement

Wrangell, Alaska
Dorianne Curley, Admissions Coordinator
907-874-2371
www.alaskacrossings.org

Visit by: Lon Woodbury May 10-12, 2004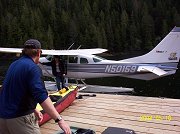 Headquartered in the small town of Wrangell in Alaskaís Panhandle in the Southeast part of the state, Alaska Crossings is designed to take advantage of the entire majestic natural environment that Alaska is known for in helping their students learn better attitudes and behaviors. The students enrolled in this program probably receive a wider variety of wilderness experiences than any other wilderness program for struggling teens. It has been operating for four years and has evolved into specializing in canoeing, hiking and mountaineering. A tremendous amount of planning has been done to maximize safety. For example, the mountaineering element is designed to be low risk, so when the students do mountain climbing, it always is a relatively easy climb, and in areas well known to the staff. The canoeing is always in protected waters with routes well known to the staff. Staff always have satellite phones and keep in constant contact with the base so everybody knows exactly how the groups are faring at all times. They also carry global positioning equipment so the staff always knows exactly where they are at all times.

They operate with a ratio of at least one staff per three students, in single sex groups. With 12 students as their optimum group, that means at least four staff with the group at all times, and additional staff can be quickly brought in at any time circumstances warrant. For example, if one student is having a particularly hard time, one or two staff can take that student away from the group for individual attention while the rest of the group is still well supervised.

In addition, the programís policy is to pay the field staff professional wages, with plenty of time off. This is an attempt to avoid the turnover problem other programs have that pay field staff entry-level wages. One result is that recently, when they had four openings, they had more than 200 well-qualified applicants. I had a chance to meet the field staff out in the wilderness, and I was impressed that they were experienced, confident, and seemed well able to handle any challenge that might come up.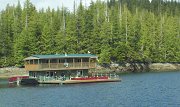 All students start their experience by being processed and receiving their wilderness equipment in Wrangell. They are then taken by jet boat or airplane to join the forming group, usually at a two-story barge anchored in a little bay protected by two mountainous islands. The barge is very comfortable with a generator providing electricity for lights, refrigerator, stove and heat. Being off shore, and with the canoes securely lashed down, this makes running away almost impossible, plus being next to an uninhabited island, there isnít anyplace the students could run to anyway. Once a group is formed, they all go through the whole 46-day program together. The only exception is that for enrollment flexibility, students can be added to a group up to the first ten days. When we flew into the barge, a girlís group had already spent a few days in orientation, but we brought another girl to join the group. That evening another girl was added, and two more came in the next day bringing the group up to its optimum size of 12.

The philosophy of director and founder Steve Prysunka is for the students to have good food and all the comforts possible in a wilderness environment. He feels that limiting food and comforts down to basic survival make those lacks an issue, which he sees as an inefficient use of the energies of the students and staff. He wants the students to focus on their issues, rather than having to handle complaints about food or comforts they do not have.

By the end of orientation, the staff have a good sense of the issues and personality of each student, and their capabilities. The next step is to leave the barge and canoe up the sound for several days, each day heading for predetermined island camping spot. Against the backdrop of soaring Alaska mountains, sea-going birds of all descriptions, dolphins, seals, porpoises and sometimes a whale, the students are mentored by staff through the challenges they have to deal with and the personal issues brought up through normal every day wilderness frustrations.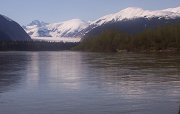 A frequent next step, when conditions allow, is for the students to jet boat about a 100 miles up the Stikien River well into Canada. This is a very remote area infrequently visited by sportsmen, where they spend a couple days hiking up the slopes where they then have their mountaineering experience. Completely equipped, they experience mountaineering activities through easy assents. They also have some glacier experience by crossing a part of a glacier the staff have thoroughly checked out, one with absolutely no crevasses. Although this is perhaps some of the most remote territory in North America, the worst accident they had in this Canadian area was when one girl sprained her ankle and to be extra safe, a helicopter was there within 45 minutes to evacuate her back to Wrangell where a doctor saw her. After a few days of healing, she rejoined her group and completed the program.

Hiking back down to the river, the students are met by staff that have brought the canoes up river for the next adventure. They spend several days canoeing down the river. This can include stops to swim in natural hot pools, and exploring lakes formed at the feet of the many glaciers feeding the river, and of course frequent groups.

At the mouth of the river, they are again picked up by jet boat, and spend the last few days of the program back at the barge. They process what they have learned about themselves through their adventures, and develop plans for their after care, making commitments to better decisions.

This program has a strong commitment to wilderness adventure, using mature and experienced staff in a mentoring role to work with the students on their issues as they develop, while the students are presented with the wide variety of wilderness challenges. One field staff member I talked with had come there after several years working at a well-respected wilderness therapy program in the lower 48. He told me he liked Alaska Crossings because he had a much greater opportunity to practice a wider variety of technical wilderness skills then he was ever able to in the lower 48 program, while at the same time helping struggling teens.

To date, all of the students have been from Alaska, and the program has been able to successfully mix both public pay and private pay students. This is because almost all of the students have been from rural Alaskan villages, and have not been heavily exposed to big city temptations and sophistication. The program is interested in expanding to enrolling students from the lower 48 to join their program. They will consider any applicant on a case-by-case basis, but students with untreated addictions, serious personality disorders or other serious clinical problems, violent activities or physical limitations would probably be rejected.

In my view, this program has excellent potential for the student who is in reasonable health, normally active, and is floundering in school or in home relationships with presenting problems of acting out, depression, school problems, hyperactive, rebellion, defiant, etc. In other words, a teen who needs to learn self-discipline and how to act in a more age appropriate way. Perhaps more importantly, it would be good for a parent who wants to expose their child to a wilderness opportunity of a lifetime, while at the same time helping their child learn how to make decisions that are more constructive.