August 2004
Paid Advertisement
NORTHSTAR ADDS DIALECTICAL BEHAVIORAL THERAPY
(September 2003) Robbi O'Kelley, Clinical Director for NorthStar, Bend, OR, 541-385-8657, NStar@NorthStarCenter.com, www.NortStarCenter.com, an Aspen Education Group program for young adults over 18, announced that the program had adopted Dialectical Behavioral Therapy (DBT) to help their students better understand their "problem behaviors." DBT helps students better understand their environmental triggers that cause their behavior by providing "a frame of reference for staff and students in understanding that there is no absolute truth," in order for them "to expand their critical thinking skills…."

NORTHERN NEW MEXICO TOURS
(April 21, 2004) Suzanne Weisman, Brush Ranch School, 505-757-6114, sweisman@cybermesa.com, www.brushranchschool.org, announced the schedule for the Fall tour of Brush Ranch School, Rancho Valmora, Villa Santa Maria and San Cristobal Ranch Academy. Scheduled tour dates are from September 26-29, October 10-13 and October 17-20.

ASPEN'S HEALTHY LIVING ACADEMIES
(June 12, 2004) Ryan Craig, President of Aspen Education's Healthy Living Academies, 917-575-9003, rcraig@healthylivingacademies.com, reports that Healthy Living Academies' first programs were summer camps. "Wellspring Adventure Camp (boys and girls 10-15) and Camp Wellspring (young women 15-23) opened in June." Craig, who stepped off the Aspen Board of Directors to take on Aspen's efforts in this area, said the Academy of the Sierras will open in September "as the first Healthy Living Academy – the first therapeutic boarding school exclusively focused on weight reduction and weight control." He said "the objective of Healthy Living Academies is to employ Aspen's successful model of behavioral change programs in residential education environments in order to help families struggling with adolescent obesity."

500 STUDENTS THROUGH JUBILEE YOUTH RANCH
(June 28, 2004) Phil Scott, Chief Operations Officer for Jubilee Youth Ranch, Prescott, WA, 509-749-2103, academy@jyranch.org, www.jyranch.org, a Christian community for at-risk boys established in 1996, announced nearly 500 boys have been to the residential school.

ROGERS NEW GOW HEADMASTER
(July 1, 2004) The Gow School, South Wales, NY, 716-652-3450, www.gow.org, announced that M. Bradley Rogers, Jr. is their new Headmaster as of July 1, 2004. Gow School has 78 years as a college preparatory boarding school for dyslexic boys.

WHITMIRE TO SUCCEED PETREY AT CHEROKEE CREEK
(July 6, 2004) Susan Pecuch of Cherokee Creek Boys School, Westminster, SC, 864-647-1855, specuch@earthlink.net www.cherokeecreek.net, announced Kathy Whitmire will succeed Genelle Petrey as Executive Director. Whitmire is a veteran educator with 30 years of experience as a leader in the Oconee County Public School System in South Carolina and has spoken nationally on the topics of brain development research and learning styles.

CATHERINE FREER ANNOUNCES OPENING OF SANTIAM CROSSING
(July 6, 2004) Sarah Moir, Director of Referral Relations, Catherine Freer Wilderness Therapy Expeditions, Albany, OR, 800-390-3983, info@cfreer.com, www.cfreer.com, announced the development and projected opening of Santiam Crossing, an outdoor therapeutic school for Freer graduates.

OWNER OF BETHEL ACADEMY, STATE IN TALKS TO SETTLE DISPUTE
The SunHerald reported the owner and director of Bethel Girls Academy, Herman Fountain Jr., Petal, MS, and the Mississippi Attorney General's Office were in negotiations designed to change how the school operates. www.sunherald.com

ASPEN ACQUIRES NEW LEAF ACADEMY
(July 8, 2004) Kevin/Ross Public Relations, Aspen Education Group, Cerritos, CA, 818-597-8453, announced the acquisition of New Leaf Academy, a therapeutic education, all-girls boarding school in Bend, OR. For more information about the school call 541-318-1676, or visit the New Leaf Academy website at www.newleafacademy.com. For complete details including the announcement from New Leaf Academy, see www.strugglingteens.com.

ROGERS MEMORIAL OFFERING TOURS
(July 08, 2004) Carol Schroeder of Rogers Memorial Hospital, Oconomowoc, WI, 262-646-4605 ext. 289, CSchroeder@rogershospital.org, www.rogershospital.org, announced that those attending the NACAC national conference, September 21-24, 2004 in Milwaukee are invited to tour the residential centers of their Oconomowoc campus. Call 800-767-4411 ext. 309 for more information.

GOLDBERGS RENAME PRACTICE
(July 10, 2004) Renee Goldberg Ed.D., C.E.P., Somerville MA, 617-864-8864, optionsed@aol.com, www.optionsined.com, reports that she and Marvin have changed the name of their practice to Educational Options, LLC Previously known as Options in Education, everything else, the phone, fax, Email, website, etc. remains the same.

UTAH GIRLS TOWN GROUNDBREAKING
(July 12, 2004) D. Chris Buttars, Executive Director of Utah Boys Ranch, West Jordan, UT, 801-280-2697, www.utahboysranch.org, announced their expansion to serving girls by the groundbreaking for Utah Girls Town on April 21, 2004. In his announcement, Buttars emphasized the importance of the school being non-profit, which he sees as vital to the religious and moral values established in the original founding of Utah Boys Ranch in 1964, and said a belief that "no organization that is in business to make money should be allowed to be in the business of serving children at risk."

BIDDULPH REJOINS PROVO CANYON
(July 12, 2004) Kreg Gillman, Ph.D., Chief Executive Officer of Provo Canyon School, Orem, UT, 801-227-2100, www.provocanyon.com, announced Stephen Biddulph has been appointed Director of Clinical Services (DCS). Biddulph, a published author, used to work at Provo Canyon, and in subsequent years, he has established a recognized career in several national substance abuse/addiction associations and programs. In his role at Provo Canyon, "he will be responsible for the integration of the Group Living and Therapy departments."

CEDU RECEIVES APEX INTERNET AWARD
(July 13, 2004) Julia Andrick, Sandpoint, ID, 208-265-0607 x130, jandrick@cedu.com, www.cedu.com, announced that "CEDU Education's website and Rocky Mountain Academy's website www.rockymtnacademy.com, received the Grand Award and an Award of Excellence for Web and Internet Site design by APEX (Awards for Publication Excellence), www.apexawards.com, a company in its 16th year that "recognizes excellence in publication work by professional communicators."

KEMP ADMISSIONS AT NORTHWEST ACADEMY
(July 14, 2004) Julia Andrick, information officer for CEDU's NorthWest Academy, Bonners Ferry, ID, jandrick@cedu.com, announced that Dan Kemp is taking over as Admissions Director for Northwest Academy, replacing Christie Slate who is furthering her education. Previously, Kemp had been in admissions for two Utah programs, Wasatch Academy and the Oakley School. He can be reached at 877-882-0980, or dkemp@cedu.com.

COYOTE STYLE TEACHING
(July 14, 2004) Randy and Colleen Russell, Executive Directors and Vince Barranco, Program Director for Life-Designs, Cusick, WA, 509-445-0185, lifedesignsranch@aol.com, www.lifedesignsranch.com, a program from young adults ages 18 and older, in a summary of their program, say their staff excels in "Coyote Style Teaching," "nurturing growth so that students serendipitously discover their own strengths and abilities."

JODI'S TOURS SCHEDULED
(July 19, 2004) Jodi Tuttle, Salt Lake City, UT, 435-655-0379, cell 435-590-7785, jodit@xmission.com, advised Places for Struggling Teens that the Tuttle/Gundry Tours are back in action as JODI'S TOURS, with two Fall tours scheduled, both will emphasize specialty schools and a few traditional boarding schools. The first one, from September 25 to October 1 will travel to New Hampshire and Vermont, and possibly into Maine. The second, From October 9-15 will visit Massachusetts and Connecticut. Consultants interested in participating should contact Jodi.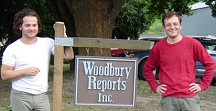 FRENCH FILM CREW VISITS WOODBURY REPORTS
(July 19, 2004) Mathiew Verboud and Jean Viollet from Paris France stopped by Woodbury Reports for an interview. They were one of several crews spending a month touring the United States for a planned documentary for French TV investigating how the United States approaches helping teens making poor decisions.

EDUCATION CONNECTION SERVICES TOURS
(July 20, 2004) Ralph Davis, Director of Education Connection Services, Altamont, UT, 435-454-3980, Ralph@edconnectionservices.com, announced his upcoming tours for consultants to visit schools include touring Washington/ Idaho/ Montana on August 2-4; New England States August 16-18; Northern Utah August 30-September 1, and Arizona September 13-15.

PATTY FACTOR AT WOODBURY REPORTS
(July 20, 2004) Patty Factor, Marketing and Community Service Coordinator for Three Rivers Montana, (an Anasazi Way Program) 877-221-1115, admissions@threeriversmontana.org, pfactor@threeriversmontana.org, www.threeriversmontana.org, also an Outdoor Behavioral Healthcare for Adolescents program, operating outside Bozeman, MT took some time off from her summer home on Lake Pend Oreille to let us know that things are going well for the new program. Patty lives in Santa Monica, CA and her cell number is 310-926-7028.

HYDE WILDERNESS SCHOOL
(July 20, 2004) Hyde School, Bath ME, www.hyde.edu, announced enrollment is open in the Hyde Wilderness School, their August Early Enrollment Course, provided to give "families an opportunity to begin their Hyde education before the start of Hyde's regular school year." This "Character Education in the Wilderness" element is headed by Ken Grant, Executive Director, 207-443-7315, kgrant@hyde.edu, www.hydewildernessschool.org.

SQUAW VALLEY ACADEMY FULL SUMMER
(July 21, 2004) Don Rees, Headmaster of Squaw Valley Academy, Olympic Valley, CA, 530-583-1558, info@sva.org, www.sva.org, announced their summer school and related camp has 122 students, campers, and staff this week. SVA still has openings for the Fall semester. They feel they do well with "That mildly off-track student who needs structure and lots of outdoor activities…." and say they are interested in "students who have successfully completed treatment programs." Rees says the school has a 100 percent university acceptance rate.

DYNAMY SEARCH FOR ADMISSIONS DIRECTOR
(July 21, 2004) Jim Zuberbuhler, Executive Director of Dynamy, Worcester, MA, 508-755-2571, www.dynamy.org, announced Internship Year Director of Admissions, Keith Robichaud, is leaving Dynamy in August to become the Associate Director of Admissions at Curry College in Milton, MA. The review of applicants will start August 15. Until the position is filled, Jennifer Ridder, the Assistant Program Director, will serve as acting director of Admissions. He also announced that many students have applied to spend the second half of their Dynamy year in Santa Rosa, CA. "This will allow Dynamy to open the new site in California with a core group of experienced students who will transfer to Santa Rose."

DOUG KIM-BROWN VISITS WOODBURY REPORTS
(July 23, 2004) Doug Kim-Brown, Founder and Director of Echo Springs Transition Study Center, Bonners Ferry, ID, 208-267-1111, echo@coldreams.com, www.echo-springs.com stopped by to discuss his web site and the industry.

BUD STARR FROM WALKER CENTER STOPS BY WOODBURY REPORTS
(July 23, 2004) Bud Starr, Director of Finance & Operations for the Walker Center, Gooding, ID, 800-227-4190, www.thewalkercenter.org a Residential Treatment Center with a strong alcoholism and drug addiction treatment program, stopped by Woodbury Reports Inc. to introduce us to their new adolescent wing which already has several teens in residence.

CHANGES AT CORONADO ACADEMY
(July 22, 2004) Coronado Academy of Costa Rico announced John Brown, Director, and Lori Armbruster, Consultant Services Director, are resigning their positions the beginning of August to pursue other opportunities. Founder of Coronado Academy, Saul Rudman will be moving to Costa Rico to take over as director of the school. For complete details visit www.strugglingteens.com.

STEDNITZ TO SERVE ON JUVENILE JUSTICE COMMISSION
(July 23, 2004) Woodbury affiliate Larry Stednitz, 208-771-0369, Morro Bay, CA, larry@woodbury.com, has been selected to serve on the San Luis Obispo County Juvenile Justice Commission. This commission provides in-put into the Juvenile Justice System of San Luis Obispo County.

DORNY ADMISSIONS AT ACADEMY AT CEDAR MOUNTAIN
(July 26, 2004) Tom Fuller, speaking for the Academy at Cedar Mountain, Cedar City UT, 435-867-111, fuller@hfcentral.com, announced that the Admissions position has been filled by Clinton Dorny. Dorny most recently was handling admissions at the Academy of the Sierras, and previously was in admissions at Provo Canyon and Logan River in Utah.

ANSON VISITS WOODBURY REPORTS
(July 27, 2004) Educational Consultant, Betty Anson, M.A., Stanford, CT, banson50@aol.com, stopped by Woodbury Reports while visiting various schools and programs in the Idaho and Montana areas.

NEW ADMISSIONS/MARKETING IN FAMILY FOUNDATION SCHOOL
(July 28, 2004) Sidney Parham, Ph.D., Vice President of Academic Affairs, Family Foundation School, Hancock, NY, 845-887-5213, www.thefamilyschool.com, announced Joseph Lichty has been appointed Marketing Director, within the admissions department. Lichty is in charge of new consultant contacts and developing new marketing material. Lichty has been with the school three years as a teacher. His wife, Shelly Lichty, who coaches the girls soccer team, will be an interviewer and phone contact person in the admissions department.